Shadow Complex Remastered is currently free on Windows, coming to Xbox One in 2016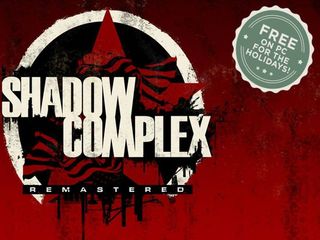 Shadow Complex, one of the most acclaimed Xbox Live Arcade games made for the Xbox 360, has been revamped and released for Windows PCs under the title Shadow Complex Remastered. The game is free to download for a limited time during the holidays. It will also be released for the Xbox One and PlayStation 4 sometime in early 2016.
Developer Chair Entertainment and Epic Games first released the 2.5D side-scroller shooter Shadow Complex in 2009, with the player character of Jason Flemming fighting a group of high-tech soldiers who are hidden in a cavern in the U.S. The original Xbox 360 game is already backwards compatible with the Xbox One. Here's what's new in Shadow Complex Remastered:
Up-rezzed characters, enemies, environments, and interface
Updated lighting, post-processing, and visual effects
New contextual melee take-downs
New Achievements and Master Challenges
PC versions support keyboard/mouse and PC controller with customizable controller and key bindings, and up to 4K resolution support
Epic Games Store / Launcher: Supports in-game achievements, leaderboards, and friends lists
Xbox One - Supports Xbox Live achievements, leaderboards, friends lists, cloud saves, and cross-buy with Windows X Store
Playstation 4 - Supports Playstation Network trophies, leaderboards, friends lists, cloud saves, and Dualshock 4 controller features
Source: Shadow Complex Remastered
Free through windows store, steam, an exe? It says cross buy, sooo I'm assuming store? But then... Epic games store...

Looks like it's a direct download from their site.

Whats the size of the download?? The link helps download the launcher which is roughly 28MB. After that ..... any idea??

Oh... So it's a free game to get you to download their own store... Yeah, pass. That should be made perfectly clear in the article.

Yeah, all that trouble of filling in email and whatnot for a free game /s

Agreed. Definitely not free, just a trick to get you to install their adware and give them your email to sell. I pulled it down and used a trash email to get the game with the intent of uninstalling the launcher after I got through the adware gate, but the game requires the launcher to run. I promptly uninstalled everything and will never get another epic game unless it's on console. That adware, memory-consuming, processor-taxing launcher crap is why I'll never use Steam or Origin either. Yet another reason why I prefer console gaming.

What you download is a installer, then you've got to create an epic account and then access the free download. The game itself is like 1.1GB

Well, 28mb installer -> 91mb Epic Launcher application -> 1.1gb game

click the source link in the article

I'll assume that's for me. I'm in the mobile app. That info should be in the article a little clearer... Also swiping to more on the app, I would never do to download a PC game. I want to know so I could go straight there when I get to my PC.

I loved this game on Xbox 360. I'm definitely looking forward to this and will be playing it on PC and Xbox One. Now when is Chair going to announce the sequel?

Agree. Just finished playing through it on the Xbox One via backward compatibility. Would really enjoy a sequel at this point.

Aaand seems like that remaster is not working on Win10, just crushing on start, sad

Maybe you need to update your video card drivers

Ditto, crashes out when I try to start a game from the main menu, on W10 1511 on an SP3 with all Windows Updates installed, and just the regular MS-supplied display drivers

Run it in Windows 7 compatibility mode. set it to run with Administraion privs.

My brother was the one excited for this game, but now that I see this article I guess that I feel in the same way! Thank you for the news!

Excellent game, but where is the sequel. I believe they did start work on it but then abandoned it in favour of something else.

Yeah they did. Infinity Blade.

Where is Infinity Blade for Windows 10 touch screens or Windows Phone?

Loved this on the 360 - that and symphony of the night, though the latter is miles better but still!
.
Pity you need to install the epic installer - I'll stick with steam and galaxy. Besides, hopefully risk be on steam without the need for the epic nonsense and I'll happily party whatever for it then. Good game!

All it downloaded was the Epic Engine Installer and I don't see the game anywhere in the "store" just Unreal Engine Assets.

Free game! (Just install our adware and give us your email to sell.). Forget it, Epic. I'll play the Xbox 360 version instead.
Windows Central Newsletter
Thank you for signing up to Windows Central. You will receive a verification email shortly.
There was a problem. Please refresh the page and try again.