Sheep Up!, popular iOS and Android game jumps into the Windows Phone Store with exclusive content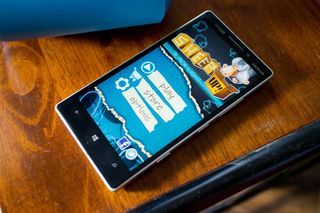 Another popular game from iOS, Android, and Blackberry has just made its way to the Windows Phone Store. Sheep Up! has been a big success with over a million downloads on other platforms, and now Windows Phone users get to play it, too. In collaboration with Nokia, Microsoft, and AppCampus (appcampus.fi), the developers have included exclusive content with a new edition of the game to launch on Windows Phone. It's called Sheep Up! Black Light. Head past the break to watch some gameplay on the Nokia Lumia Icon.
Features:
3 Eye catching cardboard worlds with 30 challenging levels
1 New Cyber World with 10 new theme-based levels
22 Stunning and super funny Sheep Suits
5 New futuristic sheep suits
Sheep suits share (NFC)
8 different power ups
Localized in 10 languages: English, French, German, Italian, Portuguese, Spanish, Korean, Japanese, Chinese, Russian.
Sheep Up! Black Light is a tilt-based puzzle platform game with a top-down camera view. The main character, a tiny toy sheep, has been stored inside a cardboard box together with other old toys. It needs your help to escape. Tilt your device as the sheep keeps bouncing. Each level consists of multiple floors that are navigated one at the time. The goal is to reach the exit platform and jump up to the next floor. Figure out how to find the exit and avoid falling off or jumping on pins.
As you go higher, platforms get smaller, and obstacles get trickier. To help you out, there are some power ups like clocks that freeze time and umbrellas that prevent you from falling.
Each world has its own theme. For example, the first world has a seasons theme, the second world has a food theme, and the third world has an aquarium theme. Each world has 10 levels. If you fall off a platform, land on pins, or get hit by enemy toys, the game gives you an option to continue. It costs points, so use them sparingly. If you don't click continue, you start the level again from the beginning.
If you've already played Sheep Up! on other platforms, what's new for Windows Phone is Cyber World and the futuristic sheep suits. Imagine a bouncing sheep inside a Tron world. Complete the three original worlds before unlocking Cyber World or you can unlock it with 5,000 game coins. Don't have enough? There are in-app purchases available for extra coins. For example, 5,000 coins cost $2.49.
By default, you control the sheep by tilting your phone. If you go to settings, you can change the sensitivity. If the tilting motion is not working out for you, you can change to using touch instead. Pressing anywhere on the screen moves the sheep towards that direction.
Sheep Up! Black Light is a free download from the Windows Phone Store. We think it's worth checking out. Go download it now and let us know what you think. We're sure it will at least put a smile on your face.
Thanks for the tip, Shaurya P.!
Windows Central Newsletter
Get the best of Windows Central in your inbox, every day!
exclusive content ? :O
downloading now !

Yes, another game not available here in Brazil!!!

Change your country and region etc download the game and then change your settings back

It's not about changing regions

It is about changing regions. Why would you say its not? Explain

It really isn't. Why can't all "almost global" apps just be available in Brazil as well?
Not from Brazil btw :D

This is a really sad week for Brazilians

It is strange, given Brazil are quite heavily invested in the Windows phone market, but that's Microsoft for you. Better just change your region and hakunamatata.

Hey GuilhermeManso, thank you for reporting this. it seems we had an issue during the submission process. The game is NOW available in Brazil too! Happy bouncing :)

Hey! Thanks for responding me, but I checked now and I still can't download it. :( Did you upload a PEGI or ESRB certificate in the DJCTQ place??

Because they lost real bad in the world cup.

ouch! That's hitting below the belt.

Many developers don't read what is written in the certificate submission page... :(

Ok, guess the only way is to get developers attention to it

You can change the region to United States

It will be available in Germany 7x faster than in Brazil...

Lawl. Best comment, evarrr. Guess what Brazil should do in the world cup was to change region of their team to U.S. and they would win instantly.

Whahah xD you sir, made my day!
...
No, actually not, but its still a funny comment

Hey pkwesi77, it seems we had an issue during the submission process. The game is NOW available in Brazil too! Happy bouncing :)

Downloaded... Wait I'll be back with a review

Hi Ali27677! Have you tried Sheep up!? Hope you like it!

okay I have a question can anyone tell me the name of the game that featured recycling I thought there was a post about it this week or last but I cannot find it and I think I want to download it

I think it's Nokia Climate Mission 3D,right?

Boooo, your jokes are bad and you should feel bad

His joke wasn't that baaaaad!

Yeeeeeeeep. It was wiiiiiitty!

The control is average,not to good but not bad either
The color is exquisite enough for my liking,though,and the graphic is supreme,very suitable for kids and very fun for us(after all this game is reviewed by a middle aged man for us,imirite?)
7.75/10

Hi Valkyria, thank you very much for your feedbacks! We are glad you liked Sheep Up!

Obviously a game for iSheep.

I was going to download the game, but then I read your comment...

Pretty entertaining game, shame about the in-app purchases.

Thanks for this game devs.

Thank You! Enjoy Sheep up!

Brilliant! Another popular game has made it to wp shores :)

Exclusive feature for WP? Seems classy.
Gonna check it out.

Loks nice, but I hate hate games with tilt, can't play them while in bed

Hey PRofoss, we do have in game calibration. You know, we play in bed and sofà too! We hope you will like the feature :)

Hello everyone, I'm Alessandro of Bad Seed! First of all we want to thank you all for the your feedbacks, WPCentral and Mark Guim for the review! I'll be around here to try to answer to all your questions :)

Hey! A pro-active developer that made exclusive content for WP! Cheers to that! Downloaded and will give it a go!

Hi WinAnPle thanks for comments! Hope you like our game and feel free to give us some feedbacks!

Thank you Shuvhamxxnaik, we really appreciate your comment!

Hi again everyone and thanks for your comments! Listening to some of your feedbacks we have decided to release a new update for Sheep Up! removing notifications from the game. Hope you like it! Keep Bouncing!