ShopGlider gets big, Mango-ized update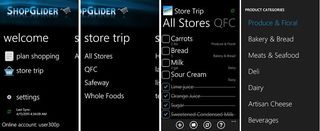 For those unfamiliar with ShopGlider, it is a site where you can keep track of your various shopping lists and recipes, as well as share them with friends and devices. Now, the folks over at ShopGlider have updated their Windows Phone app to 3.7, which adds some great new functionality.
With the new version, you can now email store trip lists directly from the phone and perform batch operations in the Shop List section. And the addition of Mango support now allows for fast switching. 3.7 also brings with it landscape mode, usability improvements, fast-app switching and perform enhancement, including faster syncing with ShopGlider's parent website.
ShopGlider could be the most comprehensive shopping list apps out there. You will need to sign up for a free account to get the full benefits, which you can also do right right from the app itself. Head over to the ShopGlider website for more information and setting up a free account.
You can get ShopGlider 3.7 for free here. See the video demo after the break...
And for those who wonder - the website is located at http://shopglider.com

Cool site and great app even before Mango.
Windows Central Newsletter
Thank you for signing up to Windows Central. You will receive a verification email shortly.
There was a problem. Please refresh the page and try again.