Surface Book 2 vs Surface Laptop: Which should you buy?
Torn between the new Surface Book 2 or the Surface Laptop? We can help.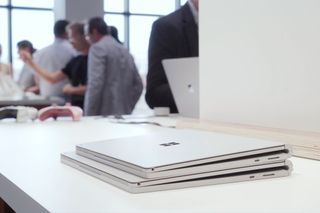 With the recent announcement of the Surface Book 2, Microsoft now has two premium laptops to choose from. In one corner is the Surface Laptop, Microsoft's traditional laptop for the wider market. And in the other corner, the Surface Book 2, the "ultimate" 2-in-1 laptop that can also be a tablet. I've already had lots of people ask me which they should go for, so if you're the market for a new laptop, here are some things to consider.
Surface Laptop vs. Surface Book 2
First and foremost, it comes down to what you need from a device. You're already considering a laptop-style device but you may be looking for a laptop that can do just a little bit more than a normal laptop. In that case, your best bet is to go for the Surface Book 2. Why? Well, the Surface Book 2 isn't just a laptop, it can be a tablet too. It's a 2-in-1 PC, with a detachable screen that turns into a 13.5-inch tablet with pen support. This allows for far more use-case scenarios compared to the Surface Laptop.
What's more, the Surface Book 2 is the more powerful laptop of the two. Rocking updated processors, with far more configuration options including dedicated GTX 1050 or 1060 GPUs. The Surface Book 2 is a true beast when compared to the Surface Laptop, which is only rocking integrated graphics in comparison. Plus, the Surface Book 2 comes in an additional 15-inch form-factor.
When attached, the Surface Book 2 is 100 percent a laptop. When you buy the device it comes in the box in its laptop configuration. As aforementioned, it can also be a tablet, which for some people is great, but for others it's overkill. If you're in the overkill camp, Surface Laptop is what you're going to want to go for.
The Surface Laptop is Microsoft's only Surface device that doesn't do anything unique or different with its form-factor. It's a good old, 100-percent traditional laptop. It opens and closes just like you'd expect, with no additional quirks or gimmicks such as being able to fold the screen completely back or take the display off.
Should you buy the Surface Pro or Surface Laptop?
This is good for people who aren't interested in using their laptops like a tablet or transforming it into something else entirely. The Surface Laptop is just a laptop. If you're someone who simply doesn't need the extra quirks and functionality offered by the Surface Book, Surface Laptop is probably for you.
The Surface Laptop can also be configured to be pretty powerful, but it doesn't get as powerful as the Surface Book 2. There also isn't a 15-inch variant of the Surface Laptop, so if you're looking for a bigger device, the Surface Book 2 is for you.
Design
The Surface Laptop and Surface Book 2 feature two different designs that may be worth considering before you pull the trigger. For starters, the Surface Laptop features an all-magnesium outer shell, but on the inside, it sports an Alcantara-covered keyboard base which should be looked after more than your traditional metal or plastic keyboard bases.
Also, the Surface Laptop is available in four different colors if you're in the United States: burgundy, platinum, cobalt blue, and graphite gold. The colors match both the magnesium and Alcantara fabric found inside the laptop, too. If you're someone who likes less traditionally-colored devices, the Surface Laptop may be for you.
Everything you need to know about Alcantara
The Surface Book 2, on the other hand, is entirely magnesium, inside and out. It's also somewhat heavier and a little bulkier when closed due to its special fulcrum hinge that allows the screen to detach. This unique hinge design is a little like marmite — you either love it or you hate it. The fulcrum hinge is different because it leaves a rather large gap between the screen and the keyboard when closed, allowing for small objects to fall into the device when in your bag. The Surface Laptop doesn't feature this hinge.
The Surface Book 2 is also only available in one color: platinum.
Tech specs
Specs are also a big factor when buying a laptop. Both the Surface Laptop and Surface Book series are available in a wide array of SKUs, ranging from Intel Core i5 processors to Intel Core i7s. The Surface Book 2 is currently rocking the latest 7th gen and 8th gen CPUs, known as "Kaby Lake" and "Coffee Lake." The Surface Laptop comes with just "Kaby Lake" processors.
The Surface Laptop is available with either 4GB, 8GB or 16GB of RAM, with the Surface Book 2 being available with only 8GB or 16GB. Storage options for the Surface Laptop include 128GB, 256GB, 512GB and 1TB models. The Surface Book 2 is available in 256GB, 512GB and 1TB configurations. So if you're in need of a small amount of storage like 128GB, the Surface Laptop is something to consider.
Price is also a factor. The lowest-end Surface Laptop goes for $999, whereas the lowest-end Surface Book 2 goes for $1,499. Matching specs, you can get a 13.5-inch Intel Core i5 Surface Book 2 with 8GB RAM and 256GB Storage for $1,499, or an Intel Core i7 Surface Laptop with 8GB RAM and 256GB Storage for just $100 more.
Will you go Surface Laptop or Surface Book 2?
If form-factor is of the utmost importance, and you prefer a laptop with a few extra quirks along with true graphical power, Surface Book 2 is likely for you. If not, go for the Surface Laptop. If the design is an important factor, you should consider the Surface Laptop's extra colors, or the Surface Book's unique hinge.
If you're looking for a larger, 15-inch laptop, then the bigger Surface Book 2 is Microsoft's only offering as of right now. It's much more expensive, starting at $2499, but it's also much more powerful. Surface Laptop does not have configurations this big or powerful.
What do you think? Let us know which device you plan to buy.
Get the Windows Central Newsletter
All the latest news, reviews, and guides for Windows and Xbox diehards.
Zac Bowden is a Senior Editor at Windows Central. Bringing you exclusive coverage into the world of Windows on PCs, tablets, phones, and more. Also an avid collector of rare Microsoft prototype devices! Keep in touch on Twitter: @zacbowden.