Surface Book 2 vs Surface Laptop: Which should you buy?
By Zac Bowden last updated
Torn between the new Surface Book 2 or the Surface Laptop? We can help.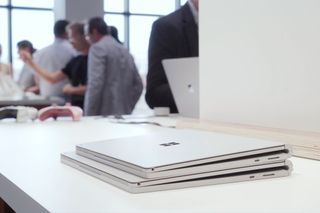 With the recent announcement of the Surface Book 2, Microsoft now has two premium laptops to choose from. In one corner is the Surface Laptop, Microsoft's traditional laptop for the wider market. And in the other corner, the Surface Book 2, the "ultimate" 2-in-1 laptop that can also be a tablet. I've already had lots of people ask me which they should go for, so if you're the market for a new laptop, here are some things to consider.
Surface Laptop vs. Surface Book 2
First and foremost, it comes down to what you need from a device. You're already considering a laptop-style device but you may be looking for a laptop that can do just a little bit more than a normal laptop. In that case, your best bet is to go for the Surface Book 2. Why? Well, the Surface Book 2 isn't just a laptop, it can be a tablet too. It's a 2-in-1 PC, with a detachable screen that turns into a 13.5-inch tablet with pen support. This allows for far more use-case scenarios compared to the Surface Laptop.
What's more, the Surface Book 2 is the more powerful laptop of the two. Rocking updated processors, with far more configuration options including dedicated GTX 1050 or 1060 GPUs. The Surface Book 2 is a true beast when compared to the Surface Laptop, which is only rocking integrated graphics in comparison. Plus, the Surface Book 2 comes in an additional 15-inch form-factor.
When attached, the Surface Book 2 is 100 percent a laptop. When you buy the device it comes in the box in its laptop configuration. As aforementioned, it can also be a tablet, which for some people is great, but for others it's overkill. If you're in the overkill camp, Surface Laptop is what you're going to want to go for.
The Surface Laptop is Microsoft's only Surface device that doesn't do anything unique or different with its form-factor. It's a good old, 100-percent traditional laptop. It opens and closes just like you'd expect, with no additional quirks or gimmicks such as being able to fold the screen completely back or take the display off.
Should you buy the Surface Pro or Surface Laptop?
This is good for people who aren't interested in using their laptops like a tablet or transforming it into something else entirely. The Surface Laptop is just a laptop. If you're someone who simply doesn't need the extra quirks and functionality offered by the Surface Book, Surface Laptop is probably for you.
The Surface Laptop can also be configured to be pretty powerful, but it doesn't get as powerful as the Surface Book 2. There also isn't a 15-inch variant of the Surface Laptop, so if you're looking for a bigger device, the Surface Book 2 is for you.
Design
The Surface Laptop and Surface Book 2 feature two different designs that may be worth considering before you pull the trigger. For starters, the Surface Laptop features an all-magnesium outer shell, but on the inside, it sports an Alcantara-covered keyboard base which should be looked after more than your traditional metal or plastic keyboard bases.
Also, the Surface Laptop is available in four different colors if you're in the United States: burgundy, platinum, cobalt blue, and graphite gold. The colors match both the magnesium and Alcantara fabric found inside the laptop, too. If you're someone who likes less traditionally-colored devices, the Surface Laptop may be for you.
Everything you need to know about Alcantara
The Surface Book 2, on the other hand, is entirely magnesium, inside and out. It's also somewhat heavier and a little bulkier when closed due to its special fulcrum hinge that allows the screen to detach. This unique hinge design is a little like marmite — you either love it or you hate it. The fulcrum hinge is different because it leaves a rather large gap between the screen and the keyboard when closed, allowing for small objects to fall into the device when in your bag. The Surface Laptop doesn't feature this hinge.
The Surface Book 2 is also only available in one color: platinum.
Tech specs
Specs are also a big factor when buying a laptop. Both the Surface Laptop and Surface Book series are available in a wide array of SKUs, ranging from Intel Core i5 processors to Intel Core i7s. The Surface Book 2 is currently rocking the latest 7th gen and 8th gen CPUs, known as "Kaby Lake" and "Coffee Lake." The Surface Laptop comes with just "Kaby Lake" processors.
The Surface Laptop is available with either 4GB, 8GB or 16GB of RAM, with the Surface Book 2 being available with only 8GB or 16GB. Storage options for the Surface Laptop include 128GB, 256GB, 512GB and 1TB models. The Surface Book 2 is available in 256GB, 512GB and 1TB configurations. So if you're in need of a small amount of storage like 128GB, the Surface Laptop is something to consider.
Price is also a factor. The lowest-end Surface Laptop goes for $999, whereas the lowest-end Surface Book 2 goes for $1,499. Matching specs, you can get a 13.5-inch Intel Core i5 Surface Book 2 with 8GB RAM and 256GB Storage for $1,499, or an Intel Core i7 Surface Laptop with 8GB RAM and 256GB Storage for just $100 more.
Will you go Surface Laptop or Surface Book 2?
If form-factor is of the utmost importance, and you prefer a laptop with a few extra quirks along with true graphical power, Surface Book 2 is likely for you. If not, go for the Surface Laptop. If the design is an important factor, you should consider the Surface Laptop's extra colors, or the Surface Book's unique hinge.
If you're looking for a larger, 15-inch laptop, then the bigger Surface Book 2 is Microsoft's only offering as of right now. It's much more expensive, starting at $2499, but it's also much more powerful. Surface Laptop does not have configurations this big or powerful.
What do you think? Let us know which device you plan to buy.
Zac Bowden is a Senior Editor at Windows Central. Bringing you exclusive coverage into the world of Windows 10 on PCs, tablets, phones, and more. Also an avid collector of rare Microsoft prototype devices! Keep in touch on Twitter: @zacbowden.
Did you obtain permission from the category police to make sure these two items can be compared? They might get upset you know...

Surface Book ofc. Better screen, sharper resolution, more usb ports and it is like 2v1. And also pen will work better on SB, than on SL

I'll be awaiting Coffee Lake to be put on the Surface Book.

Meh. I'd rather have Ryzen. More efficient than Intel for same number of cores or more cores in the same envelope.

Yeah right the Ryzen APUs for tablets and ultra books are awesome. Oh wait? There are none.
Ryzen is nice for tower PCs but that's all.

Valid idea, but I've learn in technology that you can't always wait for the next best thing, because there is always something better around the corner, so basically you'll never buy anything cause you'll always be waiting. Best thing is to find something that works for you for the time being. Looking at the Surface Book you'll probably wait for th eone with the Coffee Lake, but all indicates that's not the one that will have thunderbolt in the USB-C port, so then you might think, better to wait for that other one, but by then faster memory or better video chips will be about to come out, so way not wait for the better graphics, after all, while the Surface Book is great, it's not known for it's graphic performance... etc etc

I prefer the laptop but as much as i love the screen on both the book and laptop i dislike the keyboard key layout. No purchase. Bummer.

How about the graphics performance of the two devices? The Surface Book with performance base featuring the NVidia Geforce GPU has been the one I kept an eye on, but how much does this make it stand out from the best Surface Laptop, and in which usecase scenarios?

I'm a Surface Book owner, and i'm definitely sticking with it. I'm in the camp that loves the design of the hinge. It's unique and sets the Surface Book apart from the conventional laptop form. I also do detach the display for teaching and media consumption. And I like the full magnesium body. I've used fabric type covers in the past, not a fan.

Really a question of pen use. If you only ever use your Surface like a laptop and rarely use the pen, then get the Surface laptop. If you are like me and use the Surface mainly in tablet mode and extensively use the pen, get the Surface Pro. The Surface Book is a little too big of a tablet for me.

What about the difference in display resolution ... DPI ...is this significant?

I guess before I choose to buy Surface Book
or Surface Laptop, I must try to earn enough money first.🙃

Check the Hp spectre x360 - good laptop for people that aren't rich, great specs per price.

I would get the surface book, CPU might be a little slower but other specs are better and I prefer a 2 in 1 design.

Surface Book 2 CPU is the opposite... it's faster! As most are 8th gen.

Look at the date of the comment, it's from 5 months ago. He's talking about the SB1. In typical Mobile Nation's style, they updated an old article with some new info. This article is from when they announced the laptop. It makes the comments irrelevant. I used to think it was just a Windows Central thing, but they do it on Android Central too. Pretty lazy IMHO.

Oh, I didn't realised. I just presumed it was a new article because the title stated Surface Book 2... ugh. That's pretty sloppy in my opinion. Surely it'd make more sense to keep the original SB 1 vs SL article as the comments will be relative. Then create a new article regarding the SB2 vs SL. Then people have reference and can even use both articles to compare SB 1 vs SB 2...

Surface Book all the way. Why limit yourself to a mono laptop with a gimmicky pen/touch experience when you can gain the full 0-compromise functionally of a Laptop, with added ports, a discrete GPU and a lot more (as a Tablet, Digitizer Drawing Board, notepad/logbook, pen+paper replacement, etc.) at similar price?

A Surface laptop running Windows 10S with access only to a depleted store with no worthwhile apps. Let me see...

Silly statement as it can have full Windows very easily.

I've gone Dell XPS 15 and saved myself a grand. If an ARM based note like device is announced at the end of the month I will get one of them too.

I hope the XPS 15 refresh will sport a GTX 1060. If they do, it'll be a no brainer for me.

I'd say a 1060 is a given!

In para 'Price is also a factor.....' 256GB is being mis-written as 1256GB. 😃⌨ If admin is reading this, remove it too...

There seems to be no reason to buy the laptop over the Surface Book 2. Unless your absolutely limited to $1000. But still the material on the laptop is just yuck. The surface book 2 seems amazing. The only spec its missing is TB3. But with USB-C with display support it partly makes up for it.

I love surface. Panos seems passionate about details, and I'm a man of details myself. I also respect the fact that he failed at first when surface was costing Microsoft millions without profit, but then he just picked up the pace and made it work.

Love the book 2, but way out of my price range.

Apt title would be should buy anymore microsoft hardware? Got to vent the frustration somewhere

Nice article. Can you purchase an 13.5 inch sku with a 1050 that's a silent tablet section? That's unclear if there's a 13.5 inch sku with no 1050. If so, that one definitely is silent. But what of the sku that you can get with a GTX 1050? Is the tablet also silent in that unit?

Yep, really can't decide between the surface book 2, 13 or 15' ???
Luckily, Microsoft made it easier for me to decide...
I'm on the UK so can only get the 13' 😣
(would love the 15' for work)

Surface Book 2 easy over surface laptop. However hold off on the purchase till next year in hopes of a proper usb-c lightning bolt port.

I have had a chance to play around with the SL, and I really love the form factor being so , 'normal'. At this stage I feel that the keyboard is a little bouncy in the centre, and that seems weird. I go back to the SB's keyboard and I feel ripped off with the plastic feel, but then I understand the weight thing as well. So, I guess once I weigh things up I'd most likely get the SL because I have the Pro, also, the lightweightedness of the thing is very important to me, oh, and the battery life. On that note I love the SB as that's what my wife uses, and she loves it. I do really need the Studio though, but feel it is not ready. When the Studio 2 comes I'll get that.

if only Surface Laptop had an SD card slot

The article refers to 8th gen intel processors as coffee lake- but coffee lake is only desktop cpus. The 8th gen processesors currently in laptops are Kaby Lake-R. It's definitely confusing- I thought it was also coffee lake on the mobile side until a week ago.

Base model Surface Book for me! The 7th gen cpu doesn't bother me since it's plenty fast, and I don't need some hard core graphics card in it since I have a gaming pc desktop. I returned a previous surface book I bought just hoping for USBC. I don't need thunderbolt, but I do like having one dongle in my backpack that has all the ports on it.

From last year stand-point. Yep, Microsoft finally bargained. $1500 gets 256gb/8gb & fanless rather than just 128gb storage.

Sorry guys but the answer is NONE OF THE ABOVE. Why? 1) They're both crazy expensive for what you are getting. 2) Without a Surface "Phone" in the lineup you're going to end up divided between two ecosystems. 3) Microsoft is effectively killing off the entire Windows OS by foregoing mobile device. NYPD? Delta? General Electric? Yes, even M$ beloved enterprises are ditching Microsoft. NYPD ditches 36,000 devices, Delta airlines 33,000 devices, and now General Electric (the 13th largest employer in the US with 330,000 employees) are all ditching M$. All of them are switching to iOS for their phone and tablet apps. GE is actually switching to Mac too! Sure Macs are more expensive up front, but because of fewer bugs they are cheaper in the long run because of maintenance and support costs. M$ will eventually abandon the Surface line altogether. It's inevitable. Choosing a Surface device is a very expensive gamble on a company that has no loyalty to its fanbase or developer community.

ive had both generations of the surface book, and am buying the top end 15" next month. The surface book has been such a great device for me with only a few quirks that were ironed out a long time ago. Can't wait.

I will be picking up a Book 2. I need it for work so I can write off a bit of the cost as a business expense. I currently have a Pro 4 and need something with a bit more horsepower and a bigger screen so I was super happy that they now have a 15" option.

i dont think surface book is part of the surface plus payment plan. its not on their website. it just lists sfpro,sflaptop and sf desktop

To avoid any misinterpretations, none of the Surface Book 2 models come with "Coffee Lake" processors. Intel's 8th generation mobile processors are based on "Kaby Lake Refresh" instead. :)
Windows Central Newsletter
Get the best of Windows Central in in your inbox, every day!
Thank you for signing up to Windows Central. You will receive a verification email shortly.
There was a problem. Please refresh the page and try again.