Should you buy the Surface Pro 4 instead of the new Surface Pro?
Should I get the older Surface Pro 4 or the new Surface Pro?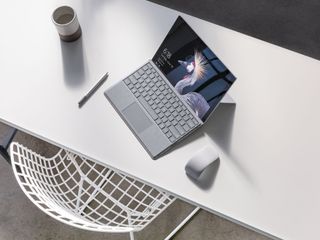 Now that Microsoft's refreshed Surface Pro 4 — named simply the Surface Pro — has been revealed, many people are wondering whether they should stick with a tried and true device or go for the newer hardware. Let's take a look at some of the differences and similarities to see which Surface is best suited to your needs.
The new Surface Pro is more portable
The Surface Pro line has always been about taking on tablets while maintaining the function of a full PC. The new Surface Pro takes this idea and runs with it. Available in models coming later this year will be optional 4G LTE connectivity. This will work with nano SIM cards commonly used now, as well as eSIM cards that are set to take over.
Adding to the Surface Pro's portability is a battery that will last about 50 percent longer. You should expect up to about 13.5 hours of use on a full charge, meaning you don't have to worry about hauling a charger with you.
Bottom line: If you're working primarily from home or office, LTE connectivity and a larger battery don't mean much. However, if you're constantly on the go to places without Wi-Fi (and likely without an outlet), the new Surface Pro should be your first choice.
The new Surface Pro contains new hardware
With this overhaul comes a host of new hardware, including 7th-generation Intel "Kaby Lake" processors. The upgrade from 6th-generation processors helps with battery life and delivers a slight edge in performance, but the biggest change is perhaps that Core i5 processors are now fanless.
Core i7 models of the new Surface Pro use Intel Iris Plus Graphics 640, giving a significant boost to graphics power over the Intel Iris Graphics 540 in the Core i7 Surface Pro 4 models.
Bottom line: If you're interested in graphic design or any other hardware-intensive activity, you'll want to opt for the new Surface Pro. Just need a laptop for browsing the web and word processing? The Surface Pro 4 will handle those tasks with ease.
There have been some changes to the body of the new Surface Pro
Picking up the new Surface Pro, one of the first things you'll notice is how the edges are smoother and more rounded. Also changed are the radial vents that run around the top of the device. They are quite noticeable on the Surface Pro 4, but Microsoft has done a good job of trimming them down on the newer Surface Pro.
One other noticeable aspect on the Surface Pro 4 is the front-facing camera. The cutout in the bezel where it sits is sort of wide and is a different color than the rest of the bezel. Not so on the new Surface Pro. The camera has been blacked out, making it disappear into the bezel. No longer will the eye be drawn there.
The kickstand on the back of the new Surface Pro now opens further, allowing your device to sit at a 165-degree angle. The Surface Pro 4 does open quite wide — at a 150-degree angle — and is suitable for most people, but artists will love the extra 15 degrees.
Bottom line: The big difference here for a lot of people will likely be the extra degrees of rotation in the kickstand, but those concerned with the appearance of their device will also love the smooth edges, hidden camera, and reduced vents on the new Surface Pro.
New Surface Pro Type Covers also work with previous models
With the new Surface Pro comes a new collection of Type Covers, the slick keyboards that attach with magnets. These new Type Covers are all covered with Alcantara fabric, the luxury stuff found only on previous Signature Type Covers and on the new Surface Laptops.
These new Type Covers are available in three new colors: platinum, burgundy, and cobalt blue. Those who already have a Surface Pro 4 will be happy to know that these new Type Covers are backwards compatible.
Bottom line: This one is a draw. The new Type Covers will work with the Surface Pro 4, leaving the option open.
The new Surface Pen blows the old one away
One of the main features of the Surface Pro is inking, and the new Surface Pen has been updated to reflect the demands of users and advances in technology. Instead of 1,024 levels of sensitivity found in the old pen that comes with the Surface Pro 4, the new pen has a whopping 4,096 levels of sensitivity.
Also cut down is the latency. The new Surface Pen sits at 21 milliseconds, while the older pen is more than double that at 45 milliseconds. You can now also use the pen on more of a tilt, great for shading. The extra sensitivity, increased tilt, and decreased latency means an inking experience that's pretty much on par with a real pen on real paper.
The good news here is that the new Surface Pens are backwards compatible with the Surface Pro 4. However, not all features will be available due to different technology in the older displays. It appears that you won't be able to experience the same levels of latency or sensitivity, but a later update will bring the increased tilt support to the Surface Pro 4.
One more thing: the Surface Dial can now be used directly on the screen of the new Surface Pro, something mobile artists have been clamoring for.
Bottom line: For the absolute best pen and inking experience, you have to go with the new Surface Pro. The new Surface Pens will work with the Surface Pro 4, but you won't be getting the same experience.
Price and availability
Many people will turn to the price comparison as the final decider here. The 128GB SSD, 4GB of RAM, Intel Core m3 configuration of the Surface Pro 4 costs about $700 (opens in new tab), while the same configuration (albeit with newer hardware) in the Surface Pro costs about $800 (opens in new tab). Neither of these laptops includes a Surface Pen or Type Cover.
As you scale up the hardware, a Surface Pro 4 with an Intel Core i7 processor, 16GB of RAM, and a 1TB SSD costs about $2,400 (opens in new tab), but you also get a Surface Pen (last generation) with the deal. A new Surface Pro with the same specs and no included Surface Pen costs about $2,700 (opens in new tab).
As for availability, the new Surface Pro and new Type Covers will be available June 15 in the following countries:
Australia.
Austria.
Belgium.
Canada.
China.
Denmark.
Finland.
France.
Germany.
Hong Kong.
Ireland.
Italy.
Japan.
Korea.
Luxembourg.
Netherland.
New Zealand.
Norway.
Poland.
Portugal.
Spain.
Sweden.
Switzerland.
Taiwan.
U.K.
US.
Bottom line: If you need the least expensive Surface between these two devices, go with the older Surface Pro 4. The included pen (except for the Core m3 model) and price difference of a few hundred dollars can be a pretty heavy factor. The Surface Pro 4 is still a formidable laptop, especially for anyone not worried about the absolute latest hardware.
More resources
Windows Central Newsletter
Get the best of Windows Central in in your inbox, every day!
Senior Editor, Laptop Reviews
Cale Hunt is formerly a Senior Editor at Windows Central. He focuses mainly on laptop reviews, news, and accessory coverage. He's been reviewing laptops and accessories full-time since 2016, with hundreds of reviews published for Windows Central. He is an avid PC gamer and multi-platform user, and spends most of his time either tinkering with or writing about tech.
When can we expect cpu tests? Is fanless i5 really faster? What about heat?

Buy first...We'll give the the test later!

I'm more interested in the instant-on feature that was mentioned quickly somewhere.
If one is truly like a tablet while the other still 'turns on quickly' like a PC, that's done deal.
I know this seems like an OS thing, but I'd like to know if it truly is, or if there is some hardware component as well

First of all, I agree. The instant-on is a highly desired feature. It's funny. Back in the day, Microsoft was trying to some core kernel code put onto BIOS chips to enable faster boot times. I think this was 15+ years ago (at least). It surprises me today, that they are still unable to forge the type of partnerships required to make that happen. Maybe they have! But, I have pretty recent PCs and though sleep/ hibernate resume is fast enough, it isn't "press power, screen on and login waiting" fast.

The current SP4 (i5) takes half a sec to return from Sleep. 12 seconds from a cold start. like ourselves you don't need to actually turn off until the end of the day. :) An Ipad Pro takes 35 secs from a cold start. Half a sec from sleep. A Samsung Galaxy Tab S2 takes 25 Secs from cold start. Half a sec from sleep. I dont want my SP4 or SP to boot truly like a tablet that would be a step backwards of 4 years. Have the wise speak only of what they know.

I don't know about you but my various surfaces (3, SP4) and other windows tablets (miix 720) aren't exactly reliable when it comes to waking up from sleep vs my iPad.

I dunno if this is a dumb question: The new keyboards are backwards compatible, but are the Sufrace Pro 4 keyboards compatible with the new Surface Pro? (And I agree about the instant-on feature mentioned above.)

Yes, old keyboards work with the new Surface Pro.

The 50% more battery life itself says I'll be getting a Surface Pro over 4.

We are also in Europe (Greece). Why do MS ignore Greece as a market ?

I guess this is a translation error and you mean why do MS ignore Greece. Your government along with EU tax and litigious policies are some possible reasons for that.

You was right. I edited it now.. And you probably right about the reason... But I wanted to buy a surface pro... 😢

I have a 3 with the i5 and one of the things I notice most on insider builds is extra cpu utilization which means the fan is almsot always on. However annoying that is, for my needs, this device still has lots of life left so no upgrade for me.

I agree. And with new insider builds, I think the power-on from sleep is almost instant. Unless they mean instant on from hibernate or a powered off device. I use the Windows button (tap) to wake the SP3 from sleep. I find it faster than the power button.

Have to agree. As much as I would like a shiny new Surface Pro, my SP3 still runs like a champ. No real reason to upgrade except the desire for new toys, and this is a rather expensive toy to try to keep current. That said, I do predominately use it with the cover attached, so we'll have to see what a SB2 looks like.

Core i7 models of the new Surface Pro use Intel Iris Plus Graphics 640, giving a significant boost to graphics power over the Intel Iris Graphics 540 in the Core i7 Surface Pro 4 models.

This should say core i5.

The i5 models of both the Surface Pro 4 and the new Surface Pro have Intel HD graphics, not Iris.

The surface pro 4 does come with pen. Microsoft decision to not include the pen in the laptop and pro is silly.

They do include the pen with the new Pro but not in the m3 configuration.

Nevermind, I misread a section of the article. Yep, the pen and cover need to be included or at least discounted if you buy it when you buy the Surface Pro.

Currently Microsoft sells the M3 Pro 4 without the pen included at the reduced price mentioned. the New Surface Pro does not come with the Pen in any configuration. It is sold separetly for $99.

I read that MS surveys have shown that only 25-33% of Sp3 or Sp4 users actually use their pens. If they included the Pen the price would be higher.

Not true. Silly assumption. Most people don't use one because they are not used to it or have no real need.

Ridiculous ass question! Of course you should buy the Surface Pro instead. Cut these dumb ass questions out brotha.

The Dial will work on screen on the sp4 and the SB after firmware updates. Already been talked about.

The Surface Pro is a nice and good product, but it's in my opining just an evolution and definitly no revolution. I really don't understand that they had to increase the price by not including the pen. That's a 100 dollar more for nothing. On the other hand they sell it as a laptop but don't include the keyboard and just reveal the even more expensive signature keyboard, which makes the whole system even more expensive. For this price I better buy a pro 4.

New processor = more than $100 cost.

when will the SP4 be discontinued, with an extended warranty would be a shame to drop it, screeen crack and sent in to repair only to be replaced with the new SP :P

Once the lte version is available I think I'll be upgrading from my pro3. Which is still a brilliant machine !

Why do you keep referring the surface as a laptop?

Minimal upgrade. I'll wait for surface pro 2019. I will get the alcantara keyboard tho. Looks sexy.

The increased battery is the only thing from the Surface Pro that I will miss on my Pro 4. If I can get tilt and more pen pressure just by purchasing a new pen, I'm perfectly happy with my Pro 4's kickstand angle, pen performance, cpu, display, etc, etc. I'm still a little bitter that we never got on screen Dial support. I bought one ONLY because whats-his-face at Microsoft said we'd be getting it.

All I want is a core M with 8 gigs of RAM. Is that too much to ask. I run AMIDuOs and it would help if I had the extra memory. 4 extra gigs and a i5 isn't worth 2x times the price. I'd pay an extra $200 tops.

Interesting approach to surface pen for latest iteration of the surface pro series to say the least (not one that I'm overly fond off, rather Applesque. Also why just Surface Pro?
Does that mean it's the last iteration of the series and going forward we will just get internal hardware revamps? Hmm..

No. If you're going to drop the pen, you need to drop the price. Without the pen, the new Surface Pro (including the SP4 w/M3 SKU, which originally came with the pen) is now at least $100 less valuable off the top (-$200 for the i7/8GB RAM/256GB SSD and up) than its predecessor with the pen included. Also, what happened to the same kinds of technology getting less expensive over time? There is nothing novel about any of these devices over the past 10 years that warrants the trends in pricing that are outpacing inflation as well as cost-benefit. The inherent planned obsolete nature of these non-user-repairable products should immediately knock their prices down within a year of their release let alone start them off at a much lower price point. Your bloated R&D isn't producing much that we can't live without short of the government arbitrarily making tech use mandatory to do normal human activities.

For portable/ tablet hardware, my family owns a SP3 and an SP4. I use the SP3 as the SP4 has been monopolized by my partner. They are a world of difference apart in feel! If my aim is to replace the SP3, I would get the new SP. I won't be replacing the SP4. Admittedly, for my use case, I am still on the fence re: the new Surface Pro vs Surface Laptop.

"Intel Iris Plus Graphics 640, giving a significant boost to graphics power over the Intel Iris Graphics 540 in the Core i7 Surface Pro 4 models." Dude what? No it doesn't, lol.

You'll be running gta 5 max details at 60fps MINIMUM on it, guaranteed

Basically: If you don't have a Surface Pro and you want one, get the Pro 5. It's an improvement all around. If you want one and you've been waiting for the new one, the ... 300$ difference between same configurations SP4/5 is worth it.

I think, the question should have been, 'Is the Surface Pro 4 still viable since the Pro is soooooo much better!' Future discounted rates on the Pro 4 will tell if that is still worth buying. I have the Pro 4 and love it but there is no way I would still buy it over the new Pro!!! Battery life, better pen, better chip, lighter etc. I think it goes without saying. Deep discounts, well that's another thing.

As a Happy Surface Pro 4 owner, I see no need to upgrade with this Model. * However , I'm impressed with the Battery life ( MS should be ashamed selling us the Pro 4 with its current Battery life 2015/2016) *The LTE is Awesome!!!!!! BTW This truly shows that A SURFACE PHONE ( LTE , TELEPHONY) IS ON ITS WAY!!!!!!! BOTTOM LINE:
I 've only had the Pro for a year and I cannot justify buying a new one just yet .

How durable is the alcantara fabric covered keyboard? Not sure if it's going to hold up well in humid tropical climate.

I waited for a Surface Pro5 and it didn't happen. So, I just bought a Surface Pro4 last night. I will wait for the USB-C version next year.

It didn't happen? How did it not happen? They changed the naming, and it's a marked improvement over the Pro 4. ??????

He wanted teh Surface Pro 5. Can you buy a Surfare Pro 5?? No you can't, because it didn't happen

It's great that they were some updated improvements, and all, but that's not a SP5. I got a better deal on an SP4 and it made more sense than to jump on the little improvements added that will still mean I will have an obsolete piece of hardware in a year anyway!

When in india??? Lol!! 😂😢

So worldwide or globally means these countries

I think the new 2017 Surface Pro's LTE capability. It's increased baterry life , Fanless Intel i5 CPU and new Pen increasing it's drawing artist use are the best reasons for me to buy a 2017 Surface Pro. I wont waste my money on buying a lesser Surface pro device.

Plenty of reasons to get it. Some people have been fooled into thinking there weren't many changes because the look didn't dramatically change.

I think the Surface Pro should go to a 14 inch screen size though and get USB "C" next year to stay at the top of Hybrid Tablet / laptop devices
Windows Central Newsletter
Thank you for signing up to Windows Central. You will receive a verification email shortly.
There was a problem. Please refresh the page and try again.