Show Microsoft your video skills for a chance to win an Xbox One, all launch title games, and more!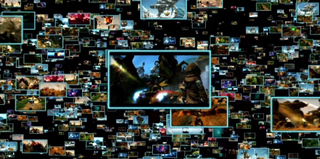 Microsoft is ready to go all out for their new video game capture suite, Upload Studio. The recently announced Xbox One application will allow gamers to capture video game footage, edit to their heart's content, and then upload it to the web to share with friends. In an attempt to attract users to the new service, Microsoft is launching the Upload Outreach Program.
The new Upload Outreach Program for Xbox One asks users to create a sixty second video about any Xbox 360 or Xbox One game that you love and then share it with the Upload team. Microsoft will select twenty winners who they feel showcase originality and imaginative use of video content.
Winners will receive an Xbox One console including the bundled Kinect sensor and controller, a year's worth of Xbox Live gold, and one copy of every Xbox One game launch title (Whoa!). Those who are selected will also be given future opportunities to work with the Upload development team.
The prize lineup is insane and we suggest submitting a video if you think you've got what it takes! The contest is open to anyone 18 years of age or older that resides in the USA, United Kingdom, France, Germany, Canada (excluding Quebec), Australia, Spain, Italy, New Zealand, Austria, and Ireland.
For more details on the contest and how to enter, click here (opens in new tab).
Good Luck!
Source: Major Nelson's Blog
Windows Central Newsletter
Get the best of Windows Central in in your inbox, every day!
Dammit I was like lets go, bust out my after effects and 3ds max, make a GTA 5 vid, then I saw over 18 and was like
...
:(

Just have somebody over 18 be the "technical" entry... Make your movie, have a parent or somebody submit it, and profit :)

(busts out the laptop) OK LETS DO THIS

ask someone with 18 to send your video for you

Ok come on I don't see what difference two years is going to have on my maturity level, so... Yeah. Plus, check out the blood and gore available on YouTube to anyone of any age... Much worse than GTA 4 or 5. In conclusion, :P

That was a pretty mature answer kvell36. While I think age ratings are important it all comes down to the individual maturity, it should be up to the parents, though some are quite immature, themselves.

Yes! I agree with you Slayer. :)

Aparently Portugal is the only country where nobody cares about Age Ratings: if a 10 years old enters a store with money, he can buy all the games he wants.
One of the first games I've played was the first Tombraider (PEGI 12+) when I was 5. The only results from that are: I felt very frustrated because that game was impossible for a 5 years old to understand and complete; and now TombRaider (2013) is the best game ever made (in my oppinion).
Also played Grand Theft Auto (the first GTA with view from the top - PEGI 18+) when I was 6 and it didn't impressed me (despite being easyer than Tombraider the gameplay and graphics were way worst). When I was 8yo, Vice City (PEGI 18+) came out. All my friends played it and told me it was great so I've also bought it for myself. Set language to Spanish because it's easy to understand for a portuguese speaker and it was the first game I've ever completed.
Last year, I've replayed GTA Vice City and I now agree playing it get's you on contact with themes as guns, death, theft, drugs, drinking, sex, prostitution and pornography too much transparently for that age but when I was playing it with 8 years old I was able to relate guns, theft, drinking, violence and prostitution as bad stuff I could only do in that game and never in real world. Honestly I didn't understand anything about the drugs and pornography parts at that time x)
Today, I'm a 19 years old Computer Science student who loves to play Worms, CS GO, TombRaider and GTA. I hate real world violence, never smoked or tryed drugs and never had contact with a prostitute (exept for those prank calls I believe everyone does with friends - way better than prank call 911 if you ask me). I'm a colege student, so of couse I drink but never enough to blackout (drinking age in Portugal is 16 years old including Wisky, Vodka, Tequila, Gin and Absynth xD).
What matters is the education your country and your parents give to you, not if you played violent games before the recomended age...

I completely agree with you on the fact that it's up to the parents to make the distinction in the child's mind between in-game and real-world evils (violence, drugs, prostitution etc.) and that it really depends on the individual's sense of morality. However, many parents in this day and age are not able to nourish their children's minds with positive ideas and these games become the only reality for some. In these scenarios (urban areas, often low income families, with high crime rates) , where parental figures can be absent or even abusive, it makes perfect sense to limit the age of the individuals allowed to access obscene material. Thus the ratings are justified. However, I do not understand why I am not allowed to enter Microsoft's video competition. I know that I could enter as one of my parents, but that would be violating the rules of the contest, and even if my video did get recognized, the credit would go to them, not me, the creator. And if the credit did somehow come to me, I would likely end up disqualified from such a competition, simply on the basis of lying about the origin of the video (me, but submitted through my parents). Thus although I could probably make a video that people would enjoy; I will not, simply out of respect for Microsoft and their competition's rules.

Microsoft is awesome. And on a different note, Windows Phone is all over the VMAs tonight!

Read the comments here.. This fool is trippin..
http://www.wpcentral.com/live-seattle-here-your-chance-experience-xbox-o...

That's awesome, but why no love for Quebec?

Quebec is *always* the exception. There are always special rules and exceptions for Quebec.

Quebec has some rules that make it unappealing to have any prizes/giveaways within the province.

Not only must paperwork be filed more than 30 days in advance, and fees paid, you also have to pay 10% of the prize total - so if you have $1 million of prizes, you have to pay $100k to Quebec, whether or not anyone in Quebec wins. (I'm pretty sure it was 10% last time I looked into this).

I believe you have to pre-submit all advertising too, but not sure.

This also applies, whether or not prizes are guaranteed. IE, Someone MIGHT win a car, but the odds are that the car prize will never be claimed.

There are lots of states/countries that have extra filing fees that may be between $30 and a few hundred dollars, and some just have lots of paperwork....which is why it's easiest just to stick with the countries you've already worked with before for prizes/contests.

Oh, and another stipulation is that certain countries/provinces, require any disputes to be settled in their own methods, in their own country - and those can end up being costly.


Cool, did we just get a lawyer for WPCentral?

I'm sure we have a few...

You just like to spoil my excitment...

Well your still new, so im trying to help you out...

Now that's a cool prize...Sounds like a job for our amazing Lumia phones!!!...I can't wait to see what people submit.

No love for [insert country here]
So you stop spamming the comments just make a comment to this

Today at WalMart they were talking about Xbox One preorders over the intercom system.. They were telling people that they could place a preorder with 10% down..

I pre ordered with nothing down :P damn expensive once it ships though.

Me & a Co-Worker Preordered ours yesterday with $50 down. My bro should preorder his later this week. Last time I was this excited was holiday 2005. Nostalgic.

I pre ordered at JB Hi-Fi in Australia with $10 down.

oh bummer... no love for Brazilians :(

No love for Isla Nublarians.. Bummer

No love for romulains either! What is this world coming to?

Romulans? You can't ship to another universe.

There is only one universe.

Sigh... My country isn't there.

Australia is so cool it needs to be said twice.

Whoops! Nice catch - fixed. The second "Australia" was meant to be "Austria". :)

This provides for a good read about MS, and I think it was very well said❕
http://techcrunch.com/2013/08/25/microsofts-next-era/

No love for isla sorna?? ROOOAAAR!

Video killed the radio star

Does it have to be gameplay footage or can it be a live action film?


Same question here.
However from the T&C: This video may contain any original content element you deem appropriate such as but not limited to text, video, audio, voiceover, camera footage available for use in this Contest. I don't see why not. I think I'm going to go ahead and do a live action film. No one else seems to be going down that route. Fortune favors the brave. But will someone with a bit more understanding of the rules confirm this?
Windows Central Newsletter
Thank you for signing up to Windows Central. You will receive a verification email shortly.
There was a problem. Please refresh the page and try again.