Shuffle Party, Samurai vs. Zombies, Bejeweled Live, and Delicious available on Windows 8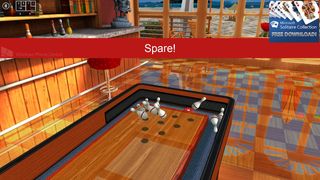 A couple of days ago, Microsoft announced a slew of Windows 8 games that would be launching over the weekend. Today several of those games are readily available to download: Shuffle Party, Samurai vs. Zombies Defense, Bejeweled Live, and Delicious – Emily's True Love. The only one that hasn't shown up yet is Temple Run Brave (based on that movie I dislike), but I'm sure it will be along sometime soon.
Head past the break to check out our hands-on demonstration of Shuffle Party from GDC, plus quick impressions and download links for the games that appeared alongside it.
Shuffle Party
Andreja Djokovic from Babaroga (pictured below) was kind enough to walk us through this game and its features. Shuffle Party is an enhanced version of the original Windows Phone game. Like the mobile version, it's completely free, so all Windows 8 and RT users should be able to enjoy it.
Shuffle Party combines the games of bowling and shuffleboard. The main game mode follows bowling rules, but you use a puck instead of a ball. Challenge mode involves collecting coins with the puck and trying to stop the puck within designated scoring zones. There's also a real shuffle board game type as well as the new League Bowling leaderboard challenge.
Visually, the game is much improved, especially the background detail. Babaroga has added music and nicer sound effects too. And the physics are way more realistic, making it more enjoyable to watch the pins bounce around. If playing from a PC you'll have to get used to mouse controls (not so bad), but touch play is perfectly intuitive.
Windows 8 and RT users, get Shuffle Party here (opens in new tab) at the Windows Store. Windows Phone 7 and 8 users can find the original game here.
Samurai vs Zombies Defense
Glu's first Xbox title for Windows 8 and RT is both unique and addictive. Players control a lone samurai as he attempts to stop an endless hoard of fallen warriors from reaching the town gates. He needn't go it completely alone though, because before long you're able to summon farmers and warriors from the village to fight (and die) alongside you.
Don't let the title fool you into thinking this is a tower defense game. Players control the samurai's movement at will, though he automatically fires arrows or attacks with his sword when enemies come into range. They come in huge numbers so you'll also need to activate special attacks like lightning strikes when things get too hectic.
Between rounds, you can purchase upgrades that increase your attack and defense, as well as that of the helper characters. Some cost coins (frequently dropped by enemies), while others cost gems, which get dropped far less often. Gems and coins can both be purchased with real money, but so far I haven't found it necessary to do so. That permanent 2X coin boost for $1.99 looks nice though!
Samurai vs. Zombies does have some audio issues at the moment, and the controller support needs more work. You can't navigate menus with the controller, for instance. Hopefully Glu fixes these with future updates.
Samurai vs. Zombies Defense is a free download. If you dig the concept, definitely give it a download. Get it here (opens in new tab) on the Windows 8 Store.
Delicious! Emily's True Love
Game House brings the popular Delicious! series to Windows 8. As it turns out, this game is sadly not Xbox Live-enabled, and it's published under the RealNetworks label. Also, while the initial announcement left out the word 'Delicious,' it's definitely part of the game's title.
Delicious is a female-oriented time management game. At the start of the game it goes through a story sequence (cool), and before long Emily is taking customers' food orders, combining ingredients in the proper order, taking their money, and sending them on their merry way.
I didn't spend too much time with this one due to its lack of Xbox features. But I do love the genre and it seems like a worthwhile entry. The graphics don't seem too well optimized for high resolution screens, as they're definitely a little blurry. I'm sure they'd be fine on an RT tablet though.
Delicious! Emily's True Love is ostensibly free, but really that's just a free trial. The full game can be unlocked as an in-app purchase for $6.99. Windows 8 users can get it here (opens in new tab).
Bejeweled Live
We already described Bejeweled Live in detail in a previous article, and you can see our GDC hands-on video up above. Shortly after the first article ran, some users were able to find the game in the Windows 8 Store but couldn't get it to download. Well, now the game is properly available and can be used with any Windows 8 or RT device. We'll have a full review soon!
Bejeweled Live costs $4.99. Get it here (opens in new tab) at the Windows 8 Store.
Windows Central Newsletter
Get the best of Windows Central in in your inbox, every day!
Paul Acevedo is the Games Editor at Windows Central. A lifelong gamer, he has written about videogames for over 15 years and reviewed over 350 games for our site. Follow him on Twitter @PaulRAcevedo. Don't hate. Appreciate!
Anybody else miss 7 lane bowling from the Zune HD days?

And audiosurf. And all those other games. For free.

So what ever happened to nova 3?.....

1+
I would like to know also? Hmmm

:( its been a really slow news day today and yesterday

Yea... Not even sure why Windows 8 apps are being mentioned on front page - I use Windows 7 and don't see the need to upgrade (all my smartphones work well with it) and probably won't do so for at least a year or so...

A lot of our audience does have Windows 8 and the ecosystems (and kernel) overlap tremendously with Windows Phone. Heck, Shuffle Party started on Windows Phone, so the connection should be clear. Re: your personal decision to not upgrade to Windows 8, honestly that's a choice that has no bearing on our editorial decisions around here, sorry.

Well said Dan. Personally I'm happy you post the occasional W8 and Xbox news here. There's no better Windows Phone news site, that's actually a fact.

I find it a bit petty (no offense) to whine about news of a product one doesn't use, it's like: if I don't have it you shouldn't talk about it. Nevertheless, I appreciate the news about it, we're heading to a consolidated ecosystem, it makes all the sense. Windows 8 rules.

I use windows 8 on my main laptop.

Your smartphone runs Windows Phone 7, not Windows 7. There's a big difference.

Bejeweled Live is a choppy, slowdown-infused disappointment on Intel Atom Z2760 processors - which can run much more demanding games like Riptide GP fine.

Clearly a minimal effort port by Popcap.

The Atom Z2760 is a crappy Atom anyway!
Intel Atom "Bay Trail" made on 22nm and using Intel HD4500 Graphics GPU & Quad-Core CPU completely destroy all 32nm Atoms' that use PowerVR 5 series graphics! Not saying that Bejeweled could be more optimal tweaked.

i'm running Bejeweled live on a i7 machine, and it's choppy. It feels as the movements stutters. Weird.

Yeah this is clearly poorly optimized. the N2760 is not the fastest processor around but it can run games 10x as difficult as this.

Lot of cool games, I like that

Can you be more specific?

Shuffle Party is best played while docked, in my opinion. Have you tried it?

Ohhh, I just didn't know which game you were talking about. I've only personally played it on my PC with a mouse. I did watch someone play it on a Surface though (but not docked).

Shuffle party is lame but decent for a free game. Not more bejewled seriously? Lol. Have played samurai yet. Will wait on that one. I hate freemium.

It's a suprisingly good freemium though.

Its not freemium, as far as I know there are no in app purchases. Its completely free.

He means Samurai vs. Zombies Defense, which is definitely freemium... And surprisingly good, as Rhodri says.

Thanks guys you inspired me to try samurai and gave me more enthusiasm. Actually like it. Can't complain about it being free. Overall a decent play!!

I've had an odd problem on shuffle party. Graphics glitch making the puck invisible, and the pins.

The demo of Bejeweled...A slight reminder that I need to start playing Bejeweled Live+ again on my Lumia 900. I need to try Butterflies and Diamond mine modes :) I'm gonna try the Samurai vs Zombies on my Windows 8 desktop, but not sure how it will perform on a non touch device.

Haha yeah I just downloaded Jewel3D again after seeing this article :P

Love Shuffle Party :) But that's one big-ass ad in the corner. I wish they made it more smaller or somehow integrated it into the game somehow (like maybe a poster in the background or something lol)... that'd be cooler.

Is it on the rt versions because its not showing up on mine

Does anyone know if its possible for the smallest tiles to flip back and forth with different information?

On Windows 8, yes. On Windows Phone, no.

Shuffle Party and Bejeweled Live not available in Australia for Windows 8?


They might just take longer to show up. The WIndows 8 and WP Stores don't update at the same time for everyone. But sometimes, it really is a regional issue.

Call me old fashioned, but I heart Shuffle Party. It was a staple on my radar.

Hey I just reviewed shuffle party on my Surface and decided to give wpcentral a bit of a shout out because I really do feel empowered by this app sometimes, and also I would like you guys to win app star, not just coz I love ya, but because it would give WP a bit more of a chance of some limelight in the smartphone world

Last time I checked WP was losing =(, please everyone vote, its the only app I really care about from the list now, all my favourites got knocked out by blummin' photo apps. Anyone got the link?

Maybe others could try this sorta advertising for wpcentral?

You and I are kindred spirits.

I do not blame you, DJ. It just let me down, especially after how fantastic I felt Tangled was.

Samurai vs. Zombies Defense is pretty cool. I hope it'll come to WP as well.

just lurrrve the music on shuffle party!
anyone knows where i can get it for download?
and btw, even the graphics have improved tonnes over the WP version.

Andreja Djokovic, you guys got busy. Nice job on this one. Can we buy it so we can drop the ads? They really do kill the astetics of the game. But nice job guys.

Has anyone found shuffle party in the store yet for Windows 8 and RT?
Windows Central Newsletter
Thank you for signing up to Windows Central. You will receive a verification email shortly.
There was a problem. Please refresh the page and try again.