Gameloft's Siegefall arrives for Windows 8.1 devices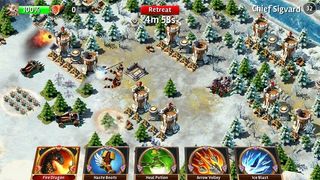 Siegefall, the latest strategy title from Gameloft, has made its way to Windows a week after its launch on Windows Phone. In the game, you build up a fantasy kingdom. You can train your armies, and take them into battle in a campaign mode, or against other players.
Here's what Siegefall players can expect from the game:
Amass specialized troops including sneaky rogues, horrifying trolls, and heavy-fisted knights.
Deploy your army and directly control your Hero in battle to exploit enemy weaknesses.
Master Magical Cards to enhance your strategy: Launch destructive boulders, and conjure Dragons!
War is expensive! Build mines, sawmills, farms and more to keep your kingdom's economy running.
Defend your kingdom with strategically placed defense towers, explosives, barricades and walls.
Battle with players worldwide and besiege their castles for resources.
You can grab Siegefall from the Windows Store on Windows 8.1 right now.
Windows Central Newsletter
Get the best of Windows Central in in your inbox, every day!
Perfect timing, yesterday I started playing this game on my Lumia, but sadly it wasn't available in Windows store. Glad to see it in windows store too

Does this game work like cloud raiders? I mean can you play the same synchronized game on pc and phone? I used to play kingdoms and lords like that, but the game didn't sync... In phone, I was very ahead, and in pc, I was a newbie. On the contrary, if I play cloud raiders on phone, and then open it on pc, it starts right from where I had left it in the phone. Does this game work like that?

It doesn't look like it so far.

Freemium is getting rather used by now..

Grrat, another freemium money sucker from gameloft

At least they are supporting the platform by releasing new games.

I guess you only like puzzle games and endless runners. Ah, simplicity. Most mobile game publishers use this method. Sadly, many smartphone owners are too cheap to pay even $1 for even the best game experiences. Unless you want games riddled with ads, publishers have got to make money somehow.

Yes, all devs use this method. But only gameloft makes mercenary in app purchases. It's pay to play

Yeah, how dare anyone make money off of a game. You know you don't have to actually spend any of your money on these if you don't want to right?

Yeah I'd like more games like gta, minecraft, halo.

It is a marketing strategy.

Game loft get ready to pounce in windows 10. U would rock there.

Hate it has mandatory calendar notifications

Gameloft is great! Microsoft has to bring Supercell onboard. There are many Hay Day and Clash of Clans players.

I'm addicted to this game!

Looks like fun, but I can't find it in the store on the Windows 10 preview.

which is good this one or age of empires castle seige ?

WHEN? WHEN? WHEN? WHEN THE FUCK ARE WE GOING TO GET COC ON WINDOWS? CMON ALREADY CANDY CRUSH WAS PORTED AND SO CAN BE COC ALSO?
Windows Central Newsletter
Thank you for signing up to Windows Central. You will receive a verification email shortly.
There was a problem. Please refresh the page and try again.