SigFig Portfolio has now joined Windows Phone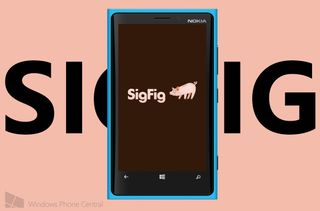 How do you track your finances? We've got some killer official apps like Fidelity Investments and Markets & Me. But you can never really have too many choices right? So today I want to show you guys the Windows Phone version of one of my favorite apps for Windows 8 – SigFig Portfolio.
SigFig is a killer online service that you can use to track all your stocks, funds, 401Ks, and IRAs in real-time. There's a Windows 8 app, web browser app, and now an app for Windows Phone. SigFig started out as a company focused on providing consumers with an easy way to view all their financial information and to make informed decisions. Here's what you do with the app/service:
See all your investment accounts in one place - including your 401k & IRA
Track your stocks, mutual funds, and ETFs in real-time
Use beautiful charts to check your performance, allocation, risk, and more
Optimize your portfolio in seconds via our investment advice engine
Sync with 60+ brokerages including Scottrade, Fidelity, E*Trade, and Vanguard
The app itself is nice. Launching it will give you your portfolio overview. You'll see the total value of your portfolio, $ change, and % change. There's also a performance chart, rotating your device into landscape will give you a full view and allow you to change some parameters with the chart. Swipe to the right and you'll see all your holdings, top gainers and top losers for the day, advice for your portfolio, charts, and specific news for your portfolio.
The app is missing a few things that the big brother version can do on Windows 8. Namely pin specific stocks or accounts to your Start screen. This is version 1.0, so it shouldn't be too long before this app gets that feature. Not just that feature, a few other things specific to Windows Phone 8, like lockscreen support or fast app resume. This app is also available for Windows Phone 7, so it's probable that this was done to just get the app out and available to everyone.
While I would have liked some features from Windows Phone 8, it's nice to see the app finally on Windows Phone. And I can't complain for a free app/service.
SigFig Portfolio is available for all Windows Phone devices. Download it here from the Store, use the QR code below, or swipe to the right in our app. And don't forget to get the slightly more mature Windows 8 version right here (opens in new tab).
Thanks for the tip Jon D!
Windows Central Newsletter
Get the best of Windows Central in your inbox, every day!
Yes sig fig!! What the hell is sig fig??

I know it's Friday and all... but seriously?! lol "SigFig is a killer online service that you can use to track all your stocks, funds, 401Ks, and IRAs in real-time"

Sorry, didn't feel like reading. Very tired. :) plus I'm poor so stocks and such are foreign to me

Siggy Fig, Siggy Fig, Siggy, Siggy, SigFig!!! =D

I must be tired I'm seeing things

Now I just need a portfolio to track? :)

Yeah, me, too. I have a few stocks in my 401K and Roth, but not enough to need an app like this one. What I need is Mint!

I feel the same way. Mint is what we need. About two days ago I got reply from them saying no WP app, it had been months since I wrote to them.

woohoo, love this app since w8 preview days, excited to see it on wp now!

Its nice! The only things its missing for me are pinning accounts and a summary of my holdings performance over the lifetime instead of just daily.

By the end of the year it seems the app gap will be closed!! I'm saying this because im sure by then all apps that mostly everyone is clamoring for will be available, at least on WP8.. I promise that Instagram is coming soon.. It's coming soon.

Why you make such a promise, what do you know that we don't, hmmmm? Could this be a case of wishful thinking. Hmmmm?

I keep all my promises son.

damn man i like some of your stocks in your portfolia.FNHC (21st century imsurance) was up a grip today. stole some of your stock ideas, hope you don't mind.

Bloomberg and fidelity are all I need there a little to late

So, im sitting here, at work at the airport, and this guy comes up to me and ask me how I like my 920, which surprised me.. I said I loved it, and it was a very conscious decision.. I asked him what he used, and he pulled out a very nice black 8x, which is funny because after focusing on these colors for so long it was actually cool to see a black phone,, it looked so cool!! Anyways, he kept going on about how he had to get a windowsphone, so I asked him why. He said he worked for MS, and just had to support it.. So, now he wants the 928, and he threatened to chunk his phone off the plane, which would get him more than a new 928 BTW. One good measure of how good WP is doing is to spend time in a public place, and no place is better than DFW International airport. It seems that im talking to passengers almost daily about their WP devices, and there's more people out there who have these devices than we think..

This post should've been in the forum

Who are you the post police?

Some peoples kids huh? Like it really is a life or death matter, c'mon

Black 8X? Meh it looks like my current HD7. The blue 8X is awesome. It's a shame the 8X is barely better than my HD7 otherwise I would've bought one. The 920 is the bees knees, but I'm waiting for one with microSD *sigh*

I really like the 8x.. About the same as my 920.. I think both have their advantages..

Woo,woo,woo, post police! stop typing! This post also should have been in the forum. . . . Lol

Looks interesting but showing me wrong data for my stocks ... weird.

Off topic: I've been drinking and I just got a number. She pulled out a 920. I'm in love

Same thing happened to me the other night, but I let him keep his number..

YAY SIGFIG now its like having an actual ING share builder app

My thoughts exactly! Share builder woot

I totally agree....so long now without a share builder or ing orange AP. Missing wells Fargo to. I'D be one happy camper if I got ApS for those three

Nice app, has some bugs, sent a support email, like it when it works

And Sam if your portfolio is really that big I need some help puhleeze!!

comment withdrawn....

we need a delete button wpc

This is a great app. Easy to load accounts and has some wonderful tracking tools! Love it!!!! Our platform is on a serious roll.

Glad you like it. Loved it on my Surface, glad to see it on my phone now.

hey, any ideas on why i can not find the windows 8 app in the store? Im on my windows 8 laptop but no matter what, clicking the link or searching in store i can not find the app.... any ideas? (Windows version is german, i am currently going online in taiwan)

I installed it and am very impressed. It flawlessly brought in my two accounts. I am a bit concerned with storing all this information in the cloud. Also it would be nice to filter down to a specific account instead of having them combined in the main graph.

Great News! Financial apps are trickling in! Did MSFT get rid of the entire MS Money team when they junked the application a few years back? Creating a WP Money app would have been a nice project.