Sign-ups for consumer Microsoft Teams open, but there's a catch
Microsoft Teams is gaining new features for non-business users, and you can sign up to know when they're available.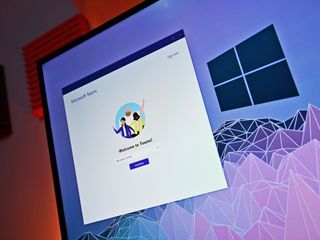 (Image credit: Windows Central)
What you need to know
You can now sign up to be notified when Microsoft Teams for consumers becomes available.
To sign up, you have to agree to hear from Microsoft about its products and services.
Microsoft Teams for consumers adds several features currently restricted to Microsoft Teams for business users.
You can now sign up to be notified when the consumer version of Microsoft Teams becomes available. Microsoft recently announced Microsoft Teams for consumers as part of a larger announcement for Microsoft 365. The upcoming consumer version of Microsoft Teams brings several features to the non-business version of Microsoft Teams that are currently only available for business users, including assigning tasks to team members, editing a joint calendar, and accessing cloud storage.
To be notified when consumer Microsoft Teams becomes available, you have to sign up using this form (opens in new tab). Most of it is straightforward, including adding your email address and your country. The last portion is a bit odd, though. It reads, "I would like to hear from Microsoft and its family of companies via email and phone about Microsoft Teams and other Microsoft products and services." This isn't an unusual statement for companies to include in things like this, but there isn't an option to say no. Usually, you can opt-out of information like this and still proceed with the form. If you don't accept the final portion, you can't sign up to be notified.
Microsoft is trying to position Teams to be for people inside and outside the office. The new capabilities make the consumer version of Teams much more useful than the free version of Teams that's currently available. By signing up to be notified about consumer Microsoft Teams, you'll be among the first to be able to try out the new features.
News Writer and apps editor
Sean Endicott brings nearly a decade of experience covering Microsoft and Windows news to Windows Central. He joined our team in 2017 as an app reviewer and now heads up our day-to-day news coverage. If you have a news tip or an app to review, hit him up at sean.endicott@futurenet.com (opens in new tab).
Well if you don't agree for Microsoft to contact you via email then how do you expect them to notify you when its time to try it out? So if you want to be notified when you can try it out then you have no choice but to agree to it. If you didn't agree to it then you are saying that Microsoft may not contact you to let you know when it is ready to try out and if that's the case what is the point of you signing up to be notified? Microsoft is just covering privacy policies with sending you messages or contacting you with that question. If you don't agree then you just close the browser and don't fill the form out and submit it.

The problem here is that you're signing up for much more than just being notified of Teams availability. Reading this I would not even think it would be related to my Teams notification but just for extra emails for other things like it is in most cases. I think like the author of the article, rejecting this would not have affected my Teams notification in my mind.

In the question it says "about Microsoft Teams and other Microsoft products and services" so they are directing the question in regards to contacting you about being notified of Teams availability, also to use Teams you are using other products and services that are needed to make Teams work. They have to keep it broad because this is for signing up for to preview/trial the consumer version of Teams. Microsoft often uses third party contracted companies to work on projects so the email you get to notify you may be sent from a source outside of Microsoft directly. Also since it is a preview you may be getting extra emails other then just the notification, for example they may want to contact you to complete a survey to see how it is working for you or if there are any suggestions on improvements or features you want. Microsoft often uses third party survey companies to do this. Like I said this is a broad question about contacting you to cover privacy issues. In this day and time people want to sue for anything they can so they have to cover their behind. Since it is a preview they may also want to collet some info on how you use it which is covered in the privacy statement that they link to in that question. If you don't agree to be contacted or data collected then don't sign up for the preview.

Right! I like Sean's work usually (I'd love to see him guest on the podcast for that winbeta feel one more time... Him and zac should do one once a year) but this is one I feel is a little clickbaity; taking advantage of the trends of ppl talking about Ms and privacy.

Also, I was a guest on the Windows Central Podcast once. It was very fun.

I remember. I'd like to see it again though

I don't have an issue signing up for it, in fact I already did. I agree this could be a cover all policy, but I feel like they could have phrased it better or been more specific. "Are you okay with Microsoft contacting you regarding Microsoft Teams? Since Microsoft Teams works with several Microsoft services, as part of this agreement, we might also send data to other services and departments. Do you agree to this?" Something along those lines.

It's hard to balance privacy and liability. You keep it broad to cover your tail but try to be to transparent and ppl will take advantage of specific to try to get a check

I'd image it's a cover all since a lot of this is probably connected, but it should be explained better. The way it reads it seems like Microsoft could start sending you some text messages about Microsoft To Do or trying out Power BI at your business. I seriously doubt that's what it means in practice, but the writing comes off that way.

Exactly. This HAS been the usual for every preview program I've joined

This form went live right after the announcement of Teams for Consumers. Unless something changed?

So exactly what "business" features will be made available to consumers? I recommended a bunch of friends (at least 10) try Teams tonight for a virtual chat. Was disappointed to find out that only four people could be seen at the same time. The rest were symbols at the bottom until they spoke up. Will this change if I fill out the form??

Explain why you need to see the people that aren't talking? I'm genuinely curious about the reason, not trying to be rude. BTW MS are going to introduce that feature soon.

Using Zoom at work, most chat members are muted, but are able to give a visual feedback if the speaker cares to look at the video images.
Windows Central Newsletter
Thank you for signing up to Windows Central. You will receive a verification email shortly.
There was a problem. Please refresh the page and try again.