Microsoft begins moving Skype for Business users to Microsoft Teams [Updated]
Microsoft Teams and Skype for Business are currently distinctly separate services, but that's about to change.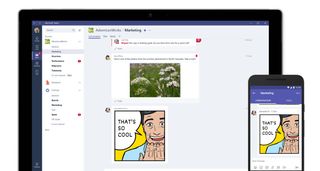 Despite some feature overlap, Microsoft Teams and Skype for Business currently operate as distinctly separate services. Microsoft looks to be changing that, however, by bringing Skype for Business under the Microsoft Teams banner.
As first reported by ZDNet's Mary Jo Foley, a number of users briefly saw a message (opens in new tab) stating "Skype for Business is now Microsoft Teams" when logging into Skype for Business today. This is despite any sort of official announcement from Microsoft signaling a rebranding.
It's possible that this is just a small A/B test, which is something we often see Microsoft do when it's considering a change. However, it also wouldn't be entirely unexpected to see the two services fall under the same banner. Teams was launched as a workplace communications platform meant to compete in the same field as Slack with instant messaging, Office 365 integrations, and more. In terms of features, Skype for Business features quite a bit of overlap with Teams, but also sports some unique features of its own.
In any case, we may get some clarification during Microsoft's Ignite conference, which runs from September 25 through September 29. As Foley notes, there are several sessions on the conference session list dedicated to the relationship between Teams and Skype for Business.
Updated September 7, 2017: As spotted by Petri, Microsoft has now confirmed the change with a message on its admin portal. The move is on an opt-in basis now, but everyone will presumably be forced to upgrade at some point in the future. You can find the contents of the admin portal message below.
Windows Central Newsletter
Get the best of Windows Central in in your inbox, every day!
Dan Thorp-Lancaster is the former Editor-in-Chief of Windows Central. He began working with Windows Central, Android Central, and iMore as a news writer in 2014 and is obsessed with tech of all sorts. You can follow Dan on Twitter @DthorpL and Instagram @heyitsdtl.
Might as well just go back to Lync.

Might as well just go back to Lync.

... might as well go straight back to "Windows Messenger"?

In a minute I'd go back to Messenger.

This would be great to make it a part of MS Teams

In fairness, the Skype branding is (and always was) terrible and it was a really bad decision to associate Lync, a business product, with it. The Teams branding will probably fare much better.

this company is lost. Somebody must organize a search party. LOL

So they shouldn't correct mistakes when they have the opportunity?

MS shareholders disagree. Stock price up close to 30% since this time last year.

@ricardo, so true....its like everyone is sitting in the back of the bus and no one is driving...

So servers went through:
- Exchange 2000 Conferencing Server
- Live Communications Server 2003, 2005
- Office Communications Server 2007, 2007 R2,
- Lync Server 2010, 2013,
- Skype for Business Server 2015,
- Microsoft Teams Server 201X ? And clients went through:
- NetMeeting
- Windows Messenger 5.1 (for LCS 2003)
- Office Communicator 2005, 2007, 2007 R2
- Lync 2010, 2013,
- Skype for Business 2015, 2016
- Microsoft Teams 201X ? Do customers still understand this is an IM and VoIP PBX platform or did Microsoft succeed in confusing them all ?

That's why consultants like me still have a job. Thanks MS

I stop trying to understand when they dropped Lync, now just going with the flow

Idiotic. I get it MS needs something to do. That must change product names every few years to confuse and waste all the energy they did previously. But, getting rid of Skype in any world is a mistake. Integrating as part of Teams fine. But, not calling it Skype would be a mistake. It is actually one of few things that the people clearly associates as the "thing" in a particular area. How often do you see in movies where the business will Skype (and actually use the word Skype). "Jensen go Skype with San Diego". That is free advertising for your product. Can't see them saying "lets Microsoft Teams with San Diego". But, no lets change one of our most ingrained words to something long an confusing. Don't get me wrong Skype for Business is horrible product name. But, Skype is not horrible (maybe the implementation has gotten of track). The name itself is easy to remember and associated clearly with P2P. So fine change it S4B to Microsoft Teams just don't remove Skype from the equation.

It was only Skype for Business for a couple years (maybe a little less). Skype for regular consumers is still available.

Not the point. "Skype" itself is a unviersally recognized name for P2P and that would possibly change. Doesn't matter the product itself is that contains Skype is called Skype for Business or Microsoft Teams. My point was not the removing Skype for Business as a product but, somehow it would be another example of Microsoft's wisdom of product naming. They would feel the need (for no other reason than boredom) to rename the actual P2P in Teams from Skype (as it should still be) to something like Teams Remix or Team Live Talkie Talk. They just have no clue the value Skype has in recognition with communications in business and public perception. You can't force that type of recognition on people. It is organic over time and Skype is the organic term for P2P.

My point is that the product that has most recently been called Skype for Business has changed names almost every couple years. Business clients know what communication products are available. It's not a popularity contest. Skype as a mainstream client product has consistently been called "Skype".

People just don't care about Skype like they used to in the Western world, it's brand has sadly been tarnished by missed opportunities, killing MSN and newcomes like Whatsapp, Viber, Facebook Messenger, Telegram, etc, etc, etc. In the business world people just want something reliable, the name isn't so important. Users are just told "use that to message", they may have used and liked Skype and be happy to have it, but it's not like the name will make much difference to a corporations IT. Skype For Business was just a lame attempt a couple of years back to trade on the goodwill of the Skype name (and even 2 years ago it was too late, let alone now as you suggest). This actually seems like a good decision for once, Teams looks like a great product and I'm looking forward to this change (though ironically I just got Skype today after months of our IT dragging their feet installing it).

@paul, so true....hey, go microsoft teams johnson...too funny....
Windows Central Newsletter
Thank you for signing up to Windows Central. You will receive a verification email shortly.
There was a problem. Please refresh the page and try again.