The Skype Collaboration Project: get free group calls and more for 12 months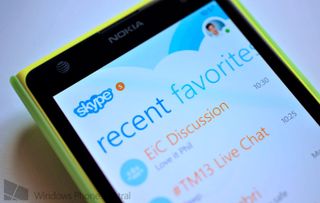 Microsoft is currently offering a sweet deal for those who use Skype. The Skype Collaboration Project is a special offer for those who pick up Premium using a voucher code, bagging free group calls, screen sharing, no advertising and even access to live customer support. Usually you'd have to fork out the full price, but with this special offer, you'll get everything for free.
All that's required is the visit the special offer page, fill in your email address and you'll receive a code which can then be used to redeem the free deal. You have until April 30th to redeem the code and take advantage of the features available.
If you use Skype and would make use of the features listed above, be sure to hit the link below and get started. Let us know how you get on in the comments.
Source: Skype, via: WPC Forum
Windows Central Newsletter
Get the best of Windows Central in in your inbox, every day!
Rich Edmonds was formerly a Senior Editor of PC hardware at Windows Central, covering everything related to PC components and NAS. He's been involved in technology for more than a decade and knows a thing or two about the magic inside a PC chassis. You can follow him on Twitter at @RichEdmonds.
Received an email a few days ago, put in my email address, still haven't received a code. Anyone else not received a code?

It took me a while to receive it as well, wait a little more. If not, I have an extra code I can provide you with :)

Thanks I have it now, it added onto the end of my 12 months premium that came with the surface. Says my subscription is for 2 years now.

I still haven't received my code:( Anyone have an extra code (please please ...please)? email: kaylee.eliasz@gmail.com

Done, check your email :D

You are wonderful - thank you kindly:)

Cheers to you too :) Glad to be of any help!

Would love to be able to obtain one of these codes as sadly the offer no longer stands - I was a bit late to the party apparantly ): @ jason_jman@hotmail.com Thank you very much in advance!

I can't sign-up for that, Can you please give me the URL to sign up and an extra code if you have...
My email ID: mahabub27jan@hotmail.com

Can you please email me an extra code you may not use? I replied about a weeks ago... No email back. Don't know what is going on...

Can you please email me an extra code you may not use? I replied about a weeks ago... No email back. Don't know what is going on... jeffrey.mrimd@gmail.com

Took two days but I got mine.

Tried 3 different e-mails, in Gmail and a local mail provider still no message (it's been a bit more than a day), in Outlook it took just a few seconds

Check your spam folder, that's where mine was.

Got mine in an instant. Free calls for a year. Sweet.

If after the 12 months you take no action, would MS charge you for the next 12 months?

then you sir are doing it compltely wrong as i got mine ..... but wondering if it has ended or not over the period of 2014.. if the sign ups is still going ... well look http://gyazo.com/385d9edb05b6e3d7c886b8c7148e70dd

Sweet! Got my email & code instantly

Is it totally free? after typing the code, it appeared to me a bill like 80€. I didn't understand it

It's the cost of a premium account for a year, but it says right next to it that it's payed with the voucher I'm not 100% sure, but that's what I think :D

That's an account credit. That's how much it would normally charge. It doesn't charge you.

people in the forums jumped all over this a few days ago. Nice deal. Now it's time for the WP Skype team to release some update for Skype.

Took four days before codes were sent. So be patient.

They're getting faster. Took mine 45 minutes ;)

I got mine before I'd even finished submitting the form! :P

please help me! ive tried for days but whenever i follow the link to the skype collaboration proyect page, I cant find no link or section or window with the offer, no place to sign up! ive disabled my pop up blocker, ive tried 3 different browsers... its not there for me! i really dont want to loose this offer, please help me!

I received code yesterday,but when put it I get this massage,
Sorry, you have reached your monthly voucher redemption limit. Please try again later :(

Yes, me too.
Anyone knows why or what is the solution for this ??!!!!

I got the code instantly, did this last night

They were being sent instantly at first but can now take a few days, so if your don't get yours just be patient!

Entered my code yesterday received $107.88 but $$ amount has not changed on my desktop app. Anyone else having this problem?

this is not a problem. That message just says you got service worth $107.88. or were you really thinking of getting service plus $$$

I recieved the same message. Kinda scares me. I do not wanna be charged that much, I do not use these features but if its free why not. I hope I do not get charged :S

Recieve the code yesterday, premium account activated ;)

I got the code in 30 seconds, but redeeming the code gives me an error about voucher limit.

Same here, unknown error occurrs when I try to redeem it. got code within 20 secs

Same with me. I got the code in the email right away, but I've been trying every few hours to redeem it. Always get an error message. Have you had any luck with it finally going through?

I got it. Shame Skype on WP doesnt support group call.

Meh. Not really trying to group call with 5 people on my phone.

While it would be neat to see multiple video streams on my phone, at a minimum it would be nice if you could still participate as audio during it.

You get unlimited phone calls too.

Does windows 8/surface support multiple video?

Almost 36h to receive the code in my email.

I know it doesn't say anything about making unlimited calls to phones and landlines, but is that part of the deal? Just asking bcoz that is a feature of the premium service. Thanks in advance!

In the redeem website there is the list of the goodies

You're wrong, read the features in the premium. Does include free unlimited calls.

You're wrong Chris, yes it does say free unlimited calls only in the ORIGINAL Premium section. If you go to this site (the one offering the promotion): https://collaboration.skype.com/promotion/ the list of things it gives to you for free does NOT include free calling. I guess if you had time and had a good lawyer, you could argue that this is misleading, which it kind of actually is. ---------------------------------------------------------------------------- Matthew Chan - NZ TechBlog

Really Chris. Another person who didn't read offer. :)

For me it arrived after 4 days.

No Love for the tip 2 days ago.

Probably because it was tipped by Jazmac 4 days ago in the forums and soon after by HeyCori.

Microsoft, you're awesome! Thanks for rewarding brand loyalty. First the skydrive expansion and now this. You seem to have taken it upon yourself to be like nokia :)

I got it in a day... Registered yesterday... Got the code today and its working... :)

I got mine instantly when I use my yahoo email, the MS one still haven't received so maybe that helps if u have a sec email account.

They provided me a code that never worked. I have a 2 hours support with them + a logme in and nobody was able to get my code working.

Got mine a few days ago... but what about the 20 GB of SkyDrive space?
I haven't gotten an email, is there not anything in supposed to do?

No code here either for SkyDrive :)

I activated my premium but I still have advertisements on the bottom left of my Skype for Desktop window. Were those the advertisements they were talking about?

I got mine instantly, and activated the code no problem. Not sure if I'll ever use the features, but can't argue about FREE

Same here, $120AUD in value, nice!

signed up this morning, got the code like a minute after and activation went smoothly, said got premium for $107

This I great. It took 2 days for me to receive the code, but I have two codes, one sent to my primary acount and to my secondary. :D

Already have premium for having X1, so I hope this stacks

This is marvellous - got the code the minute I pressed submit. Thanks Micrsoft/Skype!!

Got mine within an hour or two. This is awesome; SkyDrive upgrade and Skype upgrade all at once!

Anyone else getting "Unknown Error Ocurred"?

I got that, any way to fix this?

Guys anyone can answer that I eill be charged for that. It is a bit late I participated it but I do not really understand. By the way, it says after I used the code, grand total is 71,88 Euro. Does that mean I will be charged although I used that code?

No charge, that is the value of the voucher.

Can you dial regular numbers with this? Or do you still need to buy credits?

I'm also getting the "unknown error" anyone know how to fix this?

Me too, and it says I need credits..

Got my email but when applying the code it says an unknown error occurred :/

I can't figure this out, got the code, entered it through the metro app on my desktop, everything went fine, I see the credit, but it's not showing up on my Surface, or my 920. It says on both that I need to buy credits, even though I have the $107.88 credit just sitting there. Anyone else having these issues, or am I missing something here? BTW, it's great to be back, I went back to my HTC One, and then my 920 and back and forth, finally seeing how great WP8 really is, but I will say that Android is like quitting crack, you just keep going back until you finally realize that it's just not good for you :-)

The $107.88 is not credit, but the value of 1 year premium subscription, which you pay for with the voucher

Do you know what exactly we get with premium? I am confused, to me it doesn't seem like anything.

I got the e-mail in a few seconds. First it was Skydrive 20GB and now Skype Premium. Microsoft is in a giveaway mood as Christmas is nearing by. :)

Ya, the SkyDrive is cool, but afer a year when you have uploaded all those docs and files, etc..., and they want to charge you, what happens? Kind of a pain to upload, then download and change services if you don't want to fork over the $$$. It's like a bait and swich, or blackmail scheme.

What's the catch? Why would Microsoft suddenly decide to give away such a deal? I don't use Skype much, but this deal is rather enticing and could make me reconsider. However, until I know what the catch is, I'll abstain.

I think the catch is that it is only on PC, I can't access it on anything else. Why in the freak would I want to make calls from my PC? Sure they give the credit, but it's so limited that they know that you will never be able to use it fully. Very strange, unless they are having delays across devices which could happen.

Well I guess they are trying to offer what GoogleDocs does

Anybody with "unknown error" already have Skype Premium? I'm getting the error and have a few months of it for getting an Xbox One

Is anyone with a Skype Premium from Xbox One having problem redeeming the voucher? I kept getting the message "Unknown error occurred. Please try again later."

Ahhh yes, I currently have a subscription from the Xbox one as well, maybe we can't stack these offers. That would be lame!

Yep me too...going to send it to my parents...so they can use it. Maybe it will work for them.

Title of article should have read "Skype Premium Free for 12 Months." That's what it is afterall. Nice deal. WAY better deal than the 20GB of free Skydrive for a year.

That is a good deal. Though I personally would like to see a promotion that gives you free calls in a country of your choice for a year. I live aboard from my Family and would like to call them more often, but not all of 'em are using Skype or any other VoIP services or chat apps; so it gets a little expensive if I would call them every other day. :/

Code is junk, "unknown error".

Did you try this? What problem are you facing?

i got the same thing as the guy below "Just tried to access the promotion page (collaboration.skype.com/promotion) and it just redirected to the collaboration.skype.com page. I expect this promotion has new been pulled? :("

I tried signing up now, and it just keeps refreshing the page, never asks me to enter email address any where. Anyone else facing this issue?

I have the exact same issue! Why is it doing it?!

Sounds like they are being swamped with requests lol.

when try to Redeem Skype voucher error message

Sorry, you have reached your monthly voucher redemption limit. Please try again later.

Just tried to access the promotion page (collaboration.skype.com/promotion) and it just redirected to the collaboration.skype.com page. I expect this promotion has new been pulled? :(

Same here. Tried in Chrome and IE11.

Same here. Tried in Chrome and IE11.
Also when I comment on WPCentral.com and then try to close the tab or navigate away, EVERY TIME, I get a prompt. "Stay here?!" Why does that happen every time? Javascript bug?

What exactly does this do? I have a credit of $107 and change, but what can I use it for? I can't use it on my 920 to make calls to other #'s, or for sms. I don't get it.

<p>I&#39;m having some trouble accessing this site on my computer :(</p> <p>Would anyone be please kind enough to email me one of these codes? austinfanatic@gmail.com</p> <p>Happy Hollidays!</p>

Looks like I was too late on this. If anyone has a code they are not going to use I'd appreciate if they'd be willing to share with me via PM. Thanks!

Same prob here
Just tried to access the promotion page (collaboration.skype.com/promotion) and it just redirected to the collaboration.skype.com page. I expect this promotion has new been pulled?
:( could any one help me to get this promo code?

Drat! ): Just missed out! If anyone could send out an extra code, it would be greatly appreciated. Email : sxdrod@gmail.com

Damn i missed it . It was working yesterday but not anymore . Is there somebody who could provide me a code. I would appreciate it. Smilling_desi_dj@hotmail.com

If you have an extra code can you send to digzny@outlook.com please.

I have a code which I didn't use in time. Today I was trying to use it but it's giving me an error

Is there anyone who has an extra code? can you send it on my email please : stellarrr_stunning@yahoo.com Your help will be greatly appreciated. Thank you so much.

I still haven't gotten a code either! =(
If anyone has an extra could you send it to me :
volcom.kidd@yahoo.com Thanks a bunch!!!
>_< lame how it didn't work

Does anybody has an extra code? Please i didnt know that there was such an offer like this :c please if you have an extra code send it to me silent_sniper@live.com.mx Please :c

Anybody got extra codes - would love to request one? Thanks and Merry Christmas. shressudha@gmail.com

Need the code as well: mark.steward@live.com

Need the 2 code sir at richardparker2055@gmail.com

Need code plz. if anyone has extra code plz send me to mail id : sudarshan1087@gmail.com Much appreciated and thanks in advance ^^

I've been waiting for my code for a week already. Could anyone please send me a code if you have an extra one?? Thank you in advance, you're amazing! My e-mail: aurytka@gmail.com

please help me! ive tried for days but whenever i follow the link to the skype collaboration proyect page, I cant find no link or section or window with the offer, no place to sign up! ive disabled my pop up blocker, ive tried 3 different browsers... its not there for me! i really dont want to loose this offer, please help me!

I still haven't received my code...holy crap! Anyone have an extra code please?

I still haven't received my code! Anyone have an extra? Erin.Schenke@yahoo.com

please does Anyone have an extra code ?? please send it to rasmusporup@gmail.com

I never recieved a code. :(
Could someone please send me an extra one? I would be so grateful.
Damn_fubts@hotmail.co.uk

Signed up one week ago and still haven't received a code? how can I do?

Do anyone have an extra code?? Please send it to tonylore@gmail.com. Highly appreciated.
Windows Central Newsletter
Thank you for signing up to Windows Central. You will receive a verification email shortly.
There was a problem. Please refresh the page and try again.