Skype for PC starter guide: Account set up, find contacts, fixing audio, and making calls
By Jez Corden last updated
We live in an age where working from home is rapidly becoming the norm for many of us. As such, comms apps like Skype are becoming increasingly useful for keeping in touch. Here are some pointers on how to get started.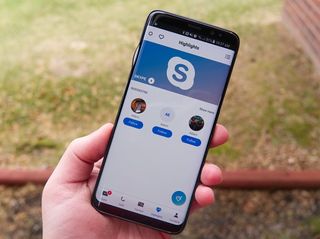 (Image credit: Windows Central)
Skype is a free program that ships as part of Windows 10, allowing to make video calls, share your screen, and chat with users for free. Skype has fallen by the wayside in mindshare in recent years, with more user-friendly apps like Zoom rising to take its place. Zoom, however, doesn't have the best security out there, with well-documented problems on that front. Skype might be a little tougher to learn at first, but if you're looking for something more secure, it's worth giving it a try.
Here are some tips on how to get started with Skype for PC.
First, time to get a Microsoft Account!
Microsoft Accounts are required to get up to speed with Skype these days, but they also come with a range of other benefits, like free email, cloud storage through OneDrive, and more. If you have an email address with @outlook.com or @hotmail.com at the end, you already have a Microsoft Account and can simply use that to sign in to Skype. If you're using Windows 10 and sign in with a Microsoft Account, then your Skype app should already be signed in too.
Sign up for a Microsoft Account here if you don't have an account, making a note of the email address and password you used to register.
Open Skype and sign-in
Open the Skype app! The easiest way is to simply type "Skype" into the Start Menu. You can also right-click the icon and select to pin it to your Start Menu or Task Bar for finding it more easily later.
If you have a Microsoft Account on Windows 10, Skype will magically just sign in, and ask you to run through a quick set up wizard to add your name, devices, and so on.
Navigating Skype
Skype's layout is kind of confusing at first glance, but once you get to grips, it gets easier over time. It's set into two panels by default, with contacts, chat history, the call dialler, and notifications on the left. On the right is the main chat panel, which shows your text chats and calls.
Adding contacts
Adding contacts to Skype, again, is a bit of a chore (noticing a theme here?). Previously Skype was separate from the Microsoft Account system, but now that they're intertwined, finding out the contact information of the people you want to Skype with can be kind of annoying. The best way right now is to find out either their Microsoft Account email or their Skype ID (which is no longer typically used). Thankfully, you can also invite people into calls without an account now, if you simply want to quickly contact someone. Here's how to find contacts.
Select Contacts from the left menu.
Select New contact to begin searching.
Type in their contact info; usually, this will be an email or a Skype ID.
If you can't find them that way, you can try sharing your contact info instead. You can find your contact info by selecting your profile picture in the top left corner. It's the email that appears under your name there.
Set up calls and chats
To get started with calling, you'll need to make sure your laptop has, at the very least, a microphone. If your PC or laptop doesn't have a built-in microphone (most modern ones do), you'll need to buy one separately.
Select New Chat then go to Group Chat from this menu.
It's worth giving your chat an appropriate name.
Invite people to your chat, although you can also skip this step by clicking Done.
Select Invite More People then Share Link to Join Group. Now, you can generate a URL link you can share to your contacts to join the chat as and when they like. Note that they don't even need an account to join.
When you're all ready to call, hit the call or video call icon in the top right corner. You can also send text messages into the group at any time.
Solving audio problems
One common issue with Skype tends to be that it isn't using the microphone or speakers properly, or is using a microphone or speaker you don't want it to use if you're using multiple devices. Here's how to manage that aspect of a call.
Select the ellipsis (dots) menu to access the Settings.
Navigate to Audio & Video.
Here, you can change the device Skype is targeting for audio and webcamming, using the drop downs next to each.
When you think you've got it working, scroll down and you can try to make a free test call, which lets you call a robot to test your audio is working properly.
Skype has piles of other features, systems, and settings. The best way to learn where everything is and what you can do is to simply play around with the app. Chats have lots of fun and useful features, and it's worth going through the entire settings menu to see what other features you can chop and change.
Jez Corden is a Senior Editor for Windows Central, focusing primarily on all things Xbox and gaming. Jez is known for breaking exclusive news and analysis as relates to the Microsoft ecosystem while being powered by caffeine. Follow on Twitter @JezCorden and listen to his Xbox Two podcast, all about, you guessed it, Xbox!
I've always used the store version up and until now and have only just tried the desktop version. Look and feel on both is very similar but the store version seems to integrate with Windows better (i.e. works in Share). Is it really that difficult for MS to produce just the one version on Windows with the same feature set? I appreciate they are building for multiple platforms but why can't they get it right on their own platform.

They need a non-Store version if they want to support Windows versions other than Windows 10 but they have also been criticised for not providing Store versions of their own apps while also wanting third-party developers to do so. I'm using the Store version but am thinking of switching because I have a Microsoft LifeCam Cinema that doesn't seem completely compatible with the Store version. The video is very dark, unlike my other webcam, but the other one was bought specifically for Windows Hello and doesn't have a microphone. I understand that this particular camera doesn't have the same issue with the non-Store version.

I hear you that non-store version was for Windows 7 and 8. Do you think Microsoft will maintain both versions "forever?" If non-Store and Store Version are comparable, why maintain Store version? I'm certain Microsoft had their very good reasons to do this initially. But now?

I am using Skype light for already like a year, and it is absolutly sufficient for everyday use. I was never missing anything.

MSFT's primary objective has always been focused on maximizing integration and collaboration. This has often been to the detriment of their own platform, as they've frequently provided services to other platforms first, especially when you talk about mobile applications. This is a calculation that MSFT has seen ultimately work in their favor as their overall market share continues to grow. Case in point, the NFL Draft yesterday which was completely virtual was successful with a collaborative effort from Verizon, Amazon, and yes Microsoft. You didn't see Apple, or Google. Skype may be put on the back burner because people are always enamored with the new shiny object, but it's a great service that maximizes integration and security. Few others do both very well.

Headline - Skype for PC. Article cover image - phone. Onward and upward.

Use the Win32 Desktop App. The UWP app is terrible and can be very buggy.

I love Skype, but let's be honest: beside the Android and iOS app, the Windows 10 app is truly bad. A lot of problems with performance.
Skype needs a true UWP App with great Fluent Design and good performance improvments. A great example is the Unigram app for Telegram!

THE problem with Skype is the login. They should allow use your phone number, no Microsoft Account required. I know a lot of people who leave the chance to try just after hitting the Login process with Microsoft Account.
Windows Central Newsletter
Get the best of Windows Central in in your inbox, every day!
Thank you for signing up to Windows Central. You will receive a verification email shortly.
There was a problem. Please refresh the page and try again.