Skype Preview update for Windows 10 Production adds conversation hiding and more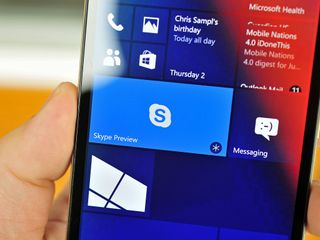 Microsoft is rolling out a new update for the Skype Preview app for Windows 10 on PC and Mobile. The new production update adds the ability to hide conversations, among other new features.
Here's a look at the app's change log, which boosts its version number from 11.7.113 to 11.8.190.0:
Clean up your recent list by hiding conversations.
Hear people better with loudspeaker improvements.
Easily add new contacts with the add contact button.
Support for Skype URIs, a simple way for people to start Skype calls and chats directly from websites, desktop and mobile apps.
It doesn't look like this production ring update includes the SMS messaging or SMS Relay features that were recently added to Skype Preview for Fast ring Windows Insiders.
Thanks to KJ for the tip!
Download Skype Preview from the Windows Store (opens in new tab)
Windows Central Newsletter
Get the best of Windows Central in your inbox, every day!
I still can't unblock contacts!

I'm on release preview with my Lumia 1520 and my Skype preview let's me send sms. Kinda weird. Lol

Same here. I don't think this is only for fast ring by the looks of it.

For release preview it was updated couple of days ago

WC posted the other day it came to folks on RP ring too, weirdly I got it even though on Production; Though I suspect that's because I was on the RP app ring a while back, before switching to Production.

I would realy have the abillity to remove the full chat conversation,on this moment i;m only able to remove my own personal chat history shared with someone,i;m not able to remove the chat partners history,it;s strange because the contact says the history has been removed,but if you tab on the chat contact,the partner chat history are still visible and can;t be removed

Mine too, updated yesterday. My phone is on Release Preview.

Why is not possible to share to the Skype app on desktop or mobile? This is just such a plain basic feature that is still missing after so many updates ... is anyone really using the app at MSFT aside from work?

Probably becuase you keep saying it here on WC instead of via the MS feedback portal. WC employees don't work for MS and cannot apply your requested changes ; )

I can now paste pictures into chats on desktop. Still can not drag and drop files, but it's a start. There is also an Emergency numbers|calls section on settings I never saw before.

I really want that they add this feature, where you can leave the app and the video call wont cut and that I can still see people through a small window just like in the android version.

Maybe some day these idiot developers at Microsoft will actually realize they forgot to include the ability to change cameras in their new Skype app. Funny how the original developers of Skype (non MS people) didn't overlook this simple feature.

Skype Preview has that ability. Click on the screen and it's in the upper right corner.

Have you even tried before complaining? I have always been able to switch cameras in the preview...

Welcome!
The Skype UWP is improving a lot with each updates! I love it

It doesn't even open for me since two updates ago. This is not an improvement.

So here is the thing. You are facing a problem and now you are joining your problem with all other's. It's what people do these days.
For your issue try reinstalling the app.

Hiding conversations? How about DELETING them? Now I get a notification from Skype about a new text message, and if I want to delete it I need to dismiss the notication and open Messaging. It doesn't make sense.

1.Cant they just add a delete option instead of Hide. 2. If you delete the sms in the regular messaging app it should delete in skype. 3. Why dont the contacts link like they use to. I shouldnt have to go back and forth in contacts to choose between skype and device.

1. Hiding is better since they will stay searchable.
2. ...
3. My contacts linked when I chose that they link in preferences. I can switch between sms and skype through the conversation window.

Hiding is a good option, but in many cases i want to be able to delete a message or even an entire thread. There is no option to hide a single message in any case. You can only hide an entire thread.

Agreed, must be able to delete the conversation

Agreed. It is absolutely annoying that i can't delete the masssive amount of spam messages I get even after I block them. It is even more annoying that I can't make my profile private.

How's the SMS relay working out for people using it? I'm on release preview and changed my default messaging app to this as soon as it added SMS relay. When it works, I love the app, other than not being able to delete messages. But's been very buggy. It crashes a lot, requires a restart of the phone to get SMS working sometimes, searching contacts from the phone address book is hit or miss, and notifications sometimes don't come through. I just switched back to the messaging app until this one gets another update.

Yes, it's incredibly buggy. I was *very* surprised to see it get pushed to Release Preview already. I am also very glad that they did *not* push it to production, because that would be terrible. By the way, both apps will continue getting messages. The default setting just changes which one will notify you upon receiving new ones.

Yep, I get that about the default setting. I would go back into the regular messaging app to delete messages, or send new ones since this one wasn't working. Definitely glad it's only in preview at this point!

I gotta say as of right now, I still prefer the default messaging app. The Skype app is slower, the recent screen doesn't always (mostly for me) show recent contacts. Every now and then, a sent text will get lost, and to me the UI isn't as easy to use as the messaging app. It is getting better though so I'm hopeful it will get smoother.

Yeah, I like the direction it's going, just needs more polish. But I'm having tons of issues in general right now. I have my 950 on the release preview ring, and the last one that came out completely screwed up my notifications, including with the messaging. The regular messaging app is crashing now, and if I get texts, the notifications don't clear from the action center or from the lock screen, even after I've gone in to the app to read them.

how to unhide conversation?

There is no unhide option yet! But you've to send a message to see hidden conversation on RECENT CONVERSATION screen...

I've had very little issue using it as my everyday messaging app on my daily driver. 950XL, Fast Ring and Skype build 11.8.192.0 Anyways, the biggest problem I have is when using the dual sim and it's a bit tedious to make sure what I am sending the text from. That and no gifs, but overall it is improving each update. I have high hopes.

Is this ultimately going to replace the messaging app?

Lumia 950 - OS 14926.1000 - Skype Preview 11.8.192 The last 2 versions have been a little buggy but not much more than any other app. Contact photos dont always display or they will display in the actual message but not the message list or vice versa. Phone numbers dont always resolve to the name in the address book. Takes a while to send a message every once in a while. Sometimes in a group text i will see just 1 letter text messages from a participant instead of the entire message but i used to get that in the regular messaging app as well, it seems to be from Samsung phones in group texts. Random missing messages which has always been a problem on my phone, mostly in group texts. Back button behaves oddly.

I really would like to switch to Skype as I liked the "Text Everywhere" feature. However with no option to change date stamp to US 12hr format I just can't switch as its utmost annoying to me! Its come a long way, but still has WAY more to go.

I will keep screaming this in every skype news item. THEY ARE CRAZY IN THE HEAD. WHO THE HELL THINKS WE WANT TO HIDE CONVERSATIONS. WE WANT TO DELETE THEM. EVERY MESSAGING/EMAIL APP ON THE PLANET HAS THE OPTION TO DELETE MESSAGES. WHAT IS WRONG WITH THESE DEVELOPERS????? THIS **** IS GOING ON FOR YEARS.

You're entitled to your personal preferences but don't speak for other people. Yell all you want, but just speak for yourself, thanks.

Skype doesn't even open on my 950XL since the update prior to this one (splash screen and then closes itself). I only use the desktop version of skype on my PC (for its screen sharing feature).

Not able to download gives me an error every time

I'm on release Preview ring and I can read/send sms with skype.

This article is about the Production ring...

Oh yeah, read messages don't get marked as read and still cant send a video from skype. I will say that again, STILL CANT SEND A VIDEO FROM SKYPE. Can you believe it's 2009 and you cant send a video from Skype?