Skype voice and video calling now supported inside Microsoft Edge in Windows 10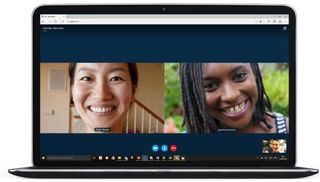 Windows 10 users can now make Skype video and voice calls inside the Microsoft Edge web browser without the need to download a plugin program. This is due to the recent addition of the ORTC media engine that is now embedded inside Edge.
In a blog post (opens in new tab), Microsoft stated that this new support can be accessed when using Skype for Web, Outlook.com, Office Online and OneDrive from the Edge browser:
The blog added that the Skype team is working to add similar support for Chrome and Firefox, when those browsers start using the H.264 video codec. Microsoft recently announced a roadmap for extending its support for real time communication in Edge.
Amazing speed at which these guys are rolling out new functionality.

What if Windows would be an open-source platform? Would it be the best leaving android/ios far behind?

That's a tough question, as some aspects of Windows are intentionally closed off for security reasons (if hackers don't know exactly how everything works inside and out, it can be harder to exploit) and also it could be extremely messy, difficult and unorganised to manage an entire open source Windows with the massive amount of components and sub-components. MS has infact looked into this and is gradually open sourcing stuff, like the MS Edge Chakra engine, and is very open with how it develops and lets millions of Windows Insiders contribute to development without coding knowledge needed. I believe Windows is already open and the actual code will gradually become open source for even more components of the OS overtime.

I wonder if it's good enough that I can use it as my full-on Skype app and uninstall the desktop version.

I would doubt that, but lets see how good it is. Posted from Windows Central for Windows 10

Put skype where you want to. Nogoddamnbody uses it!

I feel the presence of a hate spirit lurking on wpc. Booooooooo Posted from Windows Central for Windows 10

Ha. No man, I want to use it and try and get my friends and family to use it.....but they're just not into it.

Hmmmm ok, i think that's why the uwa is coming for it, with new features etc. I will wait and see Posted from Windows Central for Windows 10

Yup everone I know uses FaceTime.

Then everyone you know usings ipads. That explains it!

Pretty much. But even android users won't jump on board. Just don't see the point of video calling and messaging through WhatsApp covers the rest.

Do you really think it would still exist if nobody used it?

Read my response and then we'll talk.

The point is, enough people use it to make it worth Microsoft's time and effort. Just because your family and friends don't use it, doesn't mean "nobody" uses it. My wife uses it every day to talk to family overseas and I use it once in a while.

Pipe down princess. I was just giving a personal point of view from the experience I've had through the people I know. I definitely wasn't implying (although I didn't make it abundantly clear) that the whole world didn't use skype. I wish more people did so I could take advantage of skype being built into the messaging app :)

A little sensitive, aren't we?

And for mobiles..? Lumia 640XL LTE DS

Skype is far behind with features compared to WhatsApp.. People don't want to settle for second or third best! ..

Have ever tried to voice call over watsapp? The quality sucks. And Skype and WhatsApp are very different...

Well I can honestly tell you that skype quality of the service sucks as well. Even on my available desktop / browsers / UWP apps. They had so many years to make Skype a good product for windows but essentially they achived nothing.. seriously.. Consumer have exacmlty no improvement so far over Microsofts acquisition

I don't seem to have such problems. hmmm.

Please tell me you're joking. How is WhatsApp better than Skype?

Which features is it missing?

I agree only good thing about skype is the voice quality.. Lots of room for improvement when it comes to messaging.. Eg. Mark as unread etc...

It's great to see Microsoft leading the pack again, in this case in regards to video codec functionality in web browsers. I know this is an overused expression in the Windows world, but I'm going to say it, Flash is dead. (No, not the comic character) It's high time we moved on to much better codecs and software, such as H.264, H.265, etc.

I was (and still am) very critical towards Skype, especially their interpretation of usability and an appearant lack of any comprehensive strategy in the consumer market. However, I must say that they now delivered. Usually, the headline would have been "Skype voice and video calling now supported inside Google Chrome / Firefox / Safari. Edge only "later this year". Let's see....

What does now mean? With .218

But is there a way to turn it *off*? It gets really annoying when I'm working on a document on my OneDrive, I get a Skype call, answer it with my Skype app, and my browser is still playing the "ringing" sound.

Getting people to use Skype is hard, looking for users then adding them, waiting on approval facetime just works and its simple Skype needs an easier way to add users

These days it can add people from your address book automatically (Not sure if the WP 8.1 version supports it, but the integrated Skype + Messaging does, as does iOS) It doesn't work 100% perfectly and you can disable the feature, but it's worked for a few people I know.

I thought Firefox used H.264. Or am I wrong?

WTF do I care about making Skype voice calls from the browser? Does the option of making Skype voice calls from the address book make too much sense or what?
Windows Central Newsletter
Get the best of Windows Central in in your inbox, every day!
Thank you for signing up to Windows Central. You will receive a verification email shortly.
There was a problem. Please refresh the page and try again.