Skype for Windows 10 adds bits of Fluent Design and more
Microsoft is bringing some extra Fluent Design flair to the Skype app on Windows 10.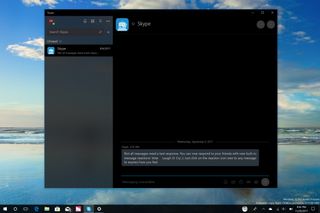 Microsoft recently began testing some bits of Fluent Design in the Skype app for Fast ring Insiders, and now they're headed out to everyone. The latest production update for the Skype app on Windows 10 includes an acrylic blur effect, along with a few other new and notable features.
Curiously, a blog post (opens in new tab) from the Skype team includes no mention of Fluent design, but it's immediately apparent upon updating. The left portion of the windows now features a bit of transparency, which is a signature aspect of Fluent Design. Additionally, you'll see the new "Reveal" lighting effect when you hover your mouse over a contact's name.
Microsoft also lists several other changes in this update, but it's worth noting that we've already seen some of them arrive in previous recent updates. Among the highlights are a new Gallery for each contact, giving you a quick list of media, links, and other content you've shared. A notification panel will keep you up to date on mentions and reactions in conversations, and the search function has now been improved. Microsoft has also highlighted that more granular presence controls are back for everyone.
Given that some of these features have been available in other recent updates, most are likely already familiar with them. However, the additional Fluent Design flair is certainly welcome. For more, you can grab the latest Skype update, version 12.10.572.0, now on the Microsoft Store.
See at Microsoft (opens in new tab)
Windows Central Newsletter
Get the best of Windows Central in your inbox, every day!
Dan Thorp-Lancaster is the former Editor-in-Chief of Windows Central. He began working with Windows Central, Android Central, and iMore as a news writer in 2014 and is obsessed with tech of all sorts. You can follow Dan on Twitter @DthorpL and Instagram @heyitsdtl.
In other news, Skype is still nighmarish to use and it is redundant cause the dev team doesn't know themselves who are their target userbase...

While nice and all, Skype turned from promising version of Skype, to this bug infested app that crashes non stop, and takes ages to load, and wake up from minimize state on a powerful gaming PC. What happened to the Skype team? It is like the app was outsourced on the cheap! I hope that is not the case, and the team takes stop what they are doing, take a breather, and start focusing in polishing the app, with a focus on the essentials.

When was Skype ever great? Five years ago? Ten? Looks like the moment Microsoft bought the company its devs became lazy, even though MS killed its own services in their favor.

I've seen it crash a couple times, so I'll give you that. But when it works, speedwise Skype UWP is MUCH faster than the Win32 counterpart.

I still don't get why there isn't a status icon in the system tray. I really like it about the x86 version.

Systray icons are something that are slowly being binned in favour for "always-on" apps that throw notifcations out

Which means changing the status isn't possible without opening the program/app window? Wow, that's a really bad development.

I think, that might be possible by hovering over the app symbol in the task bar. Like you can play/pause and skip tracks in Groove or other media apps. :)

Mine works smoothly on AMD based 64bit PC.

Gallery is welcome, only I can't see it anywhere.

My integration with Pinned Contacts is still broken. I at least hope this version will be capable of seeing people call me. They can make the prettiest app on earth, but so what if it doesn't work?

It's okay. The new old status control is dope. But the transparent "fluent" sidebar is so nonsense.

Please please please give give us back translations!

Where is the contact merge ****. I have people that used to have an outlook and converted it to skype. That show up twice. Try to delete or hide one and it deletes the contact lol. It's so broken.

This has always been a mess, for over 10 freakin years. Just get rid of Skype. It's trash. Most hilarious developers ever.

Before MS decides to bring out a new notepad device or whatever. They better fix the atrocity that is Skype. Slow startup, crashes randomly, read badge not disappearing even after message is read, etc.

So these new updated presence controls do they still show people who are away or busy as offline?
I hope not, I will blow another gasket if that still the case as that idiocy is severely impacting my social circle. I don't have the time to explain to people why Skype have done this after every single update. Since i'm the 'tech guy' thus it's become 'my fault'. Skype needs to understand not all people vent at them but always their techie friend or family member.
I don't have the update in showing for me in the store yet so can't check. Edit: 15/12/2017.
Finally got the update, Granular presence controls my foot. You get a choice between active, do not disturb and invisible. Before we had a choice between online, away, busy, invisible and offline (still do with the win32 app). Being away is not the same as being invisible or offline! I can be at my desk but away for a few minutes therefore I need to mark myself as invisible??????
On the desktop (win32) when I am AFK I mark myself as 'away'.
Seriously how hard is it for Skype to understand this simple concept? The app is now slower than a tortoise using a roller skates made out of molasses to move. When launching the app and my PC is no slouch. Plus it needlessly crashes when I do anything. Are they deliberately doing this just to mess with people?

After this latest update all Skype notifications are just showing "You have new messages on Skype" and no message preview or even who sent it. Is this a new "feature" or there's something wrong with my Skype?

That is the laziest implementation of notifications I have ever read.... I hope that is not true. I really do not need or want to field call from disgruntled family members why they can't read their notifications any more. Not that mind speaking to them, I do mind getting blamed for Skypes idiocy when there is particulaly nothing i can do about it. Unfortunately, when you become the person who can get things done, invariably it just spills over to other issues.

You're not alone. I've been having this exact problem. The worst bit is, if you don't open Skype or mark the notification as read, you don't receive further notifications.

I just wish msft would fix the upside down front facing camera on the windows 10 phone version of Skype. I'm running build 12.10.572.0 on my Alcatel OneTouch Fierce XL (Windows 10 OS build 10.0.15254.12) and I'm STILL experiencing the upside down front facing camera issue as well as the constant pop up message that "Another app is currently using my camer" preventing me from video calls (despite none of my other camera apps running in the background). Why dont you fix these problems with Skype before you focus on making the menues look all fancy with Fluent design? Pretty isnt more important than function and right now, Skype is pretty useless on Windows phones.

I was wondering if this fix updated that (Seeing it on my 950XL and my wife's Idol 4s). Thanks for the confirmation.

It is not just the phones, my tablet has the same issue... Feedback hub is full of comments and upvotes about this issue but no official response for weeks.

In my opinion they really should go with the design they pulled on the mobile and mac apps. Not only does it look great (and has awesome animations), but going with fluent on Windows would be inconsistent as hell ... I have a feeling, though, that the windows UWP version is being handled by a completely different team from the "normal" Skype employees ... which I find to be kind of odd and dumb. I mean it is definitely lacking compared to the new desktop app I get on mac ... at least I am happy they finally pushed things like mentions and smart notifications. All in all it would be nice if Skype finally would push some core features people are in dire need of, especially when it comes to orgainising your contacts list. Also I would really welcome it if they would finally let you change your Skype name.