Skype for Windows is rolling out new real-time translator features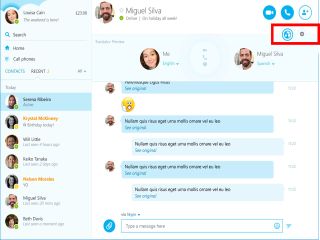 After offering Windows 8.1 and Windows 10 users a Skype Translator preview app to try out, Microsoft now thinks the features are ready for prime time. The company is rolling out the real-time speech and text translation features in that preview to the regular Skype for Windows app over the next few weeks.
When the features go live, Skype for Windows will be able to translate spoken words from six languages (English, French, German, Italian, Mandarin, and Spanish) along with 50 different text languages. Microsoft stated:
Microsoft has not indicated when or if the translator features will be added to its many other Skype platforms.
Download Skype for Windows desktop (opens in new tab)
Source: Microsoft (opens in new tab)
Windows Central Newsletter
Get the best of Windows Central in your inbox, every day!
Next month on iOS and Android, W10M coming soonTM.
Btw, great feature!

WP not coming, jut to W10M.

That's what I thought, but still WP is first to come to mind instead of W10M.

Skype development on Windows Phone has been discontinued. No improvements to Skype since January to either WP8.0 or WP8.1. Skype for Windows 10 Mobile doesn't even have an UI or features really. If this is coming to Skype, it will come after Skype gets a UI refresh, so probably in the next 3 years.

This should prove to be very useful, especially as they add more languages.

This is so awesome... I really lime the skype experience across the board... If they can quickly implement this mobily... It will set skype apart from everyone else... Skype is just about on par with all other messaging systems... So this would be huge ...at least in my book... I have been waiting for something like this

Hopefully it'll be part of the new Windows 10 skype thing too.

Oh, I finally could log in from my work computer! Something's changed about the login screen? Anyway, will this be updated in the Windows RT app? That app was SO good, it's a shame to see MS go backwards in some things.

Especially for high DPI support. The desktop version makes my eyes bleed on my Dell XPS 13. The Mac version has supported Retina for ages now. :\

The universal translator from Star Trek is finally here...

Without improving 3rd party apps performance will kill windows phone.

Perhaps someday will come back to wp.

I need this for my classroom so i can call parents who only speak Spanish. But, OF COURSE, my district blocks Skype because it's a messaging platform. They block everything that can send a message except our approved Mail client and it's soooooo 1990s

You should speak with your administrator. Maybe come to a solution.

I lov skype but I had to remove after they discontinue the Modern app. This desktop app consumes alot CPU and drains all my battery

Me too I removed Skype since they removed the modern app, I switched to Viber.
Unfortunately Viber has blocked its modern app on Windows 10.,. I'm disappointed

I don't know if they'll be removing it now, with the translator features coming to the desktop app, but you are/were able to download the Metro/ModernUI/Touch version of Skype Translator Beta, which also does most/everything that the old Modern UI Skype app did

Try this for a way to get the "old" Modern app UI https://www.windowscentral.com/e?link=https2F%2Fclick.linksynergy.co... You can leave the translation features off, and then it's a loophole for getting the Modern Skype app back (for now)

Sorry to triple post but surprised to see that the Windows Central app converted the link I pasted in my last comment into one that goes through some ad company, in the same way the links from their articles do

Ive been using the preview nd its great. Will this roll out to Skype for Business at the same time?

Thanks God that skype translator for touch on windows 8.1 still woroking and I can use it as default skype app for my Surface Pro 3

Really? You mean there is a way to have a modern app for Skype ?!

https://www.windowscentral.com/e?link=https2F%2Fclick.linksynergy.co...
If the above link takes you through "tradedoubler.com" it's the Windows Central app that does that automatically. I just pasted a link directly to the app

GREAT ! thank you for the tip !

Wake me up when they announce this for Skype of Business...