Slack for Windows desktop beta updated with notification improvements and more [Update]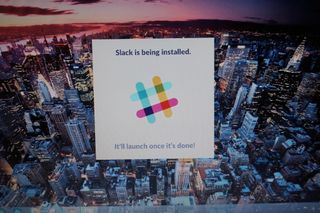 Update: The beta download link should be working now; it was not working as planned earlier today.
The Slack service has released a new update for Windows desktop users. Version 1.9.6, which has the sub-title "Call Me Maybe" includes some notification improvements, a Windows 10 revamp of the team sidebar and more.
Here's a look at what's new and improved.
In our everlasting quest to prevent you from missing notifications, we now badge the taskbar icon in addition to the tray icon.
In addition, if you've set the window to Always flash on notifications, we'll keep the app in the taskbar even when the window is closed. This means the taskbar icon will stay lit up even after you've wandered away from your desk.
The team sidebar has been revamped and given a fresh Windows 10 coat of paint.
New animations when loading, logging into a team, or rearranging teams, for buttery smooth transitions.
Performance improvements across the board, and the lag some folks were seeing when typing in the message input has been banished.
In-app downloads have been reworked and should be 41% more reliable.
Holding on to one too many teams? Try signing out from the sidebar, which has a new right-click menu item.
A few improvements to reduce the number of antivirus vendors falsely detecting the app—no one likes being falsely accused.
Improved tools for troubleshooting which should make diagnosing issues with support more pleasant and productive.
Download Slack desktop beta for Windows and Windows 10 (.exe)
Source: Slack
Get the Windows Central Newsletter
All the latest news, reviews, and guides for Windows and Xbox diehards.