Slack for Windows desktop beta updated with notification improvements and more [Update]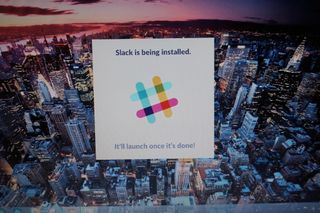 Update: The beta download link should be working now; it was not working as planned earlier today.
The Slack service has released a new update for Windows desktop users. Version 1.9.6, which has the sub-title "Call Me Maybe" includes some notification improvements, a Windows 10 revamp of the team sidebar and more.
Here's a look at what's new and improved.
In our everlasting quest to prevent you from missing notifications, we now badge the taskbar icon in addition to the tray icon.
In addition, if you've set the window to Always flash on notifications, we'll keep the app in the taskbar even when the window is closed. This means the taskbar icon will stay lit up even after you've wandered away from your desk.
The team sidebar has been revamped and given a fresh Windows 10 coat of paint.
New animations when loading, logging into a team, or rearranging teams, for buttery smooth transitions.
Performance improvements across the board, and the lag some folks were seeing when typing in the message input has been banished.
In-app downloads have been reworked and should be 41% more reliable.
Holding on to one too many teams? Try signing out from the sidebar, which has a new right-click menu item.
A few improvements to reduce the number of antivirus vendors falsely detecting the app—no one likes being falsely accused.
Improved tools for troubleshooting which should make diagnosing issues with support more pleasant and productive.
Download Slack desktop beta for Windows and Windows 10 (.exe)
Source: Slack
Windows Central Newsletter
Get the best of Windows Central in in your inbox, every day!
Nice change log, but why "Call Me Maybe" though? :D

What's the point of an inside joke if everyone knows it? :)

Is it me, or is this a great candidate for a universal W10 app? They already have WP and Windows desktop. They could merge the two and only have to support one code base.

Best thing to do is reach out to developers (email, Twitter, etc.) and encourage them to make their apps universal.

Also, when an app is universal, the developer is less likely to "drop" support for Windows 10 Mobile, since supporting a universal app on desktop makes the "extra cost" of supporting the app on W10M essentially zero.

Adding Windows 10 Mobile Platform Extension SDK support will require minimal effort, certainly more than essentially zero.

@deadonthefloor. Wrong. You don't need to do that for UWP apps on 10. The work for UWP apps, as has already been posted on an article on this very website, is tweaking your XAML for the different screen sizes so your viewstates change on triggers at certain dimensions. So its not zero, but its certainly got nowt to do with adding an SDK which you won't need to do to make a UWP app. The Slack app for Desktop look like it uses the Electron shell, which would not lend itself as a starting point for a UWP app.

They already answered that question somewhere before I believe. In short, this is how they're doing it for the foreseeable future.

Right, their reason for the traditional desktop app is due to having many users still running on windows7. This makes sense, since I still have Win7 work unfortunately and use slack daily. I still think it makes sense to make the mobile app into a universal app regardless however

Business haven't really moved away from W7/8, they don't have a reason to move to universal W10 right now..

This is not a UWP app, and cannot be , because it is built with electron, which is basically a non-sandboxed version of chrome, built on nodejs. The minimum system requirements (unofficially stated) are 2gb ram on windows 7. not going to run on mobiles right now. What they can do is make the WM10 app universal, but that's probably not going to happen soon because it has less (but ever growing) features at the moment.

Is that possible in this year

Is this that company that Microsoft just bought?

No their in talks to buy Inmobi and indian startup.

I love the Slack team. "In-app downloads have been reworked and should be 41% more reliable" I'm now 41% more ecstatic with Slack. Cool dudes.

Yeah, their changelogs are very entertaining to read....and yes very informative too!

Spotify needs improvement. It's so slow on windows ten mobile ooh my Lumia 640 with one gig ram

No its not works fine for me no issues here

So because it works for you it works for all?

Spotify is horrible on Windows Mobile. The whole app needs an update. Like so many it's an abandoned app Posted via the Windows Central App for Android on my Lumia 950 XL

Requires chrome to be running in the background which is sort of a non starter for those that value battery life.

And alot of ppl still waiting on the update phone release

The only version on their website is version 1.2.7 and the link brings you to that download as well. I do not see version 1.9.6 anywhere???

I might be the only one, but what's slack? the article isn't really telling anything, and the 'screenshot/photo' isn't helping much...

It's another instant messaging solution, focused on enterprise teams. It's growing pretty well given the range of platforms and openness to third-party integrations. In summary, microsoft should buy them quickly before they get too expensive. It's a massive asset and a great complement to skype for business/yammer

Its like a well managed and persistent version of IRC :)

For some reason I honestly don't want to Microsoft buy them, at least not at the moment. Microsoft is still trimming its company and the companies they bought like Skype is still not doing very well under their umbrella. Slack team is already doing an awesome job supporting Windows even WP/W10M with regular updates. I even emailed them to support some Microsoft services and they actually working on it such as OneDrive and Office. Let them be independent for now....unless Google or Apple tries to buy them (I hope they won't).

I agree with this. Slack is an awesome team with great support for Windows. In my view, the fact they are still under their founders helps them maintain that fresh, startup outlook. If they were to be subsumed within Microsoft, priorities would change and the app may lose its edgy and smart (and very inclusive) philosophy.

http://lmgtfy.com/?q=about+slack&l=1#

Where did you get that wallpaper in the background?
Windows Central Newsletter
Thank you for signing up to Windows Central. You will receive a verification email shortly.
There was a problem. Please refresh the page and try again.