Slack for PC adds notification improvements for Windows 10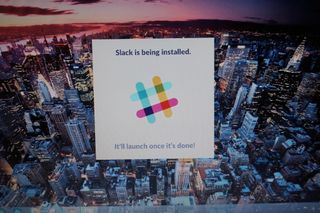 The most recent update for the Slack business-themed messaging service on Windows includes some notification improvements for Windows 10 users.
Here's what's new and what's been fixed in Slack 2.1.0, also known as "Dog Days Are Over":
What's New
Customers on the Windows 10 beta will see enhanced notifications, including the sender's profile picture and image attachments. What a delight!
When resuming from sleep, Slack was unusually groggy and would sometimes take over a minute to reconnect. We set an alarm, applied caffeine and a dash of code, and behold: the app resumes much faster now.
A shiny new About box that lists our licenses legibly. Legalese: let it be.
Can't find the release notes, you say? Wait, how did you get here? Oh well– try Help > What's New next time.
Fixed
An issue where teams could fall out of any sensible order in the sidebar. We put them back in formation.
The sidebar was using the menu background color rather than the channel list color, resulting in a fashion faux pas for some custom themes.
Always Show Menu Bar was checked when it should be unchecked, and unchecked when it should be checked. We swizzled its quantum spin and the universe is consistent once again.
Opening developer tools through a troubleshooting link (which we occasionally use for support) now does what we told you it would do.
Download Slack for Windows now
Windows Central Newsletter
Get the best of Windows Central in in your inbox, every day!
"Still no Universal App, Woopy Doo! What a delight! "
Windows Central Newsletter
Thank you for signing up to Windows Central. You will receive a verification email shortly.
There was a problem. Please refresh the page and try again.