Slack for Windows Phone app beta appears to be available for everyone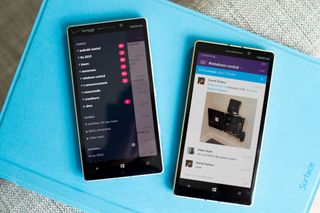 The popular business-themed Slack messaging app has been promised for Windows Phone for some time. Now it appears that the beta version of the app is now available to download for anyone to try out in the Windows Phone Store. The app works on both Windows Phone 8.1 and the Windows 10 Mobile preview.
Here are the version notes for the Slack Windows Phone beta, which include known issues and upcoming features:
WHAT'S NEW
New design that is more similar to the other Slack mobile apps with a Windows 10 style
Support for various authentication methods such as two-factor authentication and guest single-sign on
Live tile displaying the latest 5 messages
New message markers in channels, unread message bar
Custom emoji support & viewing message reactions
Faster navigation between channels
Profile pages
KNOWN ISSUES
Live tile notification text is not cleared when that message is read.
The unread messages blue bar in a channel doesn't always automatically dismiss when the newest message initially appears on the screen.
Text input areas sometimes receive focus when navigating causing the keyboard to open.
After clicking a toast notification, there might be a delay in displaying the message while the app re-establishes a connection.
Certain events like channel join / leave may trigger an unread channel indication when they should not.
Reactions are currently read only.
The application may not handle loss of connectivity gracefully in all situations.
Each message from a user is currently displayed with a picture / name header instead of joining with previous recent messages
UPCOMING
Performance improvements
File uploads
Adding reactions
Search
Mentions & starred items view
It's possible that the appearance of the Slack Windows Phone app in the store for anyone to access is a mistake so if you are at all interested in getting the app, you might want to download it now.
Thanks to Daniel for the tip!
Get the Slack beta for Windows Phone
yes , downloaded - first impression : good !

Yeah, it's great so far. So happy I can use my work android phone even less now

I'm impressed! Soooo much better than their last beta.

is it good for personal use?

Ow, I asked for participate in beta yesterday and they asked to me fill a form and wait an email. This is even better.

I talked with someone from the team, he did say that everyone could have a taste of the app very soon. Well he didn't lie. It's great.

Ok I can't seem to be able to create a new team, anyone having the same issue?

Heres a list of known bugs. https://slack-files.com/T024BE7LD-F08UPP1DJ-4b526e6cbe That one isn't included so you may want to email them or let them know on twitter @slackhq

Me too. Enter email address and nothing happens. Massive fail on very first screen. Not encouraging.

Is this already in the Android apps market?

No, this app is developed specifically for Windows Phone.

Windows Central and Mobile Nations needs to add me to their Slack group/channel.

No, we really don't ;-) We use it for private work chat. Not (always) goofing around.

Team chat rooms and IM, with a slightly technical focus.

For productive teams (or not)

Waiting for stable version

I unable to create slack team

I can't create a new team

Open though web and create account

Better late than never, right? :-).

Finally! Btw, I really hate how I can't use "Send To Phone" from the web version of the Windows store anymore

Snagged it too. Never have used this app, but it seems like one of the most useful yet.

Really good first impression of the app, glad to have it.

hey this is a nice surprise. i got it set up and running fine on at&t lumia 920 with build 10512.

Seems not available in the Windows 10 store. Or at least it is not coming up for me.

Fantastic! Really good performance on Windows 10 Mobile 10512.

First impression - Create account does not work. No confirm button just a text field. Enter in text field does nothing.

Everyone should rate 5 stars and give feedback. It might motivate the developers a little.

What's the point of this??? Can't people just use regular texts?

Lol, NO. This is mostly used for business. You can create open and private channels for discussions. It has tons of 3rd party plugins, etc. Our company has been using it for 6+ months and it has been a fantastic change in employee communication. It's a much better "version" of HipChat

@Spaulagain, beat me to it by miles lol. The app needs an auto refresh for the comments :).

@rld082982. This is for team collaboration, not meant for the average consumer.

This is not meant for flirting or any other snap chat cho cho chit chat like messenger etc. This is for company teams, working together, being productive together. We use this together with Basecamp. So great app.

Great! I was waiting for this app sinces months! Glad to see it lives on the Store today :D (And I applied to the beta yesterday too)

OMG OMG OMG OMG OMG!!! This has been the one app I've been drastically needing, w000t!!

Haven't been able to download. Keep getting a error message :(

Not seeing it in the store...

It's incredibily fast on my 520, nice job! How can i report bugs? already found some

Can't create team on phone. Contunue button never appears after entering email address. Went to website to create team. Same thing happens there. Website doesn't display any field to enter email address. Not good at all. Found directions that says go to home page and enter there. Entered email address. Takes me to second screen with warning notices and nothing else. Not good and not getting any better. I know it's only Beta. But beta should at least allow peope to get past the very first screen.

Enter button on keyboard would do the trick.. Atleast for me.

Good! Swiping to the right works.. Very intuitive compared to just tapping the burger menu.
Windows Central Newsletter
Thank you for signing up to Windows Central. You will receive a verification email shortly.
There was a problem. Please refresh the page and try again.