'Mad Box' is an upcoming (and totally not vaporware) gaming console
No one knows what it is yet, but Slightly Mad Studios CEO Ian Bell swears it's going to be the best thing ever.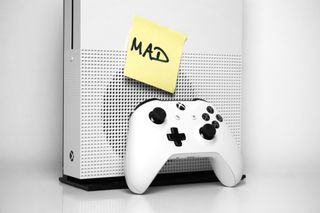 There's something to be said for wanting to shake up the way things are done in the gaming world and to encourage something a little different. Epic Games is trying to do this with its flawed approach to Fortnite on Android and its weird but pretty new store for PC games, and now it appears the folks at Slightly Mad Studios are drumming up hype for their own thing. Instead of just new software, CEO Ian Bell announced a whole new standalone console called the Mad Box.
What we 'know' about Mad Box
So what is this new console, and how will it stand up to the likes of the next generation Xbox we already know about? Well ... nobody knows. Including, it seems, CEO Bell.
https://twitter.com/bell_sms/status/1080468977019584512
Want specs? Well, there's not much to say at the moment. In a conversation with Variety, Bell claimed the Mad Box "will support most major VR headsets and those upcoming and the specs will be equivalent to a 'very fast PC 2 years from now,'" whatever that means. On Twitter, Bell claimed the console will offer 4K and VR at 60 frames per second (FPS). He later corrected this to VR at 120 FPS, after he tried to explain to VR developers in replies on Twitter that his 60 FPS comment was "per eye," which isn't a thing. He doubled down on this explanation with a mention of interlacing, but it was clear Bell really didn't fully grasp what he was talking about. And either way, 4K gaming with 120 FPS and VR are things we already have from the Xbox One X and PlayStation 4 Pro. Current PCs are capable of considerably more, and that's obviously only going to improve in two years.
No need to go mad over Mad Box
The one thing that makes the Mad Box slightly interesting is the ecosystem Bell wants to create. He's made the repeated claim of a full engine to develop games for free and matched that with promises to never pay for exclusives or offer incentives to exclude other consoles. While it's cool there are no plans to pull a Sony with its titles, that only matters if developers actually build with this console in mind. It's supposedly going to be possible for games built on existing engines to be ported to Mad Box with ease, but like everything else related to it, few details exist so far.
It's safe to say there's not a ton of reason to get excited about this brave new super console. The expected release window for the Mad Box is around "three years from now," and is expected to be priced "competitively" with Xbox and PlayStation offerings at the time.
Overwhelmed with specificity, I find myself fairly confident this Mad Box is not actually going to shake the gaming industry to its core in 2021, or if it ever arrives at all.
Get the Windows Central Newsletter
All the latest news, reviews, and guides for Windows and Xbox diehards.
Russell is a tech nerd who chases the best of everything, from phones to game consoles to laptops and everything glowing or beeping. He's the Managing Editor of gaming content for Mobile Nations and can be found contributing to all of the Mobile Nations sites. Reach out on Twitter!