Smart Games, a healthy collection of brain twisting Windows Phone puzzle games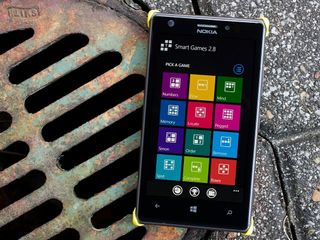 Smart Games is a collection of challenging Windows Phone puzzle games designed to challenge your logic, memory, sensory and problem solving skills.
While the puzzle collection doesn't have many bells and whistles, it makes up for things by offering challenging, head-scratching puzzles. The game is initially free with plenty of puzzle levels and questions to solve. Once you're done with the free puzzles, additional questions and difficulties are available through in-app purchase.
Available for low-memory devices, while there is some room for improvement, Smart Games is a nice collection of puzzle games to pass the time with.
Main Menu
The main menu for Smart Games has a collection of tiles to launch each of the thirteen puzzle games. If you prefer a list view, there is a toggle button in the upper right corner to switch the tiles to a listing of the games.
Across the bottom of the screen you will find control buttons to view your gaming statistics, awards and your game wallet. Below the three-dot menu you will find options to access the help screen, check any messages from the developer and enter any promo codes.
While the Help Section mentions registering with the gaming community, I could not find any means of registering or logging into the game. I could have completely missed the link to register and it could be a feature under development. While it would be nice to have the community aspect available with Smart Games, luckily you don't have to register to play Smart Games.
Smart Games has a coin system that is used to buy hints, replay levels, unlock advanced levels and other gaming features. You begin play with ten coins in your wallet with additional coins available through in-app purchase.
Game Play
Each game in the Smart Games' collection includes multiple levels or questions and in some cases styles. Each game has the Start difficulty level available with additional difficulty levels available for purchase (with your coins).
The first time you play a puzzle game, Smart Games will present you with a series of instructional windows detailing game play. If you should need to re-visit the instructions, each game will have a pull-up menu (accessible by the colored arrow at the bottom of the screen) that will give you access to the gaming instructions.
While there isn't a collective description of each game in the app, here is how the Windows Phone Store listing describes the twelve games.
Numbers - Mathematics and logic in an attractive puzzle game for creative problem solvers.
Flow - A simple yet extremely addictive number sequence completion brain teasing puzzle.
Remove - This game requires a lot of logic and knowledge to find an element that does not belong to the group.
Order - Determine the order of tiles and to remember their exact position.
Solver - A pegged solitaire puzzle game reinvented for mobile to be even more addictive.
Locate - A puzzle game that tests and improves your short-term spatial memory.
Memory - Play evergreen Memory Puzzle game with the touch of new technology.
Glimpse - A colorful puzzle created to become equivalent of popular Simon Says game.
Mind - A code-breaking game Mastermind made more attractive and fun for your phone.
Spot - A spot the difference game that includes improvement of your eidetic memory skills.
Complete – Find the part that is missing by pushing your intellectual skills to the limit.
Boxes - Patterns when folded will make the box shown
There are two additional games in development, Faces and Shuffles, that should be pushed out soon.
Game mechanics for all the games are simple with many requiring you to type in the solution at the bottom of the screen or simply tapping the correct answer. Regardless of how you choose what you believe is the correct answer, Smart Games affords you the opportunity to confirm your answer. Just in case you have second thoughts.
If you choose the incorrect answer, you will be given the options to view the solution or replay the question (both will cost you coins), play a new game or choose a different level of questions. Solve the puzzle and you earn points that will go towards your player ranking/experience level with the option to advance to the next question.
Overall Impression
There's little doubt that Smart Games has a ton of puzzle games that will challenge your logic, memory and problem solving skills.
What I like? The strength of Smart Games is the variety of challenging puzzle games available. If one style of puzzles doesn't suit your tastes, there are plenty of other puzzle styles to pursue. I also like that several of the puzzle games have a Kids difficulty level that is better suited for those still honing their puzzle solving skills.
What I don't like? I'm not a fan of the coin system. I can understand the need to earn gaming currency to unlock features, buy hints and other items but Smart Games seems to nickel and dime you to death. Want to replay a question you got wrong? That will cost you two coins. Need to see the correct answer? That will cost you a coin. Unlocking additional levels or difficulties will cost you anywhere from ten to a hundred coins.
The coin system wouldn't be so overbearing if you could earn coins through game play to minimize the need for in-app purchase. The game is free but I think the game is strong enough to be a paid app (with a trial version) and reduce the dependency on the coins.
As is though, if you are looking for a strong collection of puzzle games under one roof Smart Games is worth a spin. There are a few comments in the store noting instability with Smart Games. Personally, I did not experience any stability issues running Smart Games on my Lumia 520 or Lumia 925.
Smart Games - Windows Phone 8.x - 18MB - Free - Store Link
Windows Central Newsletter
Get the best of Windows Central in in your inbox, every day!
George is the Reviews Editor at Windows Central, concentrating on Windows 10 PC and Mobile apps. He's been a supporter of the platform since the days of Windows CE and uses his current Windows 10 Mobile phone daily to keep up with life and enjoy a game during down time.
Not the fiiirst! xD Jokes apart, this looks good. Although, I wonder why games get so much attention on WPC. Everyday there'll be at least one article about a game ;D

You may not be the first, but I am the first.
To reply your comment

haha you're right,WPC has lots of articles about games

True, i love that with wpcentral, i discover many great games that way that i wouldnt otherwise! Well done wpcentral!!!

I'm not sure what you mean, given that WPC is an awesome place for everything WP+, so having a game feature only seems logical... Re the "smart" game(s), they are a dime a dozen on other platforms, and they don't get that much attention on WP, then not many apps do, which again makes WPC even more awesome :)

I know I know! I meant that I like the fact that there is game coverage ;)

We don't need to 'smart' game .. Even this game can talk ..
We need updates for apps like WhatsApp and Instagram..
We need more updates for the OS..
I set withe my friends talking about phone .. And they mention how the updates in their OS platforms bring alot of amazing things..
Yesterday I look to the WhatsApp update in IOS .. It bring alots of things..
This week and the last all companies launch their flagship phone .. And what MS do? Lumia 730!! Stupid selfy !! 830 .. WTF..
.

First let everybody jump ship to wp 8.1 I am sure as soon as the percentage increases to over 40% all the major apps will be optimized and updated for 8.1

Yeah.. Every thing in Windowsphone is SOON and we should WAIT!

Oh really... Don't talk like a dumb.

I'm a dumb .. Do you have any problems with my way to talk?

Get a chromebook instead and see their condition is like windows phone too.

More people=more updates. And you can't really say that windows phones are on the same pace with Android phones right? So unless people show interest on these awesome phones, and they are properly advertised by Microsoft then you will see those features in WP store weekly!

I know what you mean.. And I agree with you.. But the question is how can Microsoft get more people?
For example.. In this two weeks we see most companies launched a new devises even Microsoft.. "after one hour we will see iPhone 6".. And if I want to buy a new phone.. Whey I will buy a windowsphone phones that is too weak when I have another flagship phones from another companies??
In another hand , the most people don't know much about Microsoft devises!!

I don't like chromebook .. I love ❤ windows and WP .. When we criticized something that because we love it and we hope it get better..

The answer for the first puzzle screenshot is 9

While I enjoy the idea, it felt like it was the same 3 puzzles repeated 2-3 times.

This game looks a little simple and I dont know if I'll be interested in playing this for a long time. I like though the fact that these all in one games or game collections are put her by the awesome wpcentral! I like those, thumbs up for more hopefully! :)))

I was going yo download this game, but the whole coin system turned me off.
Windows Central Newsletter
Thank you for signing up to Windows Central. You will receive a verification email shortly.
There was a problem. Please refresh the page and try again.