Smoking Gun Interactive talks to us about Age of Empires: Castle Siege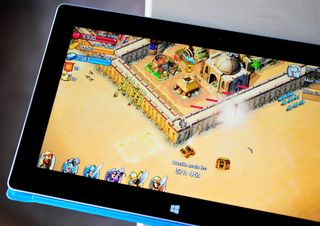 Our interview with Smoking Gun Interactive's co-founder about the upcoming Age of Empires game made for touchscreens
Microsoft will offer Windows Phone owners not one but two new games based on their Age of Empires strategy franchise this fall. In addition to the previously announced Age of Empires: World Domination game from developer KLab, the company announced last week plans to release Age of Empires: Castle Siege for Windows Phone and Windows 8.1 sometime in September.
As the title implies, this game concentrates on offering players a way to build a castle, complete with defenses that will be made to keep it from falling to enemies. Developed by Vancouver-based Smoking Gun Interactive, Age of Empires: Castle Siege will offer a way to link up with friends on Xbox Live for alliances as well as support for online leaderboards. We got a chance to chat with John Johnson, the co-founder and CEO of Smoking Gun Interactive, to find out more about Age of Empires: Castle Siege, including how the free-to-play game will handle in-game purchases and more.
First, how did Smoking Gun Interactive get the gig from Microsoft to develop Age of Empires: Castle Siege?
Many people might be wondering how Castle Siege ties into the Age of Empires franchise besides just the name. What elements in the game make it a true Age of Empires title?
What sort of castles and defenses can players make in the game?
What kinds of units can the player access to lay siege to the castles?
What gameplay modes will be available in Castle Siege?
What other features will make Age of Empires: Castle Siege stand out from the many mobile strategy games currently available?
How easy or hard was it to make the game work in Windows Phone and Windows 8.1 and will it be a universal app with cross platform support?
The game will have some in-game app purchases. Can you talk about what these elements will be like and if they will be needed to successfully play the game?
What can you tell us about the art design and the graphics for Castle Siege?
If the game is successful, could we see it on iOS or Android devices at some point?
Any plans for additional content to be added to the game after it is released?
Finally, is there anything else you wish to say about Age of Empires: Castle Siege?
We would like to thank John for taking the time to answer our questions!
Get the Windows Central Newsletter
All the latest news, reviews, and guides for Windows and Xbox diehards.