Snag the Acer Liquid Jade Primo with dock, keyboard and mouse for just $449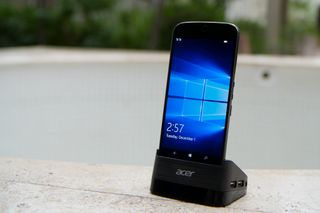 If you've been holding out for a solid deal on the Acer Liquid Jade Primo, the Microsoft Store is currently offering a pretty solid deal on the Windows 10 Mobile powered phone. Right now, you can grab the phone for just $449 (opens in new tab) as part of a bundle deal.
For those keeping track, that's a solid $200 drop from the bundle's usual $649 price. For your money, you'll pick up not only the 5.5-inch Liquid Jade Primo, but also everything you'll need to get started with Continuum out of the box. That includes a dock for the phone, along with a keyboard and mouse.
If you're on the fence, it looks like this offer is set to go on through June 30, 2017 — so you have some time to decide. In any case, let us know in the comments below if you're planning on getting in on this bundle deal!
Thanks to Jay L. for the tip!
See at the Microsoft Store (opens in new tab)
Windows Central Newsletter
Get the best of Windows Central in in your inbox, every day!
Dan Thorp-Lancaster is the former Editor-in-Chief of Windows Central. He began working with Windows Central, Android Central, and iMore as a news writer in 2014 and is obsessed with tech of all sorts. You can follow Dan on Twitter @DthorpL and Instagram @heyitsdtl.
Let the skeptics people not commence. Don't buy the phone if you don't like it!

Great deal and nice phone. I wish someone would make one of these strong new Windows Phones that worked on Verizon.

If Verizon wanted it they would gave it. The silence is deafening

No kidding.. Wish a gsm provider worked where I needed them to in the USA. U Att, hello, the 80 billion you spent on time warner would have put up heck of alot of towers in rural areas!!!

You're welcome! So now, what is the better deal? This with all these accessories or the 950 with dock at 399?

My wife has the 950. Battery life is abysmal

I can second that. Honestly its the last issue left on it, everything else got fixed with updates. Runs great, takes amazing pictures, continuum is smooth enough. But the battery just doesn't last

Yep, that's why I sent it back. Not going to keep a phone that I'll use as a daily driver that has poor battery life, especially if I have phones that have GREAT battery life.

Agree I purchased a spare battery for $15 on eBay and keep it in my wallet for days I'm not chained to my desk

I saw on eBay too but bit skeptic with those batteries even though they say its OEM

Really? My battery life is great...I'm always above 50% when I'm done with my work day. (I'm also working, so not using the phone very often...a few texts messages, etc, but that's it.)

This has been my experience as well. Although, I keep a wireless charger on my desk so when I leave work it's at 100% and go down to 40-60% by the time I turn in.

Check if some apps causing to drain the battery faster.... My GF's 950 takes through the day with her moderate use.

The 950 for $399. Already snagged it !

what? 950 is 399? In my country, the 950 is 270USD and the XL is 350USD :-D

It was $399 with the dock thrown in.

yeah i think he's thinking without dock

I rate all the devices performance
HP Elite X3
Lumia950XL
Acer Jade Primo
Lumia 950.
However if you take pictures frequently
Lumia950XL
Lumia 950
Elite X3
Jade primo

The X3 camera is better than the Jade?

Is the best non-phablet Windows 10 Mobile device to get? Or is that still the 950? (Love the specs on the X3 and 950 XL, but those are just way to big for my tastes.)

Not sure why you don't consider this non-phab? At 5.5" it's only marginallly smaller than the 950XL (5.7). 950's probably non-phablet (5.2), but once you hit 5.5 or above you're def. entering "phablet-ish" territory. To answer your Qn, IMHO the best non-phab. about now, is prolly the 950, esp. if you can find a great deal for new or 2nd-hand. Others may suggest other ODM's or other MS models, choice is always good... Plus it's always good to support 3rd-party ODM's, if you are intent on staying with W10M.

phablets are 6*+ 5*7 is still a normal phone for big handed people

I guess you could say that, nowadays, not so long ago 5.5 was def. entering phab territory, & some would argue it still is, depends a lot on a person's morphology. Anyways, there's no agreed/formal WW standard, & this is digressing from what the poster's asking, i.e: "Opinions on the best decidely non-phablet model".

Depends on time period you take the definition from. Many people still use the definition from the time Samsung 1st introduced the 1st ever (to my knowledge) fablet. However seeing as most phone companies are making 5"-5.7" phones compared to the original standard of 4.7" phones I say that the definition of fablet should really be changed to 5.9"+.

Yeah, it depends on a lot of factors, & depends who you ask + what they factor-in, boring debate really & no universal_agreement/formal_standard, & most importantly, not what the poster's asking. One thing's true, based on current trends, it's fairly safe to say the 950's decidedly non-phablet... If the OP feels 950XL's also strongly non-phab, but they're not sure if it's too big for them or not, well, the obvious answer is, go test it for yourself, find it or a phone of similar dimensions, & handle it.

Did u guys ever review this phone? Haven't heard much of anything about it

They did on YouTube. Look up"Microsoft central acer jade primo"

We sure did! Here's the link you're looking for

I think adding the horrible keyboard in this deal was weird. They should have just sold the accessories separately and maybe had a way to build bundles online. They should assume people have keyboards and people usually think that extra stuff is factored into the price.

Suppose they should assume people don't have mouse and keyboard not other way around.

People may have keyboards, but they might be wired keyboards or those that require an attachment to the device (a dongle). A truly wireless mouse and keyboard would probably be an added investment (was for me anyways).

Grab Snapchat and I'll come back. Posted via the Windows Central App for Android

That Snapchat dev is anti Microsoft. You know that right?

Lol. I used to think Snapchat is important (how I laugh at my past self).

Snap chat = dick. It's time to grow up, learn to live your own life, and stop wasting your life on sucking up to rich people and making rich people richer. Pay attention to what you are doing.

It's a nice phone. At 350 I would say it's a no brainer. At 450 the 950 may still be the better option. Hopefully by the holidays these phones will all be another 100 bucks cheaper which will then provide an upgrade path for the budget minded WP users who at this point have no options.

Did you guys ever do a comparison with the Jade Primo and the HP Elite X3?
Windows Central Newsletter
Thank you for signing up to Windows Central. You will receive a verification email shortly.
There was a problem. Please refresh the page and try again.