Snag iOrange's USB-C cables for as low as $8 with coupon code at Amazon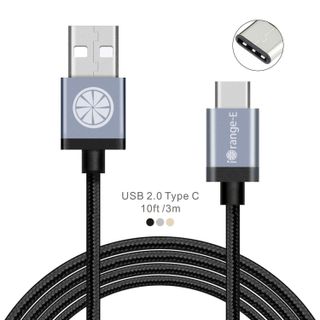 If you're in the market for some new USB-C cables, you'll want to check out this deal from iOrange at Amazon. Whether you are in the market for a short cable, like just one foot, or need something longer, like ten feet, you are in luck. Each cable length has its own coupon code, so you'll want to pick from the list below.
The ten foot cable is definitely the best deal here, but not everyone is looking for that kind of length. Don't wait too long, as we don't know when this deal will end. Remember, you will need to use the correct coupon code from above based on which size you end up ordering
From $7.99 at Amazon (opens in new tab)
Windows Central Newsletter
Get the best of Windows Central in your inbox, every day!
Jared started off writing about mobile phones back when BlackBerry ruled the market, and Windows Mobile was kinda cool. Now, with a family, mortgage and other responsibilities he has no choice but to look for the best deals, and he's here to share them with you.
iHuman though.
Like seriously, orange... Is this supposed to be like literally not Apple? Lol. As if.

Yeah the 'i' everything naming convention even got old at apple so they stopped with iSight camera. iCan't believe someone would name their company iOrange.

There is no mention of whether these cables work with the 950/XL. I just returned 2 highly speced out cables because they wouldn't charge our phones. Has anyone tested these cables to make sure they charge the phones?

In the title of the product is says 950/XL "Type C, USB 2.0 iOrange-E™10ft (3M)Braided Cable for 2015 New Macbook 12'', ChromeBook Pixel, OnePlus 2, Nexus 6P, 5X, Lumia 950, 950XL, Nokia N1 Tablet and Other USB C Devices, Black"

I got a couple of these, hooked them up to the 3.1 Type-C card I have in my desktop and they work fine, charge fast, and syncs fast.

Which cables? Where they on the list of cables that Benson has approved?

But will they quick charge with a quick charger?

Umm, NO! Our phones are not Quick Charge capable/compatible. (The Qualcomm standard.) The 950/950XL use the USB 3 Fast Charge standard. (And I haven't found any USB 3 Fast Charge power supplies yet, other than what comes with the phone and the Display Dock. Though Anker says that they are going to release one in the next month, though I'm not sure if it will support the full 3A output.) And in any case, no cable with a USB A connector on one end will fast charge our phones, you need to have USB-C on both ends. (Or the only end in the case of the supplied charger.) To meet the USB-C standard the cables have to be configured to identify them as attaching to legacy USB ports, using a 56k pull-up resistor, which tells the phone to not pull more than 2.4A. Though I think our phone will only pull ~2A. (The 2.4A is a Apple standard.)

I have the 6 foot with AC and it works great.

Where was this cheap deal like 2 weeks ago?

All my USB-C cables are Benson Leung approved. I wouldn't buy one otherwise.

I picked up four of these around Christmas for my 950XL and they work great. I love how solid and durable the cables are, they definitely don't feel like cheap cords which will break in a month!

Was going to pick some up from Monoprice but might grab these instead. Can anyone tell me, if I use these cables with old wall chargers, meaning the little cube that plugs into the wall that the usb cable plugs in to, does this still charge the phone fast? Or to get the fast charging does it have to be a dedicated wall charger or be plugged into a USB 3 port? I hope this makes sense. Thanks!

They can only charge as fast as the wall adapter. And being a USB A to USB C cable, the best rate you are going to get is ~2 amps. (The charger that comes with the 950s is 3 amps.) So even with the best power supply you aren't going to charge as fast as the supplied adapter. But in reality I haven't found using a good 2A USB power supply to be much slower. (Well that and the battery % reporting in W10M SUCKS. (I can be charging at 85%, unplug, plug-in and it jumps to 100%, reboot and it is back at 85%. And it doesn't matter what I plug in to, the estimate is always the same. Even if I plug in to a PC that won't actually charge the phone it still gives me an estimate to 100% even when it is actually discharging.)

Wall adapter, those are the words I was looking for! I couldn't remember what that was called when I was typing my questions. But thank you very much for the answer, definitely helps a lot!

No idea if they compatible with high watt devices like that engineer said

I have this cable for my Lumia 950 xl... It works very well.

aww man...it doesn't ship to my country!

Just ordered the 10ft cable myself. I have another one that is a 3ft cable from Cable Matters that was on Benson's approved list and it works great with my Motorola Turbo Car charger. I'll take his word for these being approved as well seeing as he has tested a lot of cables the last few months.

ithis, ithat... It's as annoying as Justin Beiber, and the word 'bae'. ipass.