Snatch the Lumia 820 on Orange UK with £15 tariffs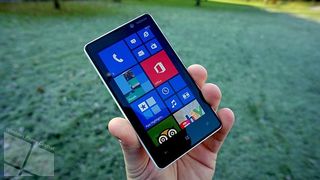 We've been made aware of an absolute bargain. For just £15 a month, you can be a proud owner of a Lumia 820 with Orange. The UK mobile operator currently offers the handset with no upfront fee on either its Panther or Dolphin plans. The former contract (for 24-months) includes 50 minutes, unlimited SMS and 250MB worth of data. The package is perfect should you not use an awful lot of allowance, but wish to snatch a Windows Phone 8 smartphone.
So how does one go about taking full advantage of the offer? Via the official Nokia website is the most efficient way. Checking available offers for the Lumia 820 will bring up plans starting from just £10 (but do not have any data allowance and come with a pricey upfront fee). The Panther plan is listed for Orange, which costs £15.50.
As mentioned above, there's a second offer on Orange's Dolphin plan. This package (also 24-months) includes 200 minutes, unlimited SMS and just 100MB of data. It's a step down from the Panther plan should you utilise the Internet, but is worth the sacrifice for more minutes if you're not into the whole Skype experience just yet.
Choosing either plan from the Nokia website will take you to the Orange store, this will allow you to select the Lumia 820 as your choice of phone and thus starting to form the contract you'll be taking out. A pop-up will show next asking whether you'd like to check out EE or remain with Orange, be sure to stay with the latter if overpriced 4G really isn't up your street.
You'll then be able to checkout with the Lumia 820 and either the Panther or Dolphin £15.50 plans. Not a bad deal, right? The Windows Phone sports an 8MP rear shooter (with front-facing Camera), 4.3" AMOLED display, dual-core 1.5 GHz Snapdragon S4 CPU, 1GB of RAM, 8 GB internal storage with expaadable microSD slot, 1650mAh battery, Wireless Charging, NFC, and all the bells and whistles of the operating system.
Source: Nokia (opens in new tab); thanks, Russ, for the heads up!
Rich Edmonds is Senior Editor of PC hardware at Windows Central, covering everything related to PC components and NAS. He's been involved in technology for more than a decade and knows a thing or two about the magic inside a PC chassis. You can follow him over on Twitter at @RichEdmonds.
Something about that 920 looks curvier than mine......but it just might be my eyes messing with me since it's late over here.

I clearly misread the header, forgive me.

I personally highly recommend the 820. I know all the fuss is always about the 920, but I couldn't be happier with my 820, and there are some enticing deals to be found in retail stores. CPW in the UK offering unlimited calls and txts with 1gb data for £26, but unadvertised, so potentially limited offer.

I personally would have gone for it but I needed the extra storage space internally (apps/map data) so had to go for the 920. Don't get me wrong it's a great phone, but unfortunately it doesn't quite meet my needs.

The 820 is fantastic I agree It has expandable storage, removable battery, interchangeable shells and still has a pure view camera though not quite as good still very nice and same processor and ram as the 920 no reason to not get an 820

This is an amazing deal for someone who never bought a smartphone and wants to try WP8! Too bad I'm in Canada, we don't even have the Lumia 820 here. I hope it's coming here soon

Huh ? What model do Nokia sell in Canada?


You can go to Nokia.ca We only have the Lumia 920 as WP8 devices for the moment.

Contract are evil no thanks ! Lol

I agree, bought my phone outright and a month later another retailer launched an unlimited service for 1/3 what I was paying, from $79AUD per month to $79AUD for 3 months! Oops, a little off topic but a bargain all the same.

The amount of data usage is tiny, careful!

Worth noting that orange run an Under 24 scheme which gives those under the age of 24 1GB of extra data for free.

Certainly stay away from EE, absolutely hopeless in all respects, never mind pricey data!

Each to their own..... I've not had one problem with EE

Pleased to hear that you've had no issues. I have had too many list here. At last count, 38 notes on my account, in less than 2 month. Data issue, still not sorted.

I have 83 notes in one month but I get unlimited everything - calls, texts, data, WiFi - £19/month.

Take out the contract and pay the £15 per month then stick a T Mobile sim in it pay as you go. They do unlimited browsing and email but 500mb download allowance on top

Will a t-mobile sim work in an orange phone? I was never sure about this. Great if that's the case.

Followed the link as advised..
But if you gonna do the above its also free on a Canary Tariff £10.50 a month..
Saving you another £5..
£10.50 x 24 = £252.. You won't find an 820 at that price any where..

Check my comment at the bottom.

Rich, what's with the "overpriced 4G" remarks??
So £5 more than O2 for 4G tech and 27mbps is overpriced? Get off your soapbox! Surely you can comprehend that updating technology costs money? And like another monopoly, until competition happens; £5 more for 1GB 4G than my previous O2 £36/month 3G plan is nothing!

Check out The One Plan on Three or The Full Monty on T-Mobile, then that'll explain his comment.

The Fully Monty with my 920 would have been the same price (£41/month) for 3G... So, again; when you want the latest tech (4G) you're gonna pay a premium for it....

Especially if there are monopolies involved.

Great bargain. Great phone. The Lumia 920 is probably the best of Nokia's offering, but i selected 820 as it really fits me better - removable cover, microsd, removable battery - and i really love the design. The only downside is the screen - you always want it bigger, 4,3" is relatively small but perfectly enough - and the picture quality - it's simply amazing, much better than 920 imo.

I'm just waiting for an unlock code for my 920 I like giffgaff I don't do contract bought phone out right from phones 4 U should have code from cellphone unlock.net in a couple days now

Hi, I literally just made an account here to make this comment. This article is completely false.
I saw this deal being advertised two weeks ago on the Nokia website and of course instantly jumped on it as I've wanted the 820 since it was announced.
However if you go through the process of ordering the phone through the redirect on the Orange website, it says there was a technical fault.. It is not possible to order it through the redirect. If you look at the 820 on the Orange online shop directly (without the redirect) the minimum monthly price of the phone is £31. I even went to my local EE store last week and the sales assistant almost laughed at me for thinking that it could be available for £10-15 monthly for with no upfront cost on contract. She could not believe me that I saw it on the store for that price. In short, don't trust the Nokia website and this post should be retracted.. sorry.

yep, just checked for myself. you can get the low fee tariffs but the phone costs £249!!! oooops :S

Oops indeed!
I'm surprised this comment still hasn't been noticed by the author..

Lumia 900 is running for £179.99 currently in Expansys
http://www.hotukdeals.com/deals/nokia-lumia-900-black-eu-plug-uk-adapter...

Not sure why people are voting Cold on that offer. I found it cheap for a sim unlocked phone like the Lumia 900.

Still, not WP8, so limited appeal.

I snatched my wife an 820 (AT&T) and she loves it. I like the wp8 setup options and the sd card support is perfect for her. Xbox Music is the best thing since Napster.
Windows Central Newsletter
Thank you for signing up to Windows Central. You will receive a verification email shortly.
There was a problem. Please refresh the page and try again.