Sniper Elite III Ultimate Edition announced; we're celebrating with a contest this weekend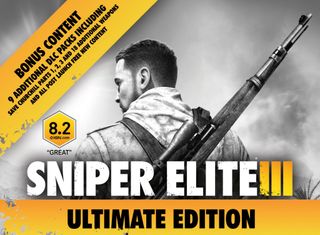 World War II-era third-person shooter Sniper Elite III is one of my favorite Xbox One games of 2014. The gameplay combines equal parts stealth and gruesome sniping kills, all in the service of thwarting the Nazi expansion into Africa.
Last year we caught early word of an upcoming Sniper Elite III Ultimate Edition that bundles the main game with its downloadable content. Today, publisher 505 Games has officially announced the Ultimate Edition will be coming in March – for the low price of $39.99 on Xbox One and $29.99 on 360.
To celebrate the impending Ultimate Edition, Windows Central is proud to partner with 505 Games on a massive Sniper Elite III giveaway. This Saturday we're streaming the original Sniper Elite III on Twitch and giving out more than twenty copies of the game for Xbox One, Playstation 4, and Steam. This is one stream you won't want to miss!
Saving Africa one snipe at a time
Sniper Elite III, the third game in the cult favorite series takes place in North Africa – a fresh setting for World War II-era games. Players will take on the role of series hero Karl Fairburne as he battles Germany's infamous Afrika Corps. Allied intelligence indicates that the Nazis are developing a super weapon that could turn the tide of the war, making it imperative for Karl and his allies to stop them.
The main game consists of eight massive missions that can be completed in multiple ways. They really are quite long – I spent more than two hours on a single mission and had a blast the entire time. But leaving and coming back won't be a problem since the game allows players to save anywhere.
With a full online campaign co-op for two players, several single-player Challenge modes, and both cooperative and competitive online modes for up to 16 players, players won't run out of things to do in Sniper Elite III. If you enjoy sneaking around and taking out enemies methodically, you can't do any better on the Xbox One.
Ultimate Edition details
The Sniper Elite III Ultimate Edition includes the original game and nearly all of the game's post-release DLC. The only significant content not included is the ' Hunt the Grey Wolf' DLC, which is available to purchase separately.
'Save Churchill' DLC - A three-part campaign challenging players to foil a plot to assassinate inspirational British Prime Minister, Winston Churchill, featuring the biggest environments in Sniper Elite series to date:
Save Churchill Part 1: In Shadows
Save Churchill Part 2: Belly of the Beast
Save Churchill Part 3: Confrontation
Six Weapons Packs – Added fire power to help players eliminate their targets:
Hunter Weapons Pack
Camouflage Weapons Pack
Patriot Weapons Pack
Sniper Rifles Weapons Pack
Axis Weapons Pack
Eastern Front Weapons Pack
Bonus content added to the base game since launch:
Six Multiplayer Maps – Expand your experience in the field with a diversity of treacherous and complex environments ****
Fracture
Night Watch
Outpost Canyon
Plantation
Lost Valley
Airstrip
Three Distinct Gameplay Modes – Hone your skills with three additional challenging missions
The Shooting Range (Single-player Mode)
'Twilight Strike' Overwatch Mission (Co-Op Mission)
Capture The Flag (Multiplayer Mode)
Sniper Elite III: Ultimate Edition arrives on Tuesday, March 10. The Xbox One and Playstation 4 versions will cost $39.99, with the Xbox 360 and Playstation 3 versions selling for $29.99.
Sniper Elite III Twitch stream and giveaway
As our regular readers know, we stream a different Xbox One game at Twitch.tv/Eastxtwitch every Saturday evening and give out free copies of the featured game. So far, all of our weekend streaming games have been downloadable titles, stuff that tends to sell for $30 or less.
That will change this weekend. We're teaming up with 505 Games to stream Sniper Elite III (a full retail game) and give out free codes for it as prizes! You'll be able to tune in, watch me sneak around sniping at targets, chat with our excellent Twitch crowd, and possibly win your own copy of Sniper Elite III.
We're also debuting a number of stream upgrades this Saturday, such as a webcam view of yours truly. Longtime stream moderator Tylerh1701 will graduate to cohost of the stream as well, adding his narration to my own.
We'll be streaming Sniper Elite III on Saturday, January 17. The stream takes place at 8pm Central/6pm Pacific and lasts for 90 minutes. Follow my Twitch channel and then join us from your Xbox One, Windows Phone, PC, Playstation 4, or other mobile device for an hour and a half of entertainment and a chance to win one awesome sniping game!
Windows Central Newsletter
Get the best of Windows Central in in your inbox, every day!
Paul Acevedo is the Games Editor at Windows Central. A lifelong gamer, he has written about videogames for over 15 years and reviewed over 350 games for our site. Follow him on Twitter @PaulRAcevedo. Don't hate. Appreciate!
Ahhh!! I am so pumped for this!

Yup ill be there, Cortana is set to remind me for awesomeness

Another one of Paul's Top games o 2014. Can't wait to see it in action. Will try my best to join the stream (as usual). Hope to see all the regulars and some new additions as well (possibly even New Edition...wonder what they're up to these days)

I'm in there. Looking forward to seeing the gameplay! Sounds like an awesome game!

I'm gonna sign up for a twitch account just for this.

Cool! I hope you'll enjoy the experience. Make sure to try watching another channel before our stream so you can get a grasp of how it works.

Paul, please secure one just for an old member, I need this and would be there :)

It will be nice to have you back! Just remember I don't pick the winners. I love all of you guys, so it's too hard for me to choose. :-)

I don't know what my plans were going to be Saturday night, but they're cancelled. Make sure you shoot them in the balls, Paul! The animation is literally the best thing thing ever!

This is a pretty good deal given that the Churchil DLC is $24 on its own

I'm super excited to see this stream. Have always been a fan of sniper games and have been curious about this one. Addicted to Warframe and have been finding myself using sniper tactics just for the fun of it so this should be awesome.

Hmmm... I haven't really been following gaming lately. The WW2 Call of Duty were my favorites. Are all the Sniper Elite game set in WW2?

Yes they are. This one even has a DLC mission that lets you kill Hitler. :-D

Paul, since you have the ear off 505 tell them its a little disappointing that grenades can't be triggered to explode when shooting through the body then into the grenade. I guess it MIGHT be, but I've been trying damn hard to do it with no luck. I want to see the skeletal view when a grenade explodes! Maybe they'll put it in release IV

That's an issue for the developer, Rebellion. I'll ask them about it when I interview them next month. :)

Paul, one more thing... The graphic says hunt for grey wolf is included but the article says its not - which is accurate?

Whoops, went by the press release which excluded it for some reason. I'm going to confirm with the publisher.

Ade, I verified it with the publisher: 'Hunt the Grey Wolf' is NOT included with the Ultimate Edition. We've updated the header image to reflect the actual DLC contents.

Thanks for doing that - and for relaying my question/request to Rebellion next month.

With so many games to play this one didn't make my list. Maybe ill get it eventually.

I can't wait for this stream!!!!!!

Can someone suggest any twitch app for my windowsphone....i can't find a better one..

Which one's better, Nola?

I would say 8stream but sometimes it wont recognize followed streams being live and doesn't give you the option to bypass it and go directly to a followed stream so I go to livegaming. I stick with it though because I like the interface better.

I thought I'd have to gripe about the time, but as it's 10am on 18/01 for me I can definitely watch!


Same time as always, Schlub! Glad you'll be able to make it. :)

I will definitely join, not sure for how long though. I am on fence on buying this. Paul - If you haven't played already - do play Shadow of Mordor. I finished it yesterday and it was great. I had to keep ACU & FH 2 on hold since I started that. Will finish ACU. FH2 is fairly long with the second string of championships. I gave on last 150 GS achievements in each Diablo (hardcore mode) and Shadow of Mordor (save quests etc) as I had already spent 200 and 120 hours respectively in them :)

I really want Shadow of Mordor, but we didn't get a review copy. If people start donating to our Twitch channel (a new feature we've added), I hope to buy a copy and start streaming it semi-regularly. It sure sounds great. :) Wow, you really put a lot of time into those games!

Paul - Shadow of Mordor was $25 on Black Friday at Target, that's when I got it. I finished and sold it today again for $25, with 0 cost to me. Even if I had to pay, it was worth. If I knew you needed the game, would have mailed you.
BTW I work at MS and in our company story we get some ms games at 50% like sunset, halo, forza etc. I can always help you snag them for less. My work id is same, just put live.com or https://www.windowscentral.com/e?link=https2F%2Fclick.linksynergy.co... if you ever need MS software for less. We do not get any useful hardware discounts though.

That's very kind of you to offer, Ravi! Do you get discounts on Xbox gift cards? I much prefer digital, and it would be rad if we could get some help with digital currency (which we also plan to use for prizes sometimes).

The only digital codes we get for now are Xbox Live Membership which is $25+tax. On Black Friday I did snag extra ones for $20. In future, we may get for games. I guess the market is slowly getting there. The policy does not allow company store purchasing for giveaways on public events, there is a separate channel for that. This is more of a friends and family thing. Each employee has only $1200 quota for software per year. For last 3 years, my most of quota goes unused, so I don't mind helping friends get some games for less. I will talk to you on stream tomorrow too. ID: sCythE roXx

Kudos to you fella for such generosity!

I was well up for the stream. But it is 2 am in UK. I'll see if I can stay up.

if all goes well tomorrow, i'll be there!!!

This stream starts at 3AM where I live.. Oh well, sleep is overrated.

I've yet to tune in, but im very curious to see this game in action. I just may see you all tonight!

Can't wait! See you all tonight!!
Windows Central Newsletter
Thank you for signing up to Windows Central. You will receive a verification email shortly.
There was a problem. Please refresh the page and try again.