Sniper Fury now stalks its enemies on Windows PC and mobile devices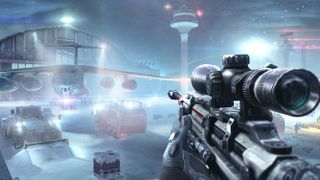 Sniper Fury, a new first-person shooter, is now available as a universal game for Windows, and Windows Phone. You'll hunt down dangerous enemies across more than 130 missions in several different environments, with a massive, customizable arsenal of weapons.
The game launched two days ago, but those Windows Store links were not working. Now they are, so go grab the game, which is looking very promising so far.
Here's what you'll find in Sniper Fury
A STUNNING FIGHT AGAINST EVIL

130+ missions • Unbelievable 3D graphics that will bring you to the near future, from urban skyscrapers to exotic locations
Soldiers, armored vehicles, air units and many more enemy classes
Next-gen "bullet time" effects capture your every amazing sniper headshot
Sandstorms, blizzards, rainstorms and other rich atmospheric effects

MODERN FIREPOWER

Sniper rifles, assault rifles, railguns and top-secret weapons
Gather components to upgrade your military arsenal -VP CHALLENGE
Steal resources from other players by breaking down their defenses
Build a strong squad to keep your loot safe
You can grab Sniper Fury now on the Windows Store for both PC and mobile devices.
Get Sniper Fury for Windows and Windows Phone (opens in new tab)
Anyone know how this compares to elite sniper?

Sniper Elite is the best stealth realistic sniping game on the planet. This doesn't come close.

Sniper elite. Is a pc game right...available for phone ?

Sniper Fury , an identity that just about every person across the globe is familiar with, lovers of the important game have been on the edge of their seats in anticipation of the most innovative release of the Sniper Fury family. In the midst of it software programs for Sniper Fury Resources release in nations around the world like number of players have been enjoying and having fun with the game play.

Does it require an always-on internet connection?

What a shame, blank cheque for my data.... Pass

Bummed there's no xbox support. =/

Game isn't in WP store yet... Why there is no mention in your article about it?

I just installed it on my Lumia 950, so.... ¯\(ツ)/¯

How did you make that emoji Daniel!? Is it that you downloaded some other language?

Since this app is available for pc, it means they have scaled it up well for the big screen. Wonder if it is continuum compatible. Could you pls give it a try and maybe do a little review if it does work :)

It's in the store. Downloading on my lumia 730 with windows 10 right now

I was worried for a second that Gameloft would have an original idea. Glad Sniper Elite gave them something else to to rip off.

Jesus the day you post something positive...

Your post is also negative sooo...

It's not my fault your mind only focuses on negative things and wants to ignore facts to make up some B.S. statement that I don't post anything positive. Enjoy your lies about reality.

Amazing :) so many apps coming, it's like a fresh new love for an OS.

After installing, download stuck on 400 Mb... What to do..??

I'm wondering how they giving us Amazing games like this thanks Games loft teams and COC team still not giving a attention to Windows 10

Can we play without internet after downloading for the first time

Navigation bar still blocks buttons in games and apps running win10, so this game too does not respond :/ one day GL pays attention to windows 10.

Downloaded 80+ Mb as game size, surprised at finding that the game downloads additional 450 Mb on starting.
This should've been mentioned in the game description by gameloft.

Nice... game loft games have really good graphics.....looks and plays good on my icon
Windows Central Newsletter
Thank you for signing up to Windows Central. You will receive a verification email shortly.
There was a problem. Please refresh the page and try again.