Sniper Fury adds missions in Dubai and some festive holiday firearms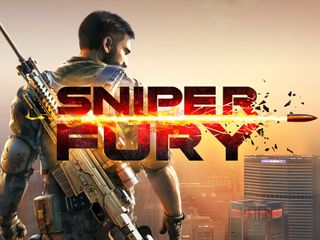 We recently reviewed Gameloft's new mobile shooter Sniper Fury for Windows on PC and mobile platforms and declared the free-to-play game as one of the best in the genre. Gameloft has a new content update for Sniper Fury that adds some missions in an additional location, along with some holiday-themed unlocks.
Here's what's new in this update:
Danger in Dubai: Visit this new region for loads of new missions and an occasional sandstore,
New Enemies: Zip-Liners and Knife Assassins are swinging into action with deadly force
More Firepower: Pack an arsenal of new weapons with unique designs
Weapons Parts: Build the best guns from scratch using parts collected from missions and more
Xmas Ops: Join the special event to unlock some festive firearms for a limited time!
Take It Easy: Take on a more relaxed challenge for rookie snipers in Easy mode.
Thanks to Deven for the tip!
Get Sniper Fury for Windows and Windows Phone (opens in new tab)
So that was that 87mb update about.. :)

After you download the 85mb file you still have to turn around an download 438MB again in order to play the game.

This isn't 1995.. 500mb is nothing.

500mb via 3G or 4G without WIFI is still a big PAIN in da *** especially because mobile data are overpriced in some countries

Its still 1995 in India here ... Were you are bound with best 2g speed upto 30kbps and 3g is way too expensive to be spent over a single game.

Mobile data not over price, our economic too poor

Living in the US, I can tell you, our data costs are expensive.

If anyone could help me plz. Since last 3 days so many apps are crashing on my phone. When I taps on any app it crashes, It's something like I'm turning app list page and then again getting samne page. Apps those are crashing Battery saver,ccplayer,podcast,files,shareit, Calendar,gadgets etc.
I did a hard reset thought apps are crashing cause of ram but no benefit. Thanks for replying in adv.

Get rid of windows 10 mobile (if you have that installed on your device)...it isn't ready.

Maybe reflash your device or try windows 10 before you flash it.
It's a little weird thing that I've never heard of. Good luck!

Insider app is also crashing :( so no w10

Everytime i launch this game [Sniper Fury] on my Surface Pro 4 8 GB Ram 256 HD and Intel i7 chip - the device gives me an error of Whea_uncorrectable Error Anyone else encounter this with their SP4. Any solutions out there ?

Same here sadly, SP4, 16gb, 512ssd i7. As soon as the starting sequence plays, blue screen with the same error

How strange would it be to find out that anything you did in this game was actually taking place? Just be careful and don't hit my boss, he's taking a trip out there and I need somebody to keep signing my checks lol ;p

Good god this game has no variety. PvP is same old shoot the same 5 targets and then proceed to shoot the same boss. Missions are all the same just with a rifle or automatic weapon. Graphics are actually sloppy. Most death scenes have limbs ghosting through floors or floating in air if it 'tumbles' over a ledge.

Uninstall it today(after 5 days of playing)

Maybe if pvp was better, only played it for 4 days.

We have to spend around 500 mb

I update it just now. But still it doesn't show me dubai chapter. I complete all other charters. What's the reason? My phone model is windows 640xl.

I downloaded it for PC and the game is great! Good shooter games need a larger screen, I think!

Its gud....but need net to open...do something
Windows Central Newsletter
Thank you for signing up to Windows Central. You will receive a verification email shortly.
There was a problem. Please refresh the page and try again.