Sniper Fury is one of the year's best shooting games for Windows PC and mobile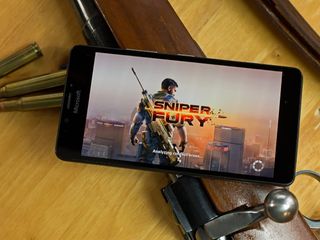 Gameloft has a very healthy portfolio of games that are available from both the Windows Phone and Windows 10 Stores. Sniper Fury is one of the developer's latest releases and represents Gameloft's gaming lineup exceptionally well.
You play the role of a sniper who has joined the fight against global terror. The game has over 130 missions to complete, several gaming modes and stunning graphics. You will have the opportunity to purchase and upgrade several sniper rifles and assault weapons as you progress through the game.
We took the Windows Phone version out for a test drive and asides from a few lagging load times, Sniper Fury comes across as an impressive game. If you like first person combat style games, you'll definitely want to train your sights on this game.
As with most games, Sniper Fury first launches into a series of tutorials to give you a feel for things. Once you get past the tutorials, the game will open up to the primary menu that offers you a host of options.
You will have options to access:
My Base: This is a player versus player mode where you can raid other player's vaults for gold, as well as setting up defenses to protect your gold from similar attacks.
Missions: This gaming mode has the main story mode for the game with three side missions include sniper missions, assault raids and contract shoots. These missions span four theaters of operation that include Murmansk, Shanghai, Jungle and Dubai. Each are progressively unlocked.
Your current weapon will be displayed on the primary menu along with any daily events that are currently running. Tapping on the weapon will pull up your armory where you can upgrade your rifle or choose another one to use.
Along the bottom of the primary menu, you will find options to access your daily bonuses, achievements, settings and Gameloft Connect menu (news, customer care, etc.). Settings cover sound/music settings, notifications and camera sensitivity. You can connect the game to your Facebook or Microsoft account, which will allow you to share your gaming progress between devices.
Along the top of the screen, throughout the game's menus, you will find your gaming stats. This includes your player level, gaming energy, gold count, cash count and gem count. You will also find access to the game's store amongst your gaming stats.
Shooting Straight
Gameplay is universal, for the most part, regardless of the game mode you choose. Each mission or game will cost you an energy point. Gameloft starts you out with 10 points that are replenished over time or you can spend some of your gems to replenish things quicker. The game screen for combat has your weapons controls lining the bottom of the screen and a zoom control that will activate your scope or aiming device (Aimpoint, iron sights, etc.).
Your weapons movement is done by sliding your finger across the screen. Button controls will vary from mission to mission and weapon to weapon. They can include an infrared filter, radar detection (helps identify the targets), a game reset button (limited) and your fire control button. At the very top of the screen, you will see your target numbers, a timer (where applicable) and a danger sign that will begin to flash as your health becomes critical.
Your enemies in Sniper Fury aren't exactly helpless targets. Many will shoot back and while the game is forgiving with regards to the number of hits you can take, you aren't bulletproof.
Before each mission, you will receive a briefing covering the details and your targets. Some missions require long-range shots while others are more up close and personal. Some have singular targets while others have multiple targets to engage. You will also have weapons requirements for missions that call on you to upgrade your rifle. Upgrades will cost you a little cash and if you are running low, you can always pick up side missions to help give your account a little boost.
Sniper Fury is a Windows Phone game where both hands are needed. Gameloft does a good job of simulating the movements of a rifle and the challenges of keeping it steady while you take the shot. Along with challenging targets that are moving, the game will also add to the challenge by adding environmental factors into the mix. Rainstorms, sandstorms, fog, blizzards and other atmospheric conditions will make identifying your target more difficult as well as lining up your shot.
At the end of each successful mission, you will be awarded cash for your efforts. There will be times you receive weapon parts that can be crafted to upgrade your rifle.
The game is mildly graphic without the ability to dial down the blood and gore. Your final shot in the mission is carried out in slow motion and while a neat effect, you get all the bone smashing, blood splattering effects. I don't know if Sniper Fury is a game for the younger gamers or something to play at the supper table.
My Base Mode
The My Base gaming mode is a player versus player mode where you can raid other player's gold vault and defend your own vault from being pillaged.
Non-player characters protect your vault and your opponents. If you are the aggressor, you'll have to take out all the NPCs before you can carry away the loot. NPC characters can be upgraded to be more capable of protecting your vault. These games are timed and can be a challenging way to build up your gold count.
Overall Impressions
Sniper Fury is to other combat games as Asphalt 8: Airborne is to other racing games. It has fantastic, console level graphics that sets it apart from other games of this genre. Gameplay is challenging and with over 130 missions and the player vs. player modes, Sniper Fury will keep you busy for some time.
My only grip about Sniper Fury concerns the load times. There is an inconsistency in what you will face as missions load to your Windows Phone. Sometimes everything loads without delay, while other times you can cook a whole turkey before the download finishes. Several variables influence this process, but if Gameloft could possibly fine-tune things on the server side to speed things up, the game would be a lot more appealing.
I did tinker with the Windows 10 desktop version of the game and found it just as impressive as the Windows Phone version. I can see it being an ideal tablet game to play as you sit on the couch or something to tackle from a desktop or laptop when you feel the need to test your marksmanship skills. Please note that you will need a mouse with a track wheel or a touchpad with scrolling capabilities to zoom into your scope when playing from a keyboard.
All in all, Sniper Fury is a solid gaming option for both platforms and one of (if not the) best first person shooters available from the Windows Phone or Windows 10 Stores. At last check, Sniper Fury is pulling down a 4.5-star rating that could easily be a full 5 stars. Many of the negative reviews are based on connectivity issues rather than content.
If you have given Sniper Fury a try, let us know what you think of things in the comments below. It is a free game, available from both the Windows Phone and Windows 10 Stores, with plenty of in-app purchase opportunities.
Download Sniper Fury for Windows and Windows Phone (opens in new tab)
Windows Central Newsletter
Get the best of Windows Central in in your inbox, every day!
George is the Reviews Editor at Windows Central, concentrating on Windows 10 PC and Mobile apps. He's been a supporter of the platform since the days of Windows CE and uses his current Windows 10 Mobile phone daily to keep up with life and enjoy a game during down time.
The game is just meh. Very repetitive and typical for Gameloft if you don't want to spend real money you can't progress unless you grind it out and this is one of their worst grinders.

I cant say this is an incorrect statement. I've been farting around with this game for a few weeks, and although its as good as the article says, it does smack of simplicity. Example: If you fail a mission, no big deal, because the re-do is identical in motion. Its tricky, but not as challenging as it could/should be.
Oh, he didn't mention the now standard in game purchasing to speed you along when the game isn't producing the required finical upgrade results.

Its the best shooting game for windows phone!!! Love the graphics!

I would say that Halo: Spartan Strike is the best shooting game for Windows Phone.

True. Just bought it with the 10 cent deal a week back. Earlier I was a little skeptical about this game after Halo Spartan Assault. But, they have fixed all problems with Spartan Assault in Spartan Strike. Now its truly enjoyable experience!

Gameloft games r never meant for free players.. Its just a perception... Unless you don't want to be a pro player.. People will go ahead of you and score .. N at that point u'll be forced either to back foot or pay for gems.. N play

Rightly said, I ended up paying $50 in Magic Duels on Xbox one cause the better decks were owning me. Now I am owning the others.

Formatting, formatting, formatting come on MS this is not to much to ask. Lot of things I am unhappy about windows mobile 10 on my 950xl but my email is important, I just had to go back to my trusted 1520

That's on level 6 of Sniper Fury. Unless... You posted completely off topic. Oh yeah, you did. Incidentally Wordflow predicts Sniper Fury as Shït Curry

What word flow are you using!? That's BS

It a very nice game. Good graphic, very smooth. It's what I play with most of the time

In this game need always internet connection when play?

Yes it do require internet.. Same as modern combat and DH5..

The concept is same like DH5 and Modern Combat 5 ... Opening chests n defending the base ... .. For some time its free play.. At some point u'll be power less unless you pay.. N gamble with gems ..

Has anyone figured out what the base score actually reflects?

I don't think so because it needs internet to play and also not available for 512ram

Yeah, and then if you manage to play without paying for a while, they bann you and claim you have been cheating! And refuse to tell you why! I've been having email exchange with their useless customer service for weeks, and they just claim I have broken the Terms of Use and refuse to give information on their so called detection system. I played the Modern Combat 5 for four times for crying out loud. I'll be obviouos giving this a miss as well.

One needs money to play with Gameloft.. Because they ban without reasons.. Happening same on DH5

This game's ad appears every time I play it... Kinda sucks Posted via the Windows Central App for Android

512MB...unknown..pfffftt..haha

"Sniper Fury is one of the year's best shooting games for Windows PC and mobile" For mobile, maybe, for PC, no way.

Unable to play! Keeps crashing my surface!. I get an error of Whea_uncorrectable_error - then a blue screen

Cheap, nice-looking cash grab.

I am a newbe to games on my pc, please help me. I have keyboard and scolling mouse and I am playing on my pc. Which key fires the gun ?? Are there other keys I should know about ??

Same here ​Briol! I'm a newbie in this game and I have the game on my Laptop. I need to know what key fires the gun. I tried all my keyboard buttons already. Are there any other keys I should know of too?

Not too sure if it's been asked already... but how do I get into "Special Ops" game mode?
Windows Central Newsletter
Thank you for signing up to Windows Central. You will receive a verification email shortly.
There was a problem. Please refresh the page and try again.