Windows Phone and Windows 8 apps for the 2014 Sochi Winter Olympics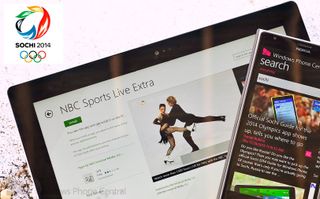 Right now the opening ceremony of the 2014 Sochi Winter Olympics are just starting. The ceremonies mark the start of the 2014 Winter Olympics in Sochi, Russia. The games will see 88 nations come together for a two weeks to compete in 98 different events.
Here are the apps on Windows Phone and Windows 8 to stay up to date with your favorite countries, sports and athletes for Sochi 2014.
Sochi 2014 Guide – Windows Phone
Are you lucky enough to actually be at the Winter Olympics versus watching from home? Well then you're going to want the Sochi 2014 Guide for Windows Phone. While we're watching the games on our HDTV's, you'll be there in person to watch the action. Use Sochi 2014 Guide for Windows Phone to find all the venues, the best routes to take, event times and more. Grab it in the Windows Phone Store for free.
Sochi 2014 Results – Windows Phone
No dedicated Olympic apps in your country? Then grab Sochi 2014 Results for Windows Phone. It's an official app from the Sochi Organizing Committee that gives you medal race results in real time. Pick your country and you'll get real time notifications for results and more. The app always displays schedules so you'll never miss out on future events. Grab it for free in the Windows Phone Store.
NBC Sports Live Extra – Windows Phone and Windows 8
If you're in the United States you're going to want to grab NBC Sports Live Extra. It's a brand new app from NBC Sports on both Windows Phone and Windows 8. The app will give you free coverage of the Olympic Games. The app gives you live streaming of NBC's coverage and video on-demand. You'll of course get news, medal counts and more. Get the app for free in either the Windows Phone Store or the Windows Store (opens in new tab).
CBC Sochi 2014 – Windows Phone and Windows 8
Here's an app that our friends north of the border will appreciate. The Canadian Broadcasting Corporation has an app that's just like NBC's Sports Extra Live. CBC Sochi 2014 is a new app for Windows Phone (and Windows) that Canadians will be using to watch the games live. Events will be streamed live in their entirety and in real time with enhanced stats. If you miss them, watch them after on-demand. Medal count, news, and more can also be found in CBC Sochi 2014 on Windows Phone. Grab the app for free in the Windows Phone Store or Windows Store (opens in new tab).
Bing Sports – Windows Phone and Windows 8
This app isn't specifically just for the Winter Olympics, but you can definitely use Bing Sports to keep track of the action in Sochi. Both Bing Sports on Windows Phone and Windows 8 have a dedicated section to cover Sochi 2014. You'll get the top stories out of Sochi, slideshows, venue guides, event guides, medal tally, and more in both apps. Get the apps for free in either the Windows Phone Store or the Windows Store (opens in new tab).
Have any more apps you're going to be using to watch and monitor the 2014 Sochi Winter Olympics? List them below! Don't forget to shout out which teams, countries, and sports you'll be watching and supporting over the next two weeks!
Windows Central Newsletter
Get the best of Windows Central in in your inbox, every day!
I had the app For Windows Phone a week ago on my Phone. Then I saw the Coca cola add, so i killed It. I hate adds.

I don't watch the Olympics because it's all about money and nationalism. Too many commercials to watch so little.

And even the games itself are boring too.

Perhaps too many commercials in the US, in the Netherlands we see just sports. It's on a public station, not a commercial one. Then again, the Dutch Will get gold medals at skating. hehe. Watch Sven Kramer and Ireen Wüst.

See, that's the way it *should* be. I'd watch that in a heartbeat. But in the US, it's super commercialized. Think the Super Bowl but for two weeks. For every 20 mins of coverage, it's 10 mins of commercials. Plus, they don't even show the whole event, just the highlights. To my US peeps, who remembers the Triple Play on cable years ago? That was awesome...

I generally start a football game and let it record long enough so I can jump the commercials. Its gotten ridiculous. Used to be a minute of commercials when I was a kid, now its over 5 minutes of the same ones over and over with a male enhancement one thrown in every once in awhile.

The NBC app is great. No commercials, none of that US exceptionalism and other political BS. My only sports interests are hockey and the Winter Games and this being the first games with having a nice phone and Surface are making watching the games MUCH easier than ever, even having DVRs in the past.

And from watching Slopestyle qualifying and skipping through 6+ hours of footage, its all there not just highlights. One thing missing is the athlete exposés.

In Canada we see Olympic coverage from US and Canadian stations and the US coverage is horrid--I wouldn't watch it either.

The offical Sochi site has a nice mobile version: http://www.sochi2014.com/en

Wow can't believe no wide live tile on the results. Could have made it for news and top three countries with medals. Not sure if there's even a live tile.

CTV also has an app in the store.

Canada with a Rogers 1020 here and the CBC app says not available for my region or device..anyone else have the issue?

Is your Live account tied to USA?

I'm in the US, but yeah I get the same thing on an 822 and Odyssey. I'm going to report it to Microsoft and CBC.

I didn't have any problem. Did you try searching the store from your phone--that is how I found out there is a CTV app as well.

They should be add apps like... "remote control for detonation bomb under New York and Vatican"

"American exceptionalism" and nationalism is the only reason for me to care about the Olympics.
That said, the winter olympics suck.

On another note: is anyone having issues with phonly or locktemp using way too much data?

Tried the NBC live extra app. Downloaded in both Android and WP for a curious comparison. Here's my take.
WP version is easy to navigate but doesn't have NBC sports section and the video quality is horrible on WiFi.
On Android, the app navigation is laughably bad, but there is a separate NBC sports section next to the olympics and the video quality is much better, by a lot.

Did you allow it to buffer? It does get better even if it's not perfect. What phone are you using?

I agree about NBC's pathetic excuse for coverage and I hate commercials, but I love these games! I have a lot of respect for the athletes and what they can accomplish. It is my most looked forward to event out of any sports. Can't wait until the winter games return to the USA so I can go. Still pissed I miseed out on Salt Lake in 2002. Maybe I'll give the NBC Sports Live Extra app another try but last night the app completely crashed on me. Had a hard time viewing any of the replay videos and the app became unresponsive, phone got warm and battery drained over 10% in like 10 minutes! And then when I tried to do anything on the phone it just restarted on it's own. Lumia 920 with the recent Black update. Never had it restart on it's own before. What a joke of an app. Uninstalled it for now :( #GoTeamUSA!!!!!

(sigh) Just like so many that they do, the CBC app is horrible. I don't know why they even bother....

please vote for this: it's realy annoying ! http://windowsphone.uservoice.com/forums/101801-feature-suggestions/sugg...
Windows Central Newsletter
Thank you for signing up to Windows Central. You will receive a verification email shortly.
There was a problem. Please refresh the page and try again.