No, you don't need a new mic — use this AI hack instead from Adobe Podcast
Adobe Podcast AI supercharges your mic (USB or otherwise.)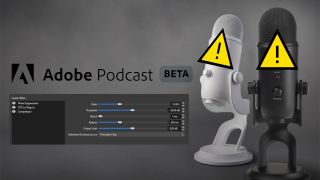 (Image credit: Ben Wilson | Windows Central)
If you want to enter the world of content creation, you'll eventually need a microphone. Whether live streaming, producing videos or starting a podcast, you might feel that your hardware isn't up to scratch. Especially if you compare yourself to those who turn a fun hobby into a successful career, it's easy to assume you need a high-end mic coupled with a desk full of expensive accessories, but is there really anything wrong with a standard USB-powered microphone?
I've used many desktop mics in my career and personal life, and there's some truth to the value of premium hardware, but a recent trend has made things so much easier for newcomers with the power of AI. You could sit and read through my ramblings about polar patterns, sample range, and bit depth, but only a select few people genuinely care about that. Besides, those interested in the specifics aren't letting others dictate which microphone they should buy, nor should you.
⚠️⚠️Stop gatekeeping microphones⚠️⚠️
Some recent Twitter discourse featured wildly misguided information about USB microphones, specifically the Blue Yeti, one of my all-time favorite options that served me well for over a decade. I'm sure this Twitter user had good intentions since they followed up with some explanations and recommendations — still, the slander against my cherished, multi-pattern USB mic sparked a heated debate among creators.
there is absolutely nothing wrong with the Blue Yeti.it's a fantastic USB microphone offering high-quality audio with minimal effort. HILARIOUS to describe it as bad.I get why people 'graduate' to XLR, but lmao, stop this microphone gatekeeping BS. buy whatever mic you want. https://t.co/WVUod2C8ANJanuary 30, 2023
A huge benefit to working in tech is getting hands-on with new hardware for review, but I'm unlikely to shake the frugal lifestyle from my youth. I hate spending money; there's no getting around it. In 2010, I wanted to upgrade from a bargain-basement 3.5mm microphone connected to an unshielded port on a terrible motherboard, so I opted for the USB-powered Blue Yeti after weeks of agonizing debate.
The original silver-colored Yeti still works today, albeit with a slightly wonky volume knob caused by an accidental drop. Whoops. We were even gifted a second Yeti for my partner in 2020 since we usually shared the original between us, and that's when you start to notice one of the only downsides to USB mics: desynchronization.
Ports on your motherboard inherently restrict USB audio devices, and two devices are never guaranteed to be aligned perfectly during recordings. It is possible to calculate the necessary milliseconds of delay and fix it with some tweaks to record group podcasts with multiple USB mics, but it's rarely a permanent fix. Still, it's understandable to feel frustrated when things could be better out of the box, and some users expect studio-quality playback with zero effort.
Enhance your livestream audio for $0
Most USB microphones offer a relatively flat response in their recordings, utterly unaffected by post-processing. Some fancier models might have built-in noise reduction or other enhancements, but even basic variants can mimic premium alternatives with a few simple plugins without spending a dime. If you're planning to broadcast your audio in a live setting, OBS Studio (opens in new tab) is a free app for Windows, and it's my favorite option for streaming and recording all kinds of other content.
There is a collection of free audio filters pre-installed on OBS Studio, with plenty more community-made options available around the web. You can solve almost any microphone issue with at least one of these plugins, ultimately combining them to find the perfect balance for your mic. For example, a noise suppressor helps reduce unwanted background sounds; which is ideal if you're running air conditioning on a hot day or your desktop PC is close enough to hear the case fans.
If you're a quiet speaker, you don't need a specific microphone designed for hushed or feminine tones, just a simple compressor. Not every problem needs solving by throwing cash at your screen, and you shouldn't blindly take advice from anyone gatekeeping a category of hardware. It'll take at least one afternoon of studying to learn how to use audio filters to their best effect, but a quick search immediately finds a massive collection of helpful tutorials on YouTube.
Adobe Podcast — hack your mic quality
It's a wild scenario when Adobe, of all companies, is leading the way with a free audio-enhancing tool. The same Adobe, who priced me out of all their software and drove me to open-source alternatives, somehow managed to create one of the most useful web-based plugins I've ever used in its Adobe Podcast beta (opens in new tab) (formerly Project Shasta.)
Inherently designed to simplify the podcast recording process, Adobe is working on a straightforward app to replace complicated mixers and post-processing edits. Think of it like a virtual conference meeting where everyone can join a web-based audio chat room; only this time, the host can save the whole session and generate a professional finished product with barely any effort.
Using the same technology from its Adobe Premiere Pro software, recordings will automatically transcribe the speech to text, ready to edit as a script instead of cutting up complex audio waveforms. It all sounds fantastic, but the best part is the AI-powered Enhance Speech (opens in new tab) tool, which Adobe has already released, sneakily hidden in a small drop-down menu.
If you're editing videos, podcast episodes, or interviews to post online later, the Enhance Speech tool from Adobe is perfect. It'll remove background noise and make your speech sound like it's being recorded with professional equipment. Even with a $10 lavalier microphone, I can supercharge the recordings with this free tool, and nobody would ever know it initially sounded like trash.
An ethical future for AI?
Whether you're streaming live speech or recording it for later use, there are some seriously impressive methods to improve the quality of any microphone. No matter which variant you can afford, there are advancements in this vague and ever-evolving AI category to augment your audio, depending on your interpretation of the term. Just because I 'graduated' to the so-far-unbeatable Earthworks Audio Ethos XLR mic doesn't mean you should avoid USB models.
Above all, I won't stand for slander against my precious Blue Yeti. That little silver-coated trooper served me well for over a decade and saw me earn paid narration work after some mild post-processing cleanup. You could do far worse than the number-one-selling USB microphone from Blue, no matter how you feel about Logitech's eventual ownership. Other variants might have taken its place as the best streaming microphone, but there's never been anything wrong with the Yeti.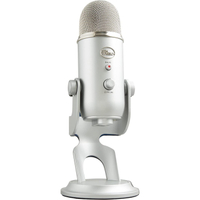 (opens in new tab)
Blue Yeti USB microphone
See at Amazon (opens in new tab) | See at Newegg (opens in new tab) | See at Best Buy (opens in new tab) | See at B&H Photo (opens in new tab) | See at Walmart (opens in new tab)
The triple-capsule Blue Yeti is a powerful USB-powered cardioid microphone offering four pickup patterns that emulate multi-mic setups. Plug-and-play, this reliable option offers broadcast-quality sound.
Windows Central Newsletter
Get the best of Windows Central in your inbox, every day!
Ben is the channel editor for all things tech-related at Windows Central. That includes PCs, the components inside, and any accessory you can connect to a Windows desktop or Xbox console. Not restricted to one platform, he also has a keen interest in Valve's Steam Deck handheld and the Linux-based operating system inside. Fueling this career with coffee since 2021, you can usually find him behind one screen or another. Find him on Mastodon @trzomb@mastodon.online to ask questions or share opinions.