What's new in security in the Windows 11 Windows 11 version 23H2
These are the security improvements that you'll find after installing the 2023 Update for Windows 11.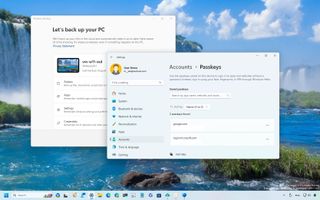 (Image credit: Future)
As usual, a feature update could not be complete without security improvements, and the Windows 11 2023 Update (and the October 2023 update for version 22H2) includes some interesting additions.
For example, in this release, the development team is adding a new page in the Settings app to manage passkeys that you may create for apps and websites. Windows 11 is also introducing a new "Presence Sensing" feature that allows you to control the devices that can determine your presence near the computer. And there's a new application to back up your apps, settings, and credentials to the cloud.
Furthermore, this update also brings improvements for Windows Hello for Business, and the system will now warn you when copying and pasting an unsafe password.
This guide will walk you through the most important security changes available with the Windows 11 2023 Update.
Security changes on Windows 11 2023 Update
After installing the 2023 Update, you will find a new page for Presence Sensing and Passkeys in the Settings app, a new Windows Backup app, and improvements for Enhanced Phishing Protection in Microsoft Defender SmartScreen and Windows Hello for Business.
Presence Sensing
On Windows 11, you can configure "Presence Sensing" from the "Power & battery" section, but the features available will depend on the hardware configuration of your computer. Otherwise, you will not even find the page in the Settings app.
While on the "Presence Sensing" page, you can find up to six different settings, depending on the supported hardware:
Consider me gone when I'm this far away.
Then, turn off my screen after this amount of time.
Lock my device when I leave while an external display is connected.
Wake my device when I'm this close.
Wake my device when I approach while an external display is connected.
Don't wake my device when I approach while the battery saver is on.
In addition, you can also control the apps that have access to presence sensors from the "Privacy & security" section in the Settings app from the "Presence Sensing" page.
You can change the access setting per app for Microsoft Store apps. However, while that's impossible for traditional desktop apps, the Settings app includes a "Let desktop apps access Presence Sensing" option that allows or denies access for all programs.
Passkeys
Passkeys are another way to replace passwords on Windows 11 to access websites and applications that support this security authentication mechanism.
Although you have been able to create passkeys on your computer through the Windows Hello experience, starting on Windows 11 2023 Update, the development team is adding a "Passkeys settings" page in the Settings app to view and delete your passkeys.
In a nutshell, a Passkey is a token you can create on the app or on the website that supports this technology. Then, the token is downloaded using Windows Hello on your computer. The next time you have to access the account, you can use Windows Hello Face, PIN, or Fingerprint to authenticate without a password.
Since each Passkey is unique, you will have to create a new Passkey on each device that you want to use to access the app or website.
Of course, you can still use your password to sign in, but the Passkey adds an extra layer of security, making it harder for hackers to compromise your credentials.
It's worth noting that Passkeys are available to work on supported applications, and for websites, you have to use Google Chrome or Microsoft Edge.
Windows Backup
The Windows 11 2023 Update also introduces a new "Windows Backup" application, but it's not your regular backup solution to create a full or incremental backup. Instead, it's an experience that allows you to quickly back up your files, settings, apps, and credentials to your OneDrive account.
The purpose of the app is to help you protect your information and files and, at the same time, help developers retain customers when switching computers by making it easy to back up and restore apps.
Using this app, you will be able to back up the app you downloaded from the Microsoft Store, in addition to backing up your profile folders, settings, and credentials.
However, Windows Backup doesn't actually make a copy of your apps. Instead, it creates an inventory of the apps and settings and backs up this information to the cloud. In the event you have to restore this data, the system will download fresh copies of the apps and restore their settings on your computer and their location in the Start menu and Taskbar.
The app can't back up your legacy programs. However, it will also create an inventory, and during the restoration, the process will restore the icons in the Start menu and Taskbar that will take you to the website, where you can download the installer again.
Although the Windows Backup app is new to Windows 11 version 23H2, the idea isn't new, since the same backup settings are available through the "Windows Backup" page in the Settings app. This means that if you have the settings already configured in the Settings app, the Windows Backup app will show them as configured with the "Backed up" message.
Also, the application isn't meant to restore any of your settings or apps on demand. Instead, during the initial setup of a new computer or clean installation, the out-of-the-box (OOBE) experience will prompt you to restore the apps (and settings, folders, and credentials) on the new installation.
Windows Hello for business
As part of this rollout, Windows 11 is including a new "EnablePasswordlessExperience" policy that upgrades users on AAD-joined computers to the core authentication scenarios without requiring a password.
This means that the policy removes the need to type a password for device login and in-session auth scenarios (such as password managers in a web browser, "Run as" administrator or as a different user scenario, and User Account Control (UAC)). Users will still have to authenticate manually, but using Windows Hello for Business instead of passwords.
Enhanced Phishing Protection
Finally, starting with this version, as part of the Enhanced Phishing Protection, Windows 11 will show a warning when copying and pasting an unsafe password in addition to a warning using typing passwords.
More resources
For more helpful articles, coverage, and answers to common questions about Windows 10 and Windows 11, visit the following resources:
Get the Windows Central Newsletter
All the latest news, reviews, and guides for Windows and Xbox diehards.
Mauro Huculak is technical writer for WindowsCentral.com. His primary focus is to write comprehensive how-tos to help users get the most out of Windows 10 and its many related technologies. He has an IT background with professional certifications from Microsoft, Cisco, and CompTIA, and he's a recognized member of the Microsoft MVP community.