Software Review (Windows Phone 7): de Blob 2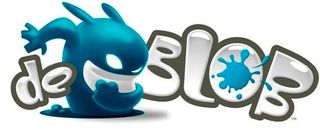 The promise of Xbox Live integration was cause for a lot of buzz surrounding the launch of Windows Phone 7. Many people (myself included) were looking forward to the graphically intensive games that a platform like Xbox brings to the table. Microsoft's effort to make game creation a no-brainer for developers has brought us a variety of titles, including one of my favorites, de Blob.
Yes, it's a game whose primary characters are blobs of ink; fortunately for us, the quality of de Blob isn't based on the story line. Read on for the full review.
Game-Play
de Blob 2 is a puzzle game. The basic idea is that you have to direct "de Blob" to travel around the rooms of a building rescuing people (Graydians). The difficult part is that you can't cross your own path, so as the rooms get progressively harder it becomes increasingly easy to paint yourself into a corner.
The game is played by using the touch-screen to draw the path around the room. As you reach the upper levels of the game, more people and barriers are added, making your paths much more complex. In addition to the difficulty levels, there are a couple of different game modes which add time constraints (and evil I.N.K.T. agents that will chase you down).
One thing of note is that the game is intended to be played in complete levels or "buildings", which involves several rooms at a time. Quitting in the middle of a building will cause you to lose your place. This isn't a major problem as the individual rooms can be completed in a matter of seconds; but it is worth mentioning.
Quality
While the graphics aren't as intensive as something as Need for Speed or The Harvest, the visuals in de Blob are nothing to sneeze at. The different game modes paint the screen in different bright colors, and pseudo 3D effects make the game extremely immersive. Being an Xbox live game, there are several achievements that are unlocked as you navigate the various rooms. Some of the achievements require a brute force method of simply playing the game for longer than any single person should (yes, I've unlocked that one).
Conclusion
The variety of Xbox live games on Windows Phone 7 was billed as one of the platform's strengths. With options such as de Blob, I think that's a fair assessment. The vivid colors, smooth animations, and addictive game-play make de Blob a winner. As an Xbox Live game a free trial is available, though it won't take you long to pull the trigger on the full version.
Get the Windows Central Newsletter
All the latest news, reviews, and guides for Windows and Xbox diehards.