Grab these top Windows Phone apps to help manage your website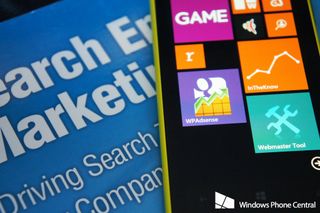 Website development is an integral part of the Internet. Web pages you visit (including this very article page) are hosted on web servers, requiring experienced personnel to further build on online experiences. To help web masters and developers achieve this, tools and services are available to monitor traffic and the general wellbeing of properties.
Mobile apps are available on multiple platforms for folk to access and Windows Phone has a limited share of apps. I've compiled a short list of some apps you can use effectively to see how websites are performing, with some connecting to Google web master services.
Google Adsense: WP Adsense
Websites require funding and investment to kick-start, but advertising networks can lend a hand to cover bills and other expenditure. Google Adsense is a popular choice for website owners, but there's no official client for Windows Phone owners. Luckily, third party developer Initiotech Solutions has released WP Adsense.
WP Adsense is currently sat on version 1, released earlier this year. For an initial gold release, there's enough functionality included to get started with checking exactly how much you've earned on a web property, but there's also bags of potential for updates to add even more access to Google's advertising network.
The range of data available include the following:
Earnings today thus far, including CPC (cost per-click), CTR (click-through rate), RPM (revenue per thousand) and page views
Earnings for yesterday and the month in general
Unpaid earnings on the Google account, along with what was last paid out
There's no ability to alter or manage the account, it's simply acces to quickly glance and see what's what. There's also Live Tile support. It's worth noting that this app requires access to your Google account to gain access and view earnings data. Should you wear a silver pointed hat on a daily basis, this may not be the client for you.
Google Analytics: InTheKnow
I included this app in my top five apps I cannot live without, and there's good reason too. It's arguably the best Windows Phone app available to browse Google Analytics data. Utilizing the Modern UI, adapting it to display graphs and website data, it's an absolute breeze to use. While viewing earnings is handy, seeing how web traffic interacts with your properties is vital.
InTheKnow pulls down Google Analytics data, including operating systems, traffic sources, landing pages, bounce rates and more. As well as the ability to check through various readings, website owners can also pin Live Tiles to their Start screens to quickly glance at how different properties are performing.
Accumulated data displayed in graphs provide an easy-to-use feature to see how progres has been made. The app also caches data downloaded for a more convenient experience and is perfect as a companion app for when on the move. The free trial has only time limitations included (7 days), but is well worth checking out to see if it suits your needs.
InTheKnow (1MB - $1.99 with free trial available)
Special mention: Phonealytics Free
I have to give Phonealytics a special mention in this roundup of Window Phone apps, simply because it was a superb app when actively supported. The developer has since left the app to lay dormant with no updates since 2012. The app itself works perfectly fine to this day and is arguably the better looking app out of the bunch, but there are limitations.
Since it's the free version, there are prompts to upgrade to the paid app, which is no longer listed on the store. This also prevents users from utilizing the Live Tile support – a major selling point for these types of apps. That's the only negative about this experience.
The ability to glance at information on the Start screen was the major feature back when Phonealytics was last updated, enabling web owners to quickly check performance when on the move. As noted above, the app still works fine except for Live Tiles. If you'd like to view your web properties in style, check out this app.
Development: Webmaster
In case you'd like to view some more technical data about a website, there's a handy app called Webmaster. It turns any Windows Phone into a lookup tool, providing information such as Alexa rankings, server types, page views, registration details and other bits. It's a small app, but handy for webmasters (hence the name). Also, as a free tool, we recommend checking out.
Bloggers: WordPress
Webmasters aren't simply developers and content management system (CMS) administrators. Content creators also fire up websites and blogs to produce and publish content to the online world. This is where WordPress comes into play. It's a super-popular blogging platform, allowing anyone to either create a hosted blog or download the CMS package and manage their own installation.
WordPress for Windows Phone is a great app to manage any blog. Features include creating and managing posts, pages, comments and hosted drafts. All the basic functionality you'd expect to see in an official app is present. The editor itself contains a handful of formatting options, as well as the ability to add and manage media.
The only issue with the official WordPress app for Windows Phone is the lack of updates. The most recent release is dated back in 2013. We'd like to see further development on this decent app.
Have you been using other apps I've not covered? Let everyone know in the comments.
Windows Central Newsletter
Get the best of Windows Central in in your inbox, every day!
Rich Edmonds was formerly a Senior Editor of PC hardware at Windows Central, covering everything related to PC components and NAS. He's been involved in technology for more than a decade and knows a thing or two about the magic inside a PC chassis. You can follow him on Twitter at @RichEdmonds.
Nice! I love articles that give info on WP's apps that I may not know about. And I'm starting a web site, so this will help. Thanks!

Amazing, never knew all these existed helpful to manage my websites wondering if there's any app to manage a Drupal website.

using wordpress since a few months. It's good and in fact gotten better. but always room for improvement in navigation, more defined analytics and over UI.

After the 3.8 update lots of things have changed. However the dashboard is now responsive so the browser is the best option.

After using these apps, the traffic on my website "seems faster".
Sorry readers, got no alternative to say.

Can we get some alternatives to Google ads and Google analytics (and their apps, if any). I don't want to give Google any information if I don't have to.

Good luck having anyone find your site without a direct link then.

MS has an add network,others do analytics. Google doesn't need to be given the monopoly here.

Didn't know about the Wordpress-App. Thanks!

Nice. I didn't know about webmaster. I'll have to grab it. I just learned about intheknow thanks you guys too. Love WPC!


What i can suggest to anybody is to use SiteMonitor. Monitoring page rankings and anlytics is useful but essentially you would want to know immediately if a website is down no? SiteMonitor is free for WP8 http://windowsphone.com/s?appId=5590fbea-6927-46a1-9404-cde87e2a9f77

I don't think the official WordPress app for Windows Phone is available anymore.

Note on the WordPress app... The edit control is hindered by some OS limitations for posts/pages beyond a certain size. I vaguely remember mention something about size of the scroll region limited to X-number of pixels. WordPress has tried a couple workarounds since the app's initial release, yielding improvement each time. But still not there. WordPress does listen to the community, so if you use the app let them know.

WordPress here. Really appreciate it. :D

Thanks Rich!
Never knew a good app for Analytics ever existed in WP. Never would know without your article. Gonna download now.

This is nice since I am now managing a new website for wedding photography. I don't like google ads though, I swear people click on your ads to run up the budget. I use Bing ads and have been very please with how many people use Bing.

Are there any good apps to manage my Azure account on the go?

InTheKnow and Phonealytics are pretty good apps, but in my opinion EasyAnalytics ( store link )would fit in your top 10 list too. It has a free version with no adds and they are updated frequently. It has a world map and eCommerce functionality in adittion to the other mentioned Google Analytics clients which are pretty awesome!

I use the WordPress app on my phone to help manage my horror based blog but I wish they would add a little more functionality. Lately I mainly use it just to check the stats.
Windows Central Newsletter
Thank you for signing up to Windows Central. You will receive a verification email shortly.
There was a problem. Please refresh the page and try again.