Some Insiders still got Windows 10 Mobile build 10536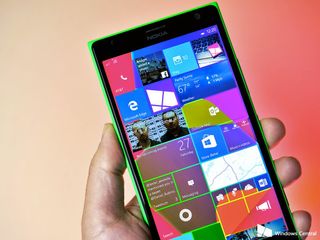 Despite Microsoft deciding at the 11th hour not to release build 10536 of the Windows 10 Mobile Insider Preview, it looks as though some got the update notification anyway and were able to install.
Microsoft decided to halt a previously promised release as a pretty hefty bug was found that would require anyone who installs to flash back to Windows Phone 8.1 to get any future Windows 10 Mobile builds.
According to some who have installed, the build seems faster (see what we did there?) than previous builds, as we'd hope, and brings back mobile hotspot functionality. There's also talk of a zStorage app appearing, which by no means sounds like a final name.
For the rest of us, it'll be next week before we get a new build. But not having to go back to Windows Phone 8.1 after will no doubt be a relief to many.
If you got the update be sure to hit the comments and let us know what it's like!
via WinBeta
Richard Devine is an Editor at Windows Central. A former Project Manager and long-term tech addict, he joined Mobile Nations in 2011 and has been found on Android Central and iMore as well as Windows Central. Currently you'll find him covering all manner of PC hardware and gaming, and you can follow him on Twitter and Instagram.
Off topic.. But why glance on my 640xl doesn't show background

Same here.. Tried the glance background beta app but it doesnt work..

Is Background Photo On in glance screen settings?

Could you send me the link for Glance background app. It doesn't show up in the store for me. I thought it was removed.

640xl doesn't support all glance features , it supports just the time glance , there isn't even day support in glance for your device

My guess would be a smaller memory display.

Is Background Photo On in glance screen settings?

Hopefully they fixed the "M" on the keyboard... It seems as though it doesn't want to select at times....

Yeah I get a lot of full stops (periods to the Americans) instead of M. Thought it was just me n my giant sausage fingers.

Tried to type my name (Michael) a whole bunch of times and it worked every time. So not sure if device specific but it works for me on 930 @ 10536.

After a hard reset i lost glance on my 928 on the last build and it had never returned

Same thing happen to me, except with HTC dot view.

Yeah, that happend to me too after a hard reset. I found a tricky way to reach it tho. I used an app called SysApp Pusher, there you'll find a lot of other things that get lost somehow. When you find Glance in there it will take you to the Store to install it, once it's installed you'll have to go all the way through SysApp Pusher and the Store again, but this time it'll show you the Open button. It's a little anoying to do this everytime you need to access glance options, but at least there is a way. Hope it helps.

I think I can somewhat answer your question. If I recall correctly its a limitation of the screen. I remember them saying that it had lower memory or something than the other screens(price) and it would limit glance to time and notifications.

Great maybe they got rid of the update bug Posted via the Windows Central App for Android

Impossible , this kind of bug wont be finished in some hours , and if it was squashed Gabriel would make an announcement

It could have been fixed on Friday. Pushed to internal rings later that day, internal testing on monday, release on Tuesday.But maybe the friday buildfix was accidentally pushed out to users. Only way to find out is waiting for a next build and see if i get the update ;).

I opted out of the program,,Lemme wait for the complete Windows 10 mobile

Same. While the previous build was faster than most builds, it eventually slowed down my phone to the point that I couldn't use it anymore. So I reverted back to 8.1. Will wait for when the completed version comes out or I'll just wait till the new phones release. I'm hoping they do add the transperancy effect to the action center like many have requested. Would give it such a good look.

"I'm hoping they do add the transperancy effect to the action center like many have requested. Would give it such a good look." Oh yes, I totally agree with you there. The volume menu should be transparent, too. I can't imagine this being too hard if the desktop version already has it. I really, really, REALLY hope they do this before or with the final release.

You should stop askin for what will eat your ram and expand the time of loading screen

Not to mention for something that looks tacky and like the early 00s. :P Posted via the Windows Central App for Android

Looks tacky? It looks quite stunning in iOS for instance.

And it's very instantaneous, there's barely loading.

Not at all, I think the blurred transparency looks very good on Windows 10. It doesn't look tacky if you do it right.

Why loading screen, the Action Center is always there when you need it and is only loaded once at startup. And I think you are really overestimating the amount of RAM the transparency takes up. The Shell Experience Host (which is responsible for start menu, Action Center etc.) takes up only 42.5 MB right now on my SP3 and it's not hard to imagine that most of that is the start menu and live tiles.

On phones its diffrent it takes much more every personalisation feature added takes more ram and since ms want the start to stay in the backgroud it will reduce the amout of ram left to use and that is the problem if you compare wp8 to wp8.1 abd what we have now you will get my point

Even if it would increase RAM usage(why would it increase RAM to begin with?) it would be an increase that wouldn't be noticable. It's merely something that needs to be drawn on the screen, and it would hardly be a noticable change on GPU performance.

Off to UserVoice then, and vote for it.

I wish there was a way to completely disable the Action Center. I have zero use for since I have live tiles and it's just annoying and often gets in the way.

This old argument again, I suppose you have every app you've ever installed on your phone pinned to the start screen do you? How does it get in your way, it takes a swipe from the top of the screen to open it anyway. I can't even begin to describe how useful it is to have quick actions instead of opening settings EVERY time!!!!

Yeps did it on my L928, waste of time....will wait for final or when new devices comes out.

Will download this when I get home. I'll let you know :-)

Why? You'll probably have to revert back to the previous build since Gabe said that from this build (10536) you wouldn't be able to update again.

Not to the previous build, but all the way back to 8.1. Posted via the Windows Central App for Android

Just want to test it out. Even tho its my daily drive, i dont have any apps that take time to reinstall after a recovery, also all my contacts and pictures/sms etc are synced, so it wont be a problem really.

Dude everything is synced so going to 8.1 and back to the new build takes all of an hour tops?

WP was getting colourfull but i like how iphone did, the wp colour is not so good

I do get what he says... Even tho it's confusing... That's a perk of not being a native speaker... You can also understand Tarzan.

I agree. The color and theme is just not too good in WP compared to iPhone, depends on the design preference of the user though.

I wonder if they'll be able to make it decent before release. It's obvious from Windows 10 that they'll release an unfinished OS, but hopefully they'll at least make Windows 10 Mobile decent.

I'm afraid it will be unfinished, too. And by that, I mean it will still have some bugs left.

Agreed.. The desktop version is still a child.. .. What i feel is .. Due to their commitment they were force to release...

What??? I'm using windows 10,and its so smooth where the hell the bugs

i doubt bugs will be present. maybe few small ones. but consistency is the real problem. pc is a mess. maybe mobile, since is lighter, will not be so inconsistent.

You mean like where they keyboard cannot switch between upper and lower case for 11 years before it was finally fixed? LMAO

The mobile version needs to be "complete". While MSFT can roll out updates on the desktop easily, this is not the case on the Mobil side of things where carriers are involved. Anything short of a feature complete, well preforming release will be a big issue for WP.

Carriers won't be involved in updates anymore with Windows 10. Word got out about that around March this year, Windows Central wrote about it one or two times. Only with the initial upgrade to Windows 10, carriers will have a word. After that, fast update cycles are set to begin.

That's inaccurate. Carriers will still be involved with the phone updates.

Only for phones on WP8.1 and as soon as those are updated to W10M then carriers cease to be an issue.

Yeah they're circumventing carrierss.

App updates can be done without carrier approval, so messaging, people, edge, phone, lock screen, settings, store... Can all be updated. That being said, they should get the core of the OS in working condition so they don't have to push real updates (e.g. Action center, start screen). I don't know about the carrier situation. Hopefully better!

It's Guaranteed to be unfinished. They have said as much. it will be constantly evolving, hence unfinished.

If they do that, it will be a huge mistake and will be the death sentence for the platform... which is severely injuried already.

iOS is unfinished. so is android. get over it... its a word.

Have nearly no issues with Windows 10 right off the bat on my Surface, and that has never happened before with other Windows releases. Most people that have complaints about windows 10 are using computers or laptops that are 4-5 years old so there's driver issues.

if they weren't wasting time making it backwards compatable with stone age hardware and focused on new hardware they'd be in better shape ... updgrading a phone that cost less than $150 is a silly waste of MS resources.

You are talking about 80% of Windows phone out there then. That's just a dumb comment.

May I know anyone here who is using Chinese simplify keyboard, previously the Chinese language can't be download, is this fix?????? Thanks.

I'm using Chinese keyboard and it works just fine. Don't know what's that problem though.

Sean I has this problem too. The only solution is to flash back to 8.1 and download it then. Then, you can uprgrade to windows 10 and Ir will be there

Hmmm... I trien downloading Spanish from Spain and couldn't :C don't want to go back once again.

This bug is not new.. I guess.. It was der in 10166 and before .... It was noticied way long back... They didn't took it seriously

or it may be created by another fix they done. programmers face this every time. you fix one thing and another bug can appear.

As the original source for the WinBeta article i'm available for questions about the new build (if i can answer them ofcourse). You could try replying here or preferable tweet to me @hxkclan ;).

Is the loading... Screen still present when pressing start?

The loading is gone. Only thing you might see (rarely though) is a 'resuming' when you have a lot of apps open and/or heavy load on your phone.

Well thats a huge relief!

Hi, saw in your video you had lumia camera beta installed. Did you had it installed before this build or installed after?

I have noticed this with all builds S far they haven't gotten memory management optimized

the loading screen thrives on 520

And what abt speech. Is it possible to download it yet?

In the Time&Language menu -> Speech there is a 'add language' button to download several languages (english, german, italian, japanese, chinese, french and some more.

Is there any speed/stability improvements for Microsoft Edge on this build?

Edge feels much faster. Hasn't crashed yet, so yeah much improved.

Does it support password window? Like for some sites (typically router login pages), windows password UI is displayed. Edge mobile didn't support that. So does it work now?

Nope while accessing my router page i just get a '401 unauthorized' error.

That's a bummer. Thanks for the info :)

It's called basic auth ;)

Every time I have to use a drop down menu in Edge it restarts. Has this been fixed?

Did u had screen flickering/broken animations issues before this build? If yes , is it solved ? And what about the heating issues and terrible battery drain ?

Did have some flickering with 10512, haven't seen it on this build yet. Heat seems to be less and haven't noticed any significant battery drain.

What do u see when u open the zstorage app?

It crashes when you try to open it.

Um hx i already knw hw to download speech, but in the previous WM builds it always ended up with an error msg while dload. I asked whether tht error is fixed.

I fixed that by installing Preview for Developers.

hxkclan, so this is not the offical 10536 build, but the "broken" one?

i think it's the broken one yeah. I don't think i am supposed to have this build just yet ;).

Hey hxkclan, Do WP8.1 apps work fine? What about the startup time for WP8.1 apps?

WP8.1 apps work fine. It's just that they -generally- seem to open slower compared to 'native' W10M apps.

I don't know how many of us would last on w10tp most of then would go iphones or android devices till windows mobile 10 is released

Then after w10m release again they will switch to wp

Its a technical preview. dont sign up for it. You are comparing a finished (I used that term loosely btw. because IOS and ANDroid of any flavor are not great either) to a re release product. start bitching when you are using the RTM versions.

If you want to compare W10M to IOS and Android, be fair about it and compare it to iOS 9 and Android M. Posted via the Windows Central App for Android

Does anybody know when the proper release will be?

I believe it was set for a November release, but not sure.

Later this year. This is the only official information.

I came here to ask "When in India" :)

Not funny. It has never been.

I agree that. It is lame.

The *seems faster* in the article got me itching

So am I the only one feeling really mistreated here ? I mean we had that same bug a couple of builds ago and nobody cared.
And now its a thing ? And now that some insiders got their build others a left aside again.
Welp, getting a z5 anyway so why should I care. But I really hate that move ,given the fact of being an insider means to deal with that stuff and to evaluate for yourself whether to get a build or not. An now ppl are having that build and we wait , and then wait again.
Meantime desktop will get like 3 new builds where phones just get one.
Desktop insiders get fixes and updates . Phone insiders get nothing, while everything gets fixed internally we wait months for a new build to fix broken stuff instead of getting updates or sth.
Microsoft will never catch up to the mobile market with that speed and that dedication to fix stuff when it's needed. ( fail to see why its working on desktop but not on phones )

mobile doesnt have patching functionality. for fixing a bug, w10mobile needs a new build while pc can get a patch.

Another thing which totally kills the mobile version. If its the same os and core code they should have that implemented from the beginning. That means : They need new builds to fix stuff and make us stay with an os that can only be fixed by updating everything ?!
Apple/andoird +1 / windows 10 mobile -100 . The ability to fix and update I the most important thing ina mobile os. Its the most important thing in any os >.<

I totally agree Windows 10 Mobile should get some sort of patching mechanism.

With Stagefright Android has just shown how awful such a system is.

Leave the insider program then. We won't miss you.

Why call it even " get new update " then ? If they only have " wait for new build " ?

... What do you think a mobile update is?
Also if you want to compare android and ios, already compare apples to apples and do so with ios 9 and android M. Posted via the Windows Central App for Android

Agree! The way they treat the whole mobile thing is just pathetic. Posted via the Windows Central App for Android

No you're not the only one. Desktop was primary focus and has a much more developer friendly hardware environment than any mobile platform. Microsoft is trying to stay true to it's promise for backwards compatibility with any phone running Windows Phone 8.1 and that is why it's a lot more complex to release builds that run perfect on all qualified hardware. You may for instance, quash a bug that was improperly accessing the broadcom WiFi chip on a Lumia 1320, and in turn it creates a new bug on the Qualcomm Wifi chip on the Lumia 1020. As Gabe mentioned in his update post, there are only 2 Internal build rings before the Insider Previews in the Fast ring get access. This is an almost unprecedented speed to market time, and while there are definitely bumps and bruises from attempting this very lofty strategy, in a years time we'll find ourselves with lightening fast feature improvements. The internal testing builds, forkes and merges are all being organized for more than just "man" managed Agile development. Bugs internally, found by humans and machines are being inputted into databases with Machine Learning continuously running. As they make mistakes, they'll soon get impact probabilities and lists of tests to re-run when they update a particular part of the code base, or change logic functionality. So technically, and strategically, the whole Insider Preview program is brilliant, and a worthy cause. In terms of marketing and customer experience...it is a god awful frankenstien of an experience...actually Frankenstein had it better, he didn't get turned on until everything was sewed up...lol It's unfortunate that Nokia was in such a poor operational state that they couldn't get together decent phone hardware for almost 14 months after aquisition (probably because they saw the writing on the wall) but I'm quite certain that the focus for builds is on the 640 lineup, and Citman/Talkman. I often see 640XL users with less painful experiences than me on my Lumia 1020. Anyways...the wait is almost over, by Christmas W10M will be on solid releases for slow ring users and we'll have high end devices available. By the time the Surface Phone appears the whole painful process of Insider builds will be a smooth experience, just like it is for desktops.

Couldn't have put it better Ajay.

I'm curious, why does it matter so much how quickly builds are released? Its all buggy, incomplete software anyway so why care so much about it? Just wait for the final and use that. Don't see what the rush is honestly.....

I would say they really would like to test upgrade path since that is what the majority of users will be doing once it's final

You knew that when you signed up to be an Insider. If you didn't want to go through it, you shouldn't have signed up and stuck with WP 8.1until 10 is officially released.

You won't see patch capability on W10 Mobile until everyone moves to Intel chips for the phones.

Talk about throw your toys out of the cot You complain about broken stuff but want a preview with broken stuff

i hope that zstorage is for updated storage setting like on pc.

Somehow have a feeling it's something like zRAM (available on Linux/Android).
https://en.wikipedia.org/wiki/Zram

That type of kernel support was mentioned in the Desktop OS release and I did wonder if it was coming to help mobile performance too.

So if I download this build..can I download next build which is coming next week or I have to go to 8.1

Go back. That's why it was pulled. Or that's what we've been told as the reason for it being pulled.

Its better to wait for next

You'll most likely have to go back to 8.1.

Shouldn't be a prob to begin with. Its recommended anyway to make a clean install

It's recommended to do a hard reset. While a "clean" install might preform better, constantly reinstalling the OS wears out the flash memory on your phone. Posted via the Windows Central App for Android

It's not going to wear out the flash memory. The part of the storage with the OS on it probably gets less writing on it then where your photos and apps are stored. Most flash storage can handle enough read write cycles that some other part of the phone is likely to fail first anyway.

But when are the insiders getting speech download and Cortana support on mobile??? ( Now I know what comments I'll be receiving...stop whining you kid)

Don't know. Doesn't care anymore.
Waiting for glance screen options now like forever. And for hey cortana.
And for mobile version of onenote and exel etc.
Those scaled down desktop port versions can't be treated serious. I mean all other devs who release universal apps give us mobile versions, Microsoft just desktop ports , which crash, delete stuff and work like they are intend on desktop but not on phone.
Except for outlook and onedrive. But yeah :
Cortana, speech laguages , glance screen options, mobile version of Microsoft universal apps.
Fun thing : All of that is working perfectly on android , and yet again its not on their own os ( #Skype )

Just check update in my Lumia 720 but it not show any update.......... When will be official Build release.

MS shud stop playing with us the Lumia users and release the final version of the windows 10, we av been patient enough

You are really dumb aren't you, these technical previews would end any chance of windows phone succeeding because of their crappy battery life and performance, bugs, and inconsistent design. They need to wait until it is optimized enough and consistent enough. If you want windows 10 mobile now, then get the tech preview because that is what they would release.

Would add get the tech preview and don't whine about it not working perfectly.

Oh, of course, your Majesty! It will be done tomorrow.

Leave it...
It's getting download in background ..
If ur WiFi is speed enough it'll complete in 15-20 mins..

I will check later maybe your right

No you spelled it wrong. You should spell it "wen in india??"

Skype runs like shit on android on my lumia 640 its amazingly good

When is the new build coming??

Tuesday.. With build numbered 10536.1004

Nope itll have the same number

No way, it is the same number. But it will not be in the 106xx either. More likely 2-3 builds after 10536.

It will be the same buildnumber as mentioned by Gabe Aul, just a new 'revision' aka 10536.1003 -> 10536.1004.

Faster is a costly word for MS to be frank none of its builds other than wp8 were faster on my 1020..i will wait and see it this is true

You have to remember that these build run fairly well on some phones, but are crap on others. Like the 822 is an old enough phone that my copy of the preview is slowly killing my phone it seems like lol. Posted via the Windows Central App for Android

I really really love WP. Been patient for the last 3 yrs. If this build doesn't meet my expectations I'll definitely move to either Android or iPhone. And my expectations means apps! Stick to my SP3 regardless.

Start moving now then. Because apps aren't in the hands of MS but up to developers. MS did their very best to woo them all, even make a program that makes them easy to port their codes.

Apps won't come until after it is officially released, if ever and even then will probably still be slow in coming initially.

"z" apps are internal testing apps. They usually test network, display, storage, etc. Not meant for public use.

I noticed they stopped offering feature and there is a lot of useful ones upvoted in the feedback app which is another mess ms provide but the question is why they dont add more feature

You can't add more features to a buggy OS. If they can quickly squaah all of the bugs then they might be able to, but their first concern should be the bugs. Posted via the Windows Central App for Android

No, sir. Features are added then bugs are squashed then they paly with graphics(UI). That's how it works. No F.. Idea why they don't add many requested features. It's killing me, makes me wanna jump ship, sadly. :(