Some PC OEMs support reps are telling customers not to upgrade to Windows 10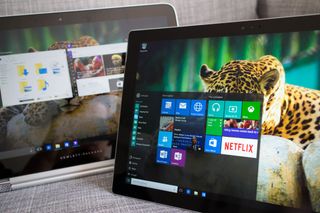 Windows 10 launched over three months ago, but apparently some PC support reps for third-party OEMs like Dell and HP are not fond of Microsoft's latest release. They are apparently telling some customers not to upgrade to Windows 10, even if the problems are not directly related to the OS.
Laptop Magazine called support reps for OEMs in an undercover examination of their tech support efforts:
In an official statement, a Dell spokesperson said that the company "sometimes recommend a customer revert to their previous operating system to troubleshoot a specific issue they're having." but added that it remains committed to Windows 10 and are ready to help our customers make the transition as easy as possible."
The investigation has concluded that calling PC supports reps are not the best idea for people to solve problems and that customers should go online first to research issues.
Source: Laptop Magazine
Looks like I will be recommending my customers not buy Dell laptops! Posted via the Windows Central App for Windows 10 BETA

I've been doing that for years already

I have a Dell Inspiron 5548 (15.6") which I purchased in May and updated to Windows 10 15 days after release, I haven't got any issue. Windows 10 is much much better than 8.1 for laptops like these, since you essentially get DirectX 12 and HEVC movie/video native support ( H.265 ) for free. Also, Windows 8.1 does not support wireless Xbox Controller since the adapter is only compatible with Windows 10. Everybody with a Dell PC should upgrade, I recommend it.

Dell 5548? It's higher version has Intel real sense 3d camera. Is yours a high end model?

Mine is, the 3d camera works great!

To be fair, it is a little glitchy...

Only on your shoddy hardware ;) Edge has a few rough edges, but the rest of the OS is solid.

Yep... I agree. Clean install is better than upgrade.

Only if you remain in the upgrade. All the glitches I had disappeared when I reset and basically did a clean install. Upgrade from Windows 8.1 to 10 is not as smooth as it seems. It could work, but glitches are more prone to pop up.

here is my story .. got a dell inspiron 14z in dec 2013 and im extremely satisfied with the quality .. it has given me very few problem in the one year of warranty period .. so less that I can recount all of them easily .. so here is the list - - Panel replaced 3 times and it still has issues, keeps flickering
- Motherboard replaced 4 times out of which 2 times, it stopped working the day after replacement - Keyboard replaced 5 times and this, again still has problems .. some keys stop working at times Yes may be the there were some very small amount of issues, but their technicians are brilliant - now 14z has an internal battery whcih cannot be removed. The technician's first question after seeing the laptop - "where is the batter, how can it work without a battery" - next, he asked me for help to identify which screws needed to be removed in the bottom cover to open the laptop (just an FYI, the bottom cover neednt be touched to change the panel, but he may just felt the inherent need to open it .. otherwise it wouldnt feel he has actually repaired the laptop) - in the process of opening the bottom cover hr broke the delicate part near by bottom cover - finally after 3 hours of his relentless effort (note - he did not give up), and 2 hours of talking to his supervisor over the phone, they assured me that the bottom cover would be replaced on the next day .. (the panel was already replaced, but he couldnt fit the bezel properly .. - by the time next day a different technician came, supposedly his team lead, the panel had stopped working .. - so this guy started working on replacing the bottom cover first during which he touched the mainboard (the mainboard is not supposed to be touched without a static band) and that led to its failure .. - after a couple of more visits and more goof ups (too tired to explain) after which my laptop finally was back in a "workable condition" - (you must be bored reading this by now, i too was, so let me cut it short) .. after a couple of months again, my motherboard failed which was replaced and failed another 2 times after which by gods grace, it is still working ..


How many other products have you boycotted because of an incompetent support rep? 9 times out of 10 you get a completely different answer when you call back. And that's at just about any call center.

Well HPs first level of support staff, sucks anyway. It's no good unless you get assigned a case manager, who are usually not outsourced I might add.

reps from HP Enterprise are not outsourced so they always provide high level of service and very low delays in getting replacement parts shipped overnight. It's the consumer side of these companies that have all their call centers in Asia and have shitty people

Quite distasteful of you to call the people shitty. Should probably have called it shitty service.

yes that is what I meant. Sorry about that

I have an Alienware which is part of Dell now and when I coalled support they were in Costa Rica. But I'm quite happy with them especially the speed at getting shipping boxes and the machine to and from Houston where the repairs took place.

And the common tactic of transferring to another agent when you don't know how to fix the problem or don't want to. Probably the latter.

@cure92 Exactly! On the rare times I need to call companies, I sometimes get stuck with the nitwit who doesn't know anything. In most of those situations I'll ask to be transferred to someone else ("who do you want to speak to?" "It doesn't matter, just someone else in your department.") or as you said just hang up and call back.

Add HP to that list as well =). The report said HP did it too. And Lenovo support reps dont know how cortana works. ;)

How did you get in the beta for the WC app?

You just need to pester Daniel Rubino repeatedly. He's a sucker for persistence. Tweet him repeatedly.

Tell me it is a new Windows Phone app! So ready for a new one.

Genuinely, don't want you to break that. As long as landscape mode is in, and we can open from emails again, I'm happy.

Not sure why you people take offence. I have an Hp Spectre Ultrabook that runs beautifully on windows 10, I also have a Lenovo tablet that was unusable running the current official Win10 release. Window 10 simply needs stability work done.

Yes but you can't say such things here, its all sunshine and roses according to commenters on this site.....

Don't forget the lollipops

Sorry, no lollipops here. We leave lollipops and marshmallows to Android Central. ;)

what about Frozen Yogurt? hint: android 2.2 Froyo

<Rhapdog slaps RohanRonQM for the Froyo comment> ;)

Except for the onedrive incident....

I noticed that too :) It's like - are we using a different Windows 10 or what the hell?

No but you are using different 3rd party drivers.

I think it's more like both Windows AND OEMs need work done. My brother still can't update his Vaio because of lack of drivers. Your Lenovo might have issues because of Lenovo, not because of Windows.

Lenovo didn't tell me to press the update button. But unlike you I understand the situation and risk of being an early adopter so I'm not complaining.

A) I never said Lenovo told you to, I said the problem isn't necessarily Windows. B) I don't see what makes you think I don't understand what it means to be an early adopter, I simply stated a fact about another OEM's lack of support. C) I never said you were complaining, I pointed out a simple extra possibility.

No but Lenova has to let MS know. I have on older PC that has a Nvidia 7600 GPU well when I reserved Windows 10 everything checked out and it was OK. The the week Windows 10 was released Nvidia told MS they weren't going to support the 7600 for Windows 10 and now it won't let me even install Windows 10 on that machine. It was Nvidia that reported the issue to MS.

Well VAIO is dead, so I am not surprised. I am running Win 10 on my vpcsa390s, but it only works after I disabled the AMD GPU (there are no drivers for it, as AMD stopped supporting these systems). The intel GPU works just fine, and the computers works well.

I upgraded an Vaio laptop and works OK just that, also you instead of wait the super special Sony drivers I get it the generics , like the mainboard, sound, etc and runs just OK also the windows 8 drivers should work since windows 10 in the deep doesn't vary a lot to 8. besides that dell rep is right windows 10 already have lot of glitches and in my opinion already looks and feels like an beta that was too in hurry when released the consumer final version. Posted via the Windows Central App for Android

Or...wait for it...OEM's provide better driver support. All the problems I had with Win10 were driver related.

'Posted via Windows Central App for Windows 10 BETA' hmmm, care to explain????

don't worry I'm in it too

Are you in the windows cental closed beta app for win 10

I will never buy another dell. My PC came with Windows 8, Dell inspiron 3520, and those sh** are telling me on they're site that they are neither testing are developing drivers for this PC on Windows 10. I am so angry with them because windows 10 is really great :-/.

Basically its because they got stuck with unsold haswell inventory

I've got a 4 year old Dell XPS 17 which came with Windows 7 . I've been running Windows 10 for over a month. It even happily runs some programs from Windows XP days that had to run in compatability mode in 7. All the bits on it work fine, without drivers from Dell. (I realise that is not quite true - I've not tried the TV tuner, because in the last 3 years I've never used it)

I have the 15 inch version of the same computer (XPS 15) also running on Windows 10 Pro which originally came with Windows 7, upgraded to 8 beta, then 8.1 Pro, and now Windows 10 Pro. My TV tuner works on W10 although I'm bummed I didn't get to keep Windows Media Center but it is installable on Windows 10 so I'm happy. The only reason I use the TV tuner is to record an occasional Football game every now and then. I did have an issue with the Nvidia GPU but I reverted to a previous driver and the computer runs great. So yeah upgrade your Dell computers to Windows 10. :) Posted via the Windows Central App for Android

My mom gave me her old Dell laptop to reset so I can give it to my brother. I tried resetting it through its recovery discs, and then the hard drive crashed. So I told her, my brother and aunt to get HP laptops instead with Windows 10 preinstalled and they all work flawlessly.

All vendors do this with certain models. Most OEM's concentrate on new products in which drivers are installed in the factory.

Where can I get Windows central App for Windows 10 beta.

I will never buy another Dell PC. My dell inspiron 3520 came with Windows 8 so there is no reason for them not to build any drivers for it, given that one can even upgrade PCs running Windows 7 - windows 10. When I went to the Dell website it says that they are neither developing or testing drivers for this PC on Windows 10. I'm so angry with them for this. I will be telling everyone I recommend to buy a dell not to bother. It's best get a surface book since it will be directly supported by Microsoft.

Except he clearly doesn't know how to do his job. Calling up for a simple issue, like how to change the scrolling direction, should not be met with someone telling you W10 is essentially broken and you need to revert the entire OS. It's like pulling into a garage and asking how to adjust the radio settings and the mechanic tells you the entire car is a pile of crap and you need to switch to last years model. And yeah, I DO think he's recommending reverting 'for fun'. A lot of these support guys are lazy and don't want to spend so much time solving a problem - reinstalling or reverting are the quickest way for them to stop dealing with your problem. For example, I had a problem with my mobile phone a couple of years ago, I called support and after a few minutes his solution was to factory reset my device. I refused because it was idiotic to even suggest wiping out all of my data to solve a relatively minor issue, and eventually ended up finding the solution myself. Even PC support sites are littered with people suggesting to do a full OS reinstall to solve a problem they simply don't know how to fix. I'm sure there are situations where that's necessary, but a lot of support staff recommend drastic courses of action too quickly. Having said that, a lot of support staff are very good at what they do... I'm sure it's not an easy job!

Indeed, it was very unprofessional to mention the support guy's name. And it's even worse to keep it when you're copying someone else's report.

These OEMs only care about selling a machine. They could care less about supporting it afterwards. They rarely update their buggy drivers. This is exactly why Apple is successful and why Microsoft built there own hardware. The reps should take full responsibility and figure out the problem, not blame it on someone else.

Yeah that is right Posted via the Windows Central App for Android

Well not really true because the Mgmt want you to love the support so the next PC you buy is a Dell. Most people will buy the same Brand PC on their next PC purchase if happy with the previous own maahines. I work in IT and have done for over 25 years and the Help desk people and support people are the lowest paid people in the field. That means they are basically entry level in the field and sometimes ignore customer services practises.

I thought "Microsoft Technical Support" was calling people directly... ;)

You guys misspelled "idiot from exceptional case"

Its hard to trust any reps these days it seems. It is best to search online and try to find an awnser. Easy for anyone under 30 to say I guess...

Exactly. They're there for a paycheck and just want to be done with the call

Laziness. The easiest answer is the fast one. Shame.

I would not support a company that does not support W10. You can blame it also on their outsourced untrained staff. Wake up OEM's W10 is the future

No, that's not what he means.

No OEM doesn't support WIndows 10 some just support it better when you buy a new computer.

AKA we're too lazy to update our drivers, so you shouldn't update!

Exactly. This is solely why I bought a Surface versus a competing product from Dell, despite the known early issues with the Microsoft product. Microsoft keeps putting out firmware and driver fixes years after their products ship. With Dell it's nearly always the case that the only drivers/firmware you ever get is what was available when the device shipped. No thanks.

Wellthis is like the old Apple versus Windows machine argument. MS make ONLY surface devices the components are and drivers are easier to manage. Dell uses Nvidia and ATI/AMD GPU's (many models) and Intel and AMD CPU. The sell machines with only integrated GPU's and jsut started with Discrete Nvidia cards in the Surface Book. Then when it come to wireless cards, sound cards and every other component which make support even more complex. Basically MS sells closed systems and Dell Open systems.

Exactly. Microsoft should make a 15" laptop so I can stop buying their crap they don't support.

MS only supports there own hardware and the Retail version of Windows the OEM's support Windows on those devices and their own hardware. It;s similar to Googla and Android. The OEM's add crapware to Android and the Googel devices don't add crapware to their devices.

The topic of the article seems to be misleading. How can 'one' be 'some' ??

Well the definition of Some is an undetermined amount, so any number can be some. Also the article mentions 2, HP and Dell, so I don't know where you're getting 1

CSRs know nothing and everything they say can be ignored. I thought we established this a long time ago?

From my tech experience, level 1 csr are forced to follow a script. "is it powered on?" Can you reboot it? Sorry can't help you, reinstall os.

"there are a lot of glitches in Windows 10." Windows 10 works just fine, it's your crappy lack of updating your drivers and software OEM's! I built a new PC with hardware that just came out and officially supported windows 10 for this reason, Because most OEM's simply wont ever keep their crap updated!

No, it doesn't. There are a ton of glitches in Windows 10.

Love Windows 10 over 8.1 but to be fair there are too many bugs

Well lots of people are saying that clean installs work better. When by doing a clean install your eliminating ALL the OEM specific utilities and getting the MS Windows 10 and not the upgrade of the OEM doctored Windows version 7 or 8.1.

It may work better, but it doesn't work well. In my experience, it is no more or less buggy following an upgrade vs. a clean install. It's just buggy, period. And this is not insider builds, but the main build. There are tons of problems.

There are glitches mostly with insider builds, which are supposed to have glitches. RTM Aka 10240 is pretty stable

Its not a glitch, just update your drivers from the manufacturer websites and you are done. even i was having issues with my hp laptop like touchpad settings getting reset everytime i reboot the pc. But after installing the driver from the manufacturer website everything works fine.

Oems take forever to update their drivers. I always go direct to the component manufacturer. Synaptics instead of an HP support page.

Plus OEM's sometimes don't update drivers on the machines sold with older OS's. If that happens the ones from the components may or may not work.

Someone tell these techs they are their for facts and support. Not their dumb a** opinions. Same with sale reps for devices. Sick of these idiots using their jobs to push their device agenda.

No, they are there to buffer the customers' anger so it doesn't affect the top management's salaries and bonuses.

I've installed on 10 machines and didn't have trouble with any.

And yet the OEMs get so upset when Microsoft just makes its own damn consumer hardware.

Yup, and OEMs have been making the same old garbage for years. The only reason to upgrade hardware has been because the old garbage didn't have driver support. It's why Surface is so popular. It's the first time in years anyone could brag about their new Windows machine.

Apparently, upgrading to 10 ends up killing my Dell XPS 2710 motherboard or graphics card. Lots of others had it too. I think it was the Intel Graphics driver upgrade. Dell tells people upgrading that one to 10 is not supported. Not buying Dell again.

I dual booted it on my m18x r2 works okay just cant use awcc(not that I need it in a multi-boot environment)

Sack them immediately and hire people that know what they are doing

We've got a local tech company posting beware of windows 10, don't upgrade it will crash your computer. I know him personally and he is one of those weird super loyal apple fans. Dell though, don't get it.

Sounds a bit like the weird, super loyal Microsoft fans that post here and claim Windows 10 is perfect.....

THANK YOU, i'm glad i wasn't the only one seeing that...

No, it sounds worse. I don't go around saying "Beware of OS X El Capitan, it will crash your Mac".