SongArc hits version 4.0 for Windows Phone and Windows 8.1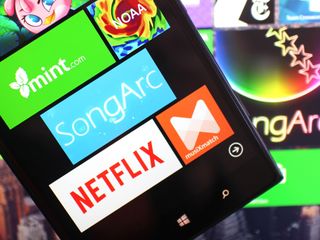 The popular music game SongArc received an update today for both Windows Phone and Windows 8.1, bringing its version number to 4.0. The release was accompanied by SongArc's debut on iOS and Android platforms.
SongArc 4.0 for Windows Phone has been in beta testing since December. In an press release, the SongArc team described what's new with this version:
SongArc has had over 1.6 million downloads just for its Windows Phone version and with its release on iOS and Android, its safe to assume that number will see a big increase.
Download SongArc for Windows Phone (Free)
Download SongArc for Windows (opens in new tab) (Free)
Windows Central Newsletter
Get the best of Windows Central in in your inbox, every day!
I didn't like this app that much :/

Perhaps you will like it this time around... Why not give it a go?

Appreciate you guys for your kind presence here..... :)

Lol !!!!! I gave it ! But music is not my type! :)

Yeah audiosurf is much better, I was hoping for it on WP because it was on the Zune HD but I gave up :(

I still can't figure out how to play it. ._.

We have a new tutorial in the game, that hopefully can help you with that.

Thanks! Will try It out again, downloading! :)

Figure it out, and you will most likely get hooked to it. Trust me, I lost a lot of hours for this game. :p

Heh, sorry about that... not :)

Same with me. Dont know what to do.

Isn't it like GuitarHero/RockBand but for phones?

I've been with SongArc since the beginning. Its crazy to see it progress and grow over time. Glad that this started here, with WP! Keep up the good work guys, congrats on the progress. Now that you're cross platform please don't forget us! (I'm looking at you Chase, BOA, Softcard, etc!)

Thank you for your kind words! As we said earlier, Windows Phone is our home town, where we grew up. We have no intention of forgetting.

SoftCard got bought by Google, and Google is a jerk & hates us, so pulled support as soon as they bought it. So that one is different, BUT I GET YOUR POINT! I had WP7, and there was a draught of apps and system updates towards the end of 7 and the beginning of 8. I think we're in the drought between 8 & 10 right now. Some are just waiting till the new Windows 10 tools to launch their apps.

I wonder how surprised people will be when they hear that the best experience and the home of the app is on windows phone. :)

That moment when my Android friend asked (a few months ago) what the name of this game was, and I replied: "It's Windows Phone exclusive"... That feel, lol.

i know the feeling. i once had tap tap ninja on my phone and one friend with android asked me about the game. i replied telling him that that game is only on ios and wp. suddenly i had the feeling of premium and high-class which apple promotes.

My favourite game! Thanks.!

Thanks, Matt! And now you can let your iOS and Android friends know that they can play it too!

Please provide Hungama Music App.

This is worse than "wen in India" :@

Downloading this again. Hope I understand this time how to play.

I've not played the game much of late. I'm hoping the iOS and Android releases come soon to build the sheet pool.

We have over 130,000 Sheets - and this time we have included free music with sheets directly from the SongArc Team. We hope you will come back!

When will e be able to log on worth Facebook? I don't like to make an account than claim it sending an email when I uninstall the game for some reason

Hi Max! We are working on that, but unfortunately it didn't make it for this version.

I'm waiting with great expectation! And thanks for being here, answering our questions, it's awesome to see that the developers care about their public

HM. Idk. The ui hasn't changed for the better.. Missing the "greatest hits" etc tab..

I love the service of songarc team ?I had a problem with the app I e-mailed them and they replied and solved my problem,kuddos songarc team

They are some of the most friendli-est developers I've ever seen.

Thank you! We appreciate it. We will be a bit slower than usual this week though, since we will be exhibiting at SXSW Gaming Expo in Texas.

I'm really enjoying the new UI. It feels way more polished and intuitive. Love the modern touches and new songs. One of my favorite games that eased my introduction in Windows phone.

Thank you kesken, we love that you love the update!

Sorry you feel that way. You have those in the explore section.

I still don't know how to play

Used to play this game when I was still on WP8. What an awesome game it was. Loved how it gave you free daily coins to buy sheet.

And now you can keep enjoying it on iOS and Android!

Haven't played this yet, and wasn't planning to, but since it started on WP, and also the dev is here replying, I'm going to give it a try. Not big into music, listen to whatever, but lets see, might really enjoy it.

Thank you - we hope you will enjoy the game!

how to play it on my windows laptop? or is it only for windows 8.1 tablet?

Yes, you need a touch device to play. We couldn't translate the experience properly to a keyboard yet.

Happy for the SongArc team. Has been my favorite Windows Phone game since it first came out. Going multiplat and continuing to grow the community should be good for sheet availability also. :)

Indeed! Thank you for the kind words.

Remember having this game back when it was first released. I would pick up my WP from time to time just so I can play it. Glad it has become available as a universal app and on other platforms like iOS and Android.

Thank you for sticking with us!

This new version is really awesome and beautiful but It just keep loading songs so I can't play it

Just downloaded it after seeing your commitment for WP, Wish more developers were like you #Songarcgame, can you make another brilliant game ?? Anyways congrats and thanks

Thank you for your kind words! We are now working on extending SongArc full time - this is a project that's never done :)

With Rock Band 4 due for release this app should continue to grow. Games that allow you to play to your music of choice are pure awesomeness.

Thank you for your kind words!

It's a great game, sadly it will no longer be special when it goes to IOS and Android

It was on WP first, that's a win! As long as there's feature parity I'm happy

Think of it this way: WP users also win if Android or iOS players create new and amazing sheets, and make the game more attractive for Featured Artists to give you guys free content to play with!

I'm sorry, but I can't see it that way

Hope I get some time to try it later today!

Hey 'SongArcGame'' (non-english user here). Can you modify the interface to make it more ... I dunno, sleeker?, more fx effects. Also I think the current interface is too flat, it looks pretty rough, far worse than it was before. I also think that the geometric figures are a bit boring, you could find something more "attractive", more immersive, more striking effects. You also need the introductory music, transition effects, vibration effects, and so on.. I think if you implement this kind of thing, paying attention to detail, you will definitely catch more public! (specially in android and iOS) (btw, I love the game <3, but please, PLEASE enhance the UI !) thank you :) EDIT: Oh, almost forgot,spanish support please! :D

Thank you for your input! Just with any big change, there are people who like the new things and those who don't. Just think about the history of Windows :) The main goal with this UI change was to accomodate larger devices, such as tablets and phablets... Also, to make it easier to get started with the game and allow users to only gradually discover the smaller things.

Good to see it going from strength to strength. Personally I couldn't see what the fuss was about and found it annoying but good for the platform.

Maybe one day you'll see the light, too :) In any case, thank you for your support.

I love songarc but I waste a lot of time playing it
Windows Central Newsletter
Thank you for signing up to Windows Central. You will receive a verification email shortly.
There was a problem. Please refresh the page and try again.