Sonic 4 and Flux Family Secrets are the Windows Phone Red Stripe Deals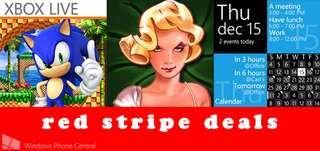 I wasn't too thrilled with last week's Xbox Red Stripe Deal, but this week's sale title is a much more solid game. Sonic the Hedgehog 4: Episode I is on sale for $1.99, down from $4.99. This marks the fourth time it's been on sale, but the last time was back in November so a lot of Windows Phone newcomers probably missed it.
The non-Xbox Red Stripe Deals are pretty good too. The hidden object game Flux Family Secrets from Big Fish Games is on sale for 99 cents. If you like the genre, consider it a must-buy. And JDB Pocketware's calendar/productivity app AppoinTile is 99 cents as well. Details and Store links after the break!
Sonic 4: Episode I (Windows Phone 7 and 8)
Regular price: $4.99 Sale price: $1.99 Download size: 105 MB Store Link
While the phenomenal Sonic CD is undoubtedly the better of the two Sonic games on Windows Phone, Sonic 4 is still a pretty good platformer in its own right. It plays much like the classic 2D Genesis games, except that this Sonic also has the modern homing attack to make killing enemies and crossing gaps easier. See our full review for lots more gameplay details.
Platformers are generally a bit tough to play on mobile devices because they lack physical buttons, but Sonic 4 actually plays really well. It only uses a single action button, reducing the likelihood of your thumb slipping to the wrong position.
The bittersweet thing about this game is the Episode I in the title. Consoles and other mobile platforms got an Episode II that's even better than the first game. Sega announced Episode II for Windows Phone nearly two years ago. At this point, it seems to have been quietly cancelled.
Flux Family Secrets (Windows Phone 8)
Regular price: $1.99 Sale price: $.99 Download size: 93 MB Store Link
Big Fish's first Windows Phone release Fairway Solitaire is an awesome puzzle/card game. But the publisher is best known for its hidden object games on PC. Flux Family: the Ripple Effect is one of those games, filled with both object finding and puzzles. If you enjoy Artifex Mundi's games, you'll definitely want to try this one too.
Flux Family features:
Travel back and forth through time to search for items and clues.
10 Chapters, over 20 mini games, and multiple interactive scenes.
Get help! Optional tutorial and hints with auto recharge.
Visual object list.
Collectible inventory and toolkit objects.
AppoinTile (Windows Phone 8)
Regular price: $1.99 Sale price: $.99 Download size: 1 MB Store Link
This handy app generates Live tiles from your phone's calendar appointments.
Features:
Live tiles showing up to 4 upcoming appointments
42-day dynamic calendar with markers on days having activity
Up to 3 upcoming appointments on your lockscreen
Summary count of the appointments you have today
Automatic syncing with your phone calendar
Customizable layout both for front and back of tiles
Appointments filtering/hiding
Can map specific actions to each Live Tile clicking
Meeting assistant centralizes all the meeting related information to be at your hand during your meeting time
Time bar shows the meeting duration and progress
Can add extra reminders for either before, during or after a meeting
Can send custom 'arriving late' messages to all or to just the organizer, and opt to send by SMS as well
Email any attendee by just a tap
Get map directions or dial numbers directly depending on the meeting location
Copy any meeting field to the clipboard
And more...!
Thanks to Marcel for the tip!
Paul Acevedo is the Games Editor at Windows Central. A lifelong gamer, he has written about videogames for over 15 years and reviewed over 350 games for our site. Follow him on Twitter @PaulRAcevedo. Don't hate. Appreciate!
Well i hate that sonic game wish it was better

Should ask me to watch my hand.actually right thumb to be precise

Sorry. Unrelated. Can anyone tell me where is the flip to silence toggle located? Thanks. Nokia 920.

Three appointments on lock screen... Please WEEK VIEW 8, add this!

WHAAAT! A Artufex Mundi game type of game i didnt know OF, i love you WPC, thnx for the tip. Insta-buy.
Hey beloved WPC crew. Could you make a huge "these type of puzzle adventure" games review. At least a collection of what's available. I played all Artifex Mundi Games, all Nevosoft LLC games. I want to know more, moooore if there is great games like this. Me and some friends are addicted to these games. Plz plz, a list of these type styles. Pretty please with the sugar on top?

Well, AFAIK the list would just be every game Artifex Mundi has produced, both of the hidden object games from Big Fish, Women's Murder Club (Xbox enabled), and maybe 1 or two games from RealNetworks like NCIS. I'll try to review the Big Fish and Artifex Mundi games in the future, if I can.

Thnx for the NCIS tip, didn't know of that one! This day just keeps getting better.

Is there a way to send in news?
920 in UK over EE gets update

Wish they could update that ugly tile to the new one with a green border.

The second sonic game yet to be released

It really is a shame that Sonic 4 Episode 2 was announced for Windows Phone oh so long ago but had never been released it even officially cancelled. I would love to see Sega bring more of their catalog over, particularly Chu Chu Rocket and Jet Set Radio. Actually, I want those games in my Surface RT.

I have so many Windows Phone Xbox games right now in my repertoire...MS is eating my money away!!! Aaahhhhh!!! ;) (problem is, though... I like it!)
Windows Central Newsletter
Get the best of Windows Central in in your inbox, every day!
Thank you for signing up to Windows Central. You will receive a verification email shortly.
There was a problem. Please refresh the page and try again.