Sony scrubs VRR and ALLM upgrade from X900H / X90H TV support pages
By Matt Brown last updated
The future of VRR and ALLM on the Sony X900H and X90H 4K TVs remains uncertain.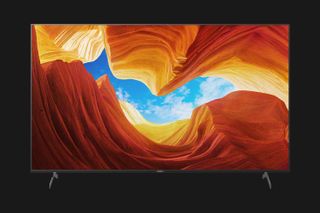 (Image credit: Sony)
Update January 18 (1:16 a.m. ET): Sony states VRR and ALLM support still remains planned for the XH90 / X900H series.
What you need to know
The award-winning Sony X900H and XH90 launched in 2020, among the top recommendations for PS5 and Xbox Series X owners, with 4K resolution and 120Hz refresh rate support.
The manufacturer also marketed variable refresh rate (VRR) and auto low latency mode (ALLM) features for a future firmware update.
Sony has removed references to VRR and ALLM from its support pages, over half a year since the X900H and XH90 launches.
The Sony X900H (and the X90H in Europe) have emerged staple TVs in the 2020 lineup, regarded among the best LED displays on the market. The 4K duo found themselves among the frontrunners headed into the next generation of consoles, supporting the standout features for PlayStation 5 and Xbox Series X. That included 4K resolution and 120Hz refresh rate, even stamped with the "Ready for PlayStation 5" tagline as an official seal of approval.
But unlike many of the best 4K TVs for Xbox Series X and PlayStation 5 throughout 2020, the X900H and XH90 lacked support for 4K at 120Hz refresh rates, variable refresh rate (VRR), and auto low latency mode (ALLM) support out of the box. Sony instead promised these for post-launch firmware updates, with 120Hz arriving last October, but VRR and ALLM remain absent. But the latest changes in support documentation suggest Sony could be walking back those claims, with growing concern among existing owners of the 4K TVs. Sony did not immediately respond to a request for comment.
HDMI 2.1 remains crucial to PlayStation 5 and Xbox Series X owners, providing the bandwidth to support 4K resolution up to 120Hz, alongside these new display features like VRR and ALLM. VRR looks to eliminate screen tearing, adapting your display's refresh rate to that of outputted content. ALLM also targets gaming, allowing compatible TVs to adjust the picture, keeping games latency-free.
While these won't impact movie watching, they're huge components of the latest-generation experience for console and PC. The Xbox Series X already boasts the features, with the PlayStation 5 also scheduled to deliver both in a future update.
Sony is yet to officially confirm the cancellation of VRR and ALLM support for the X900H and XH90 series. However, it's yet to deliver these features over half a year after release, leaving us hesitant to recommend either TV in 2021. The company still references plans to provide both technologies across some listings, but contrasts recent changes made to its support pages, and responses from support representatives (via Stop the FOMO on YouTube). While we expect Sony to clarify the situation soon, stay wary if in the market for a new 4K TV.
While the manufacturer often keeps to its word, we've repeatedly warned buyers to proceed with caution in case it fails to deliver. That comes after it just unveiled its new 2021 TV lineup as a part of CES 2021, including the X90J and X95J as LED successors, with VRR and ALLM on the spec sheet.
Update January 18 (1:16 a.m. ET) — VRR and ALLM firmware update still planned
Sony has reaffirmed plans to deliver VRR and ALLM support with a future update, with corrections issued to any existing support documentation which referenced the chance. "XH90 will support VRR and ALLM via a future firmware update," a Sony UK representative told Windows Central in a statement. "Any articles on Sony sites that stated otherwise have been updated with the correct information."
Matt Brown is Windows Central's Senior Games Editor, Xbox & PC, at Future. Following over seven years of professional consumer technology and gaming coverage, he's focused on the world of Microsoft's gaming efforts. You can follow him on Twitter @mattjbrown.
Last november DIGITAL FOUNDRY reported that the PS5 wouldn't do VRR or ALLM in their tests. (Or 8K)
Their HDMI 2.1 implementation is apparently...incomplete... Also lower bandwidth than the competition.
It may have something to do with Sony's x900 move. ???

I told everyone even before launch the ps5 implementation was going to be a problem. The missing features weren't there for a slightly different reason but was connected to what clued me in (limited bandwidth though I noticed it through the cable labeling on the included hdmi cable) Connecting the dots I told everyone it was am issue that went past just them not "getting it added to the software on time"

It's not the only hardware red flag out. Just the fact that they are going to "fine tune" the cooling system firmware by monitoring real world usage is enough to make me keep my distance until at least the PS5 Pro ships. And ship it will and sooner than later.

We still don't know if it's actually a hardware problem with PS5 and even these TVs (though while the TVs might have the hardware to do it, they may not care to update them), the cable with the PS5 doesn't tell anything though as it is capable of 4K120fps something that is above the regular 4K60fps of HDMI 2.0 I will say that if you care alot about VRR and 8K you may want to wait before choosing a console.

Sounds like Sony doesn't want to give Xbox an advantage by implementing a feature in one of their TVs that only Xbox can take advantage of.

If they said, we won't support it from get-go, then this wouldn't be a news article. This seems like a decision to screw consumers while promising it before holidays so that they can sell TVs. That's a dick move and they should be sued. This also means Sony TV division doesn't care about customers outside their own console base, since VRR is an open standard created by AMD and nothing specific to Xbox. [Edit] - VRR specified to HDMI 2.1 spec Forum VRR in USA. Its not like Xbox or someone else decided that for themselves.

It's possible that Sony have found some serious issues with VRR and ALLM in testing that they can't fix in a timely manner (if at all).

I'm SO GLAD I went with a 2019 lg c9 oled they announced that product with the proper support I knew I was going to want and I would never just "take their word" that they would somehow months later add a feature they couldn't offer from day 1. I feel bad for all those buyers who went with Sony thinking they'd be getting it later (just like their ps5's) More than likley the same problems here are likley part of the problem with ps5 and may never get added there either.

I think the LG OLED supports these out of the box

So do the VIZIOs. The lower end ones only do 60fps but they do go lower as needed.
I got my mother the cheapest 65in model and the darn thing even supports Dolby Audio and Video.
Surprisingly, her cable box delivers Dolby Audio. It really makes a difference. I tested it with the OneX and it used Dolby Vision too. Apparently they didn't find it hard to implement 2.1 either.

Lg has had it fully supported (and in all hdmi ports) since their 2019 models. All the way back in the end of 2018 I knew my next screen was going to be one of them and I've had it for almost 2 years now and couldn't complain at all compared to all the headaches all the others have had.

A classic example of why customers should never pin their hopes on companies doing the right thing. Instead should always hold them accountable to fulfil their promises. Not mention such moves is slowly falling into abyss of misselling on Sony's part. Sony, is going to have to extremely careful here and deliver on their promises otherwise they are going to face a major backlash as these TVs are not exactly cheap.

Rule of thumb: if it doesn't do it on day one wait until it does or move on.

Looks like Sony are holding back these features for their new 2021 tv's. Feel bad for anyone who bought last years model with the promise of a firmware update to include these features. Lg's cx oled supports all these features out of the box, they are quite expensive though, and some people are put off by the risk of burn in on Oled panels. Console gaming is getting more expensive, if you feel the need to buy an expensive tv to go along with your xbox or playstation, not to mention if you need more memory expansion.

It doesn't even seem that they're 2021 TVs do it

Lg OLED is where it's at! I have the CX 77! Let's just say my Series X is Loving It!

48 CX here, it's brilliant

Best TV ever I have the 65 c9 as a desktop monitor / bedroom display mounted to a articulating wall mount and it's absolutely glorious! Not to mention I've had these features since 2019 AND am the ONLY models with full 48gbps giving me full control over my chroma bit depth etc.

Do you not worry about screen burn with the OLED? Using it as a monitor is not recommended even though LG design them with PC use in mind
Windows Central Newsletter
Get the best of Windows Central in in your inbox, every day!
Thank you for signing up to Windows Central. You will receive a verification email shortly.
There was a problem. Please refresh the page and try again.