SoulCraft II: League of Angels debuts on Windows Phone after Windows 8.1 launch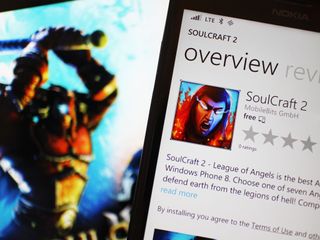 SoulCraft II: League of Angels, the sequel to the popular fantasy action-RPG from developer MobileBits, has made its debut on Windows Phone after first being released a few weeks ago for Windows 8.1 (and before that for iOS and Android.
The sequel allows players to pick from one of seven different types of angels in order to battle demons from Hell. So you know .. no pressure. Here's a quick list of SoulCraft II's features:
New Multiplayer League: Challenge other players in asynchronous multiplayer matches and customize your defenses. Win your daily leagues to become the best SoulCraft Player in the world
7 different heroes: Choose your play style from melee warriors to range mages
Epic singleplayer campaign: continue your quest to save the world from the demons of the apocalypse
Full controller support - play it on your big TV screen
Offline Support: You can play the singleplayer modes offline as well
SoulCraft II is also a universal app for Windows Phone and Windows 8.1. While the game is free to download and play, it does support in-app transactions. Will you be playing SoulCraft II?
Windows Central Newsletter
Get the best of Windows Central in your inbox, every day!
I only looked at screen shots. Looks a lot like dungeon hunter by gameloft. Even the on screen buttons for weapons.

If it's like the first one then it's pretty different from DH because the gameplay is level based amongst other differences...

Looking at the graphics I thot it wud be of 800mb and got tensed when it said that it cant be installed on SD card

Game has only about 80MB, see my gameplay with commentary HERE

"While the game is free to download and pay" ?

Haha I saw that too, I assume they mean "play". I enjoyed the first game and I just downloaded this new one a few days ago on my tablet. My tablet is 4 years old and not very powerful with dated specs. With games like this one, I don't feel left out since there are other titles I can't run or even install. Some games that can run sometimes will be missing textures and gameplay is choppy. Great to see a developer focusing on trying to get their games to run on all systems.

No, it means you are free to download the game and then commence paying them money! :P

Thanks. But only Xbox games on my phone.

I understand your stance but it will mean you continue to miss out on really great games. Don't take your frustration out on the dev by not downloading, download and help the platform grow. Only with user help will more devs bring their games to WP. The more games, the more sales. Aim frustration at MS for current state of xb on WP. They are the only ones that can determine its future.

then your loss for your limited mindset... it's not like every developer is worried about your super cool achievements, why would they? I am sure if it costed $5 and had xbox live, you would be complaining about how it's not free anyway.

Hmmm "can't be installed to SD card because the publisher doesn't allow it"?
Performance reasons I'm assuming?

I was wundering the same thing.

No SD carding installation! No Bueno.

Yes - no SD card is a shame - wish there could be standardisation amongst apps, re loading into sd, though I understand if devs feel it is detrimental to the experience. But then asphalt 8 runs off the sd fine. If that can anything can lol

Is there content "...jungle of Cambodia..." anymore?

How about fixing the first one BEFORE releasing the second one? I will download it of course but it would be nice if I could actually FINISH the first one (crashes at 2-1 level) before playig the second

Or... You could just play the better, improved second version... lol

Wow !! I wonder why its not available for me. Lumia 620 windows 8, India ... :/

Are you being serious? Or just sarcastic? I'm hoping the latter.

Why is that?? I think it should be supported to run on a 620 right?? And isn't the world global by now?? Greetings from Mexico

In-app purchases... No thanks.. Please give me a 10$ full game of this quality ! I'd even pay 20$ if I have to, damnit we could run psp quality games on our phones with the current specs, why are we still only having those garbage pay-to-win/accelerate/whatever games ? Except from the Square Enix Final Fantasy series I havent been able to find a descent paying RPG on WP..

Agreed. It boggles the mind when we can't just buy a game upfront and not get bothered by in-app purchases.

Because whenever a game goes up in the marketplace for more than a buck every second commenter complains about the price.

I hate how there releasing WP 8.1 apps and not everyone has 8.1 YET thanks to f***** Verizon!!!

Although I can sympathise with your situation I can't agree that developers should hold back because of one (or more) lazy network providers who haven't updated their handsets to 8.1 yet. The vast majority of folks have 8.1 now so you ought to think about sacking Verizon as your network provider. I know I would if my network behaved the same.

I thought league of angels was just for those dubious ads that take you to even more dubious websites...

Is this an online game only?

You must be online but there is normal singleplayer. For more info see my gameplay http://www.youtube.com/watch?v=uyUQCCSge4M

No way, first one constantly crashes, not going to bother with the second,

We need CLASH OF CLANS!!! :)

Is there something wrong with the game .
Because downloading it is not so smooth :(

I've been trying to download this game all day... Only get about a 1/4 of the way. Stuck at "pending...."

The game renders very blurry for me. Lumia 925 Black wp8.1.1 DP

Download it on phone, then move it to sd card. Have done it for some apps. Hope this works. :D

STILL can't download this game for some reason...