Space Shooter X, a fast-paced, outer space shoot 'em up type game for Windows Phone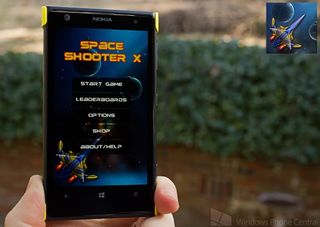 If you are in the mood for a fast-paced sci-fi shooter game for your Windows Phone, take a gander at Space Shooter X. Inspired by old school Japanese shooters, the game has fantastic graphics, an edgy pace and plenty of bosses to battle.
Ships can be upgraded with a vast assortment of weapons and you have full power and bombing options to help you obliterate your enemies. Speaking of which, while some space shooters have your enemies approach you head on, Space Shooter X has them coming from all directions. Space Shooter X is a fun game to play and will definitely keep you on your toes.
Your main menu on Space Shooter X has options to jump into the game, view the online leaderboards, access the gaming options, visit the game's shop and view the about/help screens. Gaming options cover sound/music levels and establishing your player name/country (for the leaderboard).
Space Shooter X's Main Menu and Shop Options
Space Shooter X's gaming store provides you with in-app purchase options to remove the ad-support ($1.99) and buy power-ups, bombs and lives that range in price from $.99 to $9.99.
The gaming screen for Space Shooter X has your current score and level displayed in the upper left corner and your current life count and your lifetime score in the upper right corner. In the bottom left corner is your bomb control and to the bottom right is your full-power control. When pushed, the bomb control lets loose an armada of bombs that wipes everything out on the screen. The full-power control unlocks your ship's full weapons arsenal for a short period. You gain one full-power module for every 50,000 points earned (collectively).
You control your space ship by touch. Just tap and hold anywhere on the screen and your ship will begin to fire its weapons. Drag your finger around the screen to move the ship to dodge enemy space ships and their weapons fire.
Space Shooter X's Game Screens
As you destroy the enemy ships, bonus items will appear at random. You have medals that you can collect for extra points and weapons boost to increase your firepower.
The ships come from all over the place. From the top, bottom, and sides of the screen as well as from black holes that will appear in the middle of the screen. You will eventually face a boss ship that is one tough cookie. Once you do defeat the boss ship, you will advance to the next level that will be more challenging than the last.
Game play can be rather exhausting in that if you blink ever so slightly, your ship will be torn to shreds. The game reminds me of Impossible Shoota (opens in new tab) but with cleaner graphics and a slightly faster pace. Space Shooter X is a fun game for your Windows Phone and an entertaining way to pass the time.
Space Shooter X is a free, ad-supported game available for Windows Phone 8 and 7.x devices. You can find Space Shooter X here (opens in new tab) in the Windows Phone Store.
Windows Central Newsletter
Get the best of Windows Central in in your inbox, every day!
George is the Reviews Editor at Windows Central, concentrating on Windows 10 PC and Mobile apps. He's been a supporter of the platform since the days of Windows CE and uses his current Windows 10 Mobile phone daily to keep up with life and enjoy a game during down time.
Guys if you have a Twitter account please start bugging (or at least once) tell @eamobile to release Real Racing 3 in windows phone. (They even released it to blackberry )

"guys if you have a twitter account", well twitter? What's that?

Its a magical place where one can overuse the symbol "#" and not feel like a doche.

with 512mb support too....

What abou clash of clans.&hayday....?

Yea..And what about Call Of Duty and Battlefield?? From My Lumia 929

Hmm..wait and wait wait.....till then enjoy with this game..:D

Gonna be a long wait for sure.. From My Lumia 929

Ok so you got a 929...so what!!!!

I have deactivate my twitter account 40 days ago, no more twitter now

This tweet should be done by Joe Belfiore including all of us.

Real Racing sucks anyway.

All we need is road rash on windows phone. The old classic killer game.It will definitely work on 512 Mb devices too.

Be careful what you wish for. Just look at what they did with dungeon keeper. Road rash: you have 10 free punches. *you punch 10 times, a popup appears: buy a pack of 10 punches, $1.99. Deal of the day, 100 punches for only $14.99!*

I see your point. I hate IAP's too, But a game with IAP in store is always better than nothing.

Touch directions usually suck anyways, I'd like to FLY my spaceship!

Wise words my friend... and that nickname tho

Ea games may take forever as they have not ditched xbox and RR3 or Pvs zombies 2 may be waiting for the loooonnnngggg certification.

Gotta respect EA for sticking with Xbox support while others dropped it. But seriously the certification shouldn't take this much time period. I still believe they haven't submitted the game to the WPStore. So please keep bugging EA.

Yah, I really hope that's what's taking PVZ2 this long...that's the game I really want to play!

Y do u need real racing 3 when u have asphalt 8...it is the best

I love asphalt 8. I have it installed on my device from day one, but it wouldn't hurt to have multiple choices. Also Asphalt is more like NFS & RR3 is like Forsa, realistic controls and tracks. Its different.

+1 multiple choices dont hurt... From My Lumia 929

I think you have to make it bolder...people are not noticing it LOL!!!!

Yes bt we need to play ashalt 8 only bcoz wen rr3 or nfsmw 2 will b out only god knows

Downloaded. Not expecting much, but Throne Wars by Flare got it goin on!

Think bigg folks..Lets start bugging Need For Speed ppl.. From My Lumia 929

Road rash is bigger than nfs

When was the latest version of Road Rash released Aashish bhai?? From My Lumia 929

And then compare it NFS one... From My Lumia 929

The best NFS for Mobile is Most Wanted (Two) You can go to @easwiss_sarl to request it.

It is there on any mobile OS..Except symbian?? From My Lumia 929

Nope. But Road Rash has some sequels present in playstation & gameboy. You can use an emulator (EmiPSX) to play!

Ms make xbox certification easier with launch of wp 8.1.

it's no Dodonpachi Maximum. but considering that Dodonpachi seems dead, i suppose this will have to do.

:( Better than nothing, and I've been dealing with nothing since the release of WP8

BB10.2 can run android apps . This is the thread to windows phone

U meant Threat?? From My Lumia 929

Since no one else here seems to care about the actual article let me say something...its a nice nice game with good graphics and pretty addictive:)

Lol....But did u really played it??? From My Lumia 929

Yeah I did really play it..hence the comment.

I downloaded it... I'll try it later. I like these shooters I can play with one thumb. Wish they had 1942 for WP8!

Seriously, what is with the long line of off topic comments? As for this game, it definitely keeps you on your toes. It's not a relaxing game to play when you're feeling lazy. But still very fun.

Where's Graduis and R-Type?

part of the screen on the left is not visible when playing on my 1520 makes it unplayable

Rquires Location Services? Seriously? It's a game... Some people just don't want their app installed.

I was intrigued until I saw the artwork. It's a bit substandard. I'm still waiting for a good shmup with a rich Japanese aesthetic.

I need SkyForce reloaded ;)

I played and beat this game back in the wp7 days. It was a good game just not enough levels at the time.
Windows Central Newsletter
Thank you for signing up to Windows Central. You will receive a verification email shortly.
There was a problem. Please refresh the page and try again.