Spectral Souls gets MOGA Pro Controller support on Windows Phone 8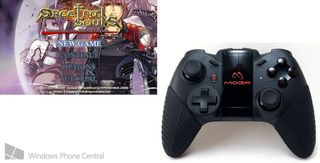 The story of MOGA Pro Controller support for Windows Phone 8 has consisted of little else other than disappointment in the months following its March announcement. Microsoft touted Windows Phone 8's support for the peripheral at the Game Developer Conference, where we actually played Drift Mania Championship 2 using the controller.
Somehow, the MOGA-enabled version of the game didn't become available until June, several months after the controller arrived in stores. And since then, exactly zero Windows Phone games and emulators have included MOGA support. It's like the March announcement was just a cruel joke.
The cruelty of that joke has just diminished, because a second game now supports the controller! Spectral Souls, the massive strategy RPG from HyperDevBox has been updated to work with the MOGA Pro Controller. We also know of at least one other app that will definitely support it upon release. Details after the break!
Spectral Souls
HyperDevBox's sole Windows Phone 8/Windows 8 release actually started its life as a Playstation 2 game. As such, the developer chose to implement console-style virtual controls when porting it to touch screen devices. A more mobile-specific control scheme would have felt more natural, but it got the job done.
Those console-style controls are a blessing now that Spectral Souls supports the MOGA Pro Controller, however. Sync the game with the controller and you'll be able to move characters and navigate menus with ease. The game uses four main buttons, and they map perfectly to the face buttons of the controller.
Spectral Souls is the only Japanese-style strategy RPG for Windows Phone 8. The detailed story revolves around a three-sided conflict between the established human army, a new rebel army, and an invading force of demons. As the tale unfolds, players will be thrust into battles against both humans and monsters alike.
The combat takes place on small battlefield maps. Each character has a certain range of movement and a unique assortment of attacks and skills they can draw upon in battle. It feels very much like Final Fantasy Tactics. The intricacies of combat can get pretty complex, but thankfully the game has both a tutorial and an extensive built-in manual.
Check out our original article for a more expansive analysis.
Spectral Souls – Windows Phone 8 – 575 MB - $12.99 – Store Link
MOGA Pro Controller certification issues
Neither Microsoft nor MOGA's producer Power A have explained why so few Windows Phone 8 games support the controller just yet. Based on what we heard at GDC, you'd think that adding support would be quick and easy. And if that was truly the case, we'd see more than two controller-enabled games five months after the peripheral's release. In fact, Power A tells us the controller doesn't officially support Windows Phone 8 yet!
Spectral Souls' recent MOGA-enhanced update does at least provide a clue into the quagmire. According to HyperDevBox:
If HyperDevBox is correct, a Bluetooth issue of some sort seems to be the root of the MOGA support problem. Perhaps the issue came to light after GDC and neither Microsoft nor Power A is willing to open up about it.
We've reached out to Power A for comment and will update if they reply.
EmiPSX
Vagrant Story running on EmiPSX
We recently wrote about EmiGens Plus, a Sega Genesis emulator from Andre Botelho. It turns out that Andre's upcoming Playstation One emulator EmiPSX could be the third Windows Phone 8 game/app to support the MOGA Pro Controller! The private beta version already supports it, in fact. Unless the emulator runs into certification issues like Spectral Souls did, you can count on EmiPSX debuting with controller support when it launches.
Update: EMU7800, the Atari 7800 emulator, supports MOGA too. That makes three games/apps at present!
Thanks to Mark "Tippy" Tepper for the Spectral Souls tip!
Paul Acevedo is the Games Editor at Windows Central. A lifelong gamer, he has written about videogames for over 15 years and reviewed over 350 games for our site. Follow him on Twitter @PaulRAcevedo. Don't hate. Appreciate!
Will Microsoft certification kill windows phone or at least Xbox on windows phone?

Well indie games on the One can do all the things Regular games can. Lets hope WP gets opened up.

That's my hope. Indie games on Xbox One are getting the go-ahead for achievements and Xbox integration, why not Windows Phone? My prediction is that the policy change will happen soon and the certification process will dramatically decrease. Maybe a fools wish, but a good one.

Wasn't Halo supposed to get controller support? I can't play it on my phone as it is now.

For the PC version, never heard it mentioned it would come to the WP version.

The Windows 8 version got Xbox controller support. Microsoft has never commented on the WP8 version and MOGA.

Boo, I want a refund. I can only play angry birds on my damn phone... Where is Halo Wars like Advance Wars?!?!?

Seems like they're shooting themselves in the foot. Either they're delaying certification because Microsoft is an old dinosaur or purposely sabotaging the product. If Xbox One controller has direct WiFi to phone capabilities we dont know about maybe its the later. Either way it makes no sense to hype up MOGA support only to have two games available. I even have Spectral Souls but i won't consider buying one until 20 games are supported.

Hopefully EmiGens Plus is also updated with MOGA support, I'd buy the controller for that alone to play the Desert Strike series of games.

I could buy this controller for DMC2 alone, If i knew where to buy one. Can't WPC have it in there store?

We might carry it someday... For now, just buy it from Amazon.

I never used Amazon. So much regional stuff. Sweden isnt the most warmest spot in Amazon's vision. But Audible works at least. :)

Paul, EMU7800, the FREE Atari system emulator that is also packed full of the games, supports MOGA too. It has for almost a month. I have the emulator, but no MOGA. Check it out here: Check out "EMU7800" for Windows Phone http://www.windowsphone.com/s?appid=dc8b13c0-a0cc-4a67-87db-7a2f37965b0c

Thanks Juan! I will check it out.

Wait a minute... are you talking about Devil My Cry 2? Isn't that the only one of the series that is universally panned?

Hehe, no, Drift Mania Championship 2. Love the game. Such great response in the game. They may not have burning all they could in to graphics. But the controls and control of the car feels real.

I would love to get a clear answer from Microsoft on the issue, game sales would increase with the support of the controller and would dominate the PS Vita, and the WII U in a heart beat what's the deal MS (I refuse to own a Wii anything) give us anything to get us out of the dark!

I got this game and it great, you get 100 hours of gameplay. However i wish they would add a feature to save your game to the cloud rather than supporting a controller that no one has got. After playing for so long im really scared i my phone will mess up somehow. I already have the 'other storage' problem and i haven't been able to reset my phone to free up space because of this game.

You should email the devs and suggest cloud support. I agree it's an important feature.

+920 agreeing. Started game 15hours in and phone developed screen flicker issue. I begrudgingly sent it in for repairs due to all the games that i would have to start again. Please devs, more cloud support please.

This is one of the major reasons I hardly ever play games on WP. MS needs to implement a standard cloud save system for games badly.

I've lost two different saves, for this game (changed phones and found a bug that keeps crashing the game). JJ

Need MC4, HSA, and racing game support the moga controller.

The day an emulator or a Gameloft game supports this I will buy one.

http://www.windowsphone.com/en-us/store/app/emipsx/ff82fab2-1e12-4501-b2...

As soon as I can install it I will order the controller. Wish is was SNES or N64 though.

Check this out Playstation 2 emulator with Moga Pro support!
Its not ready for release but almost there. http://www.windowsphone.com/en-us/store/app/emipsx/ff82fab2-1e12-4501-b2...

It's a Playstation One emulator and we mention it in the article.

+1
That's right PlayStation 1 lol
Sorry about that

Microsoft it's a f...ng big corporation. Day by day will be eat Nokia like a Rockefellers corporation. Then again a lot of moneys will be go for sponsor some war.

I've planned for a while to add MOGA support to the game I'm currently making. ;)

This news is great but pisses me off at the same time. Why in the world doesn't WP8 have an official controller add-on or universal drivers for Bluetooth and wired controllers? Huge missed opportunity to differentiate early on. MS is only playing catch up. Why aren't they playing to win at least the gamers? Why all the unanswered questions and secrecy? The competition is so far ahead... :-(

Why it doesn't have built-in Xbox 360 controller support (like WinRT) is beyond me. JJ

Sorry about that! Fixed it.
Windows Central Newsletter
Get the best of Windows Central in in your inbox, every day!
Thank you for signing up to Windows Central. You will receive a verification email shortly.
There was a problem. Please refresh the page and try again.