Spider-man: Ultimate Power pulled from the Windows Phone Store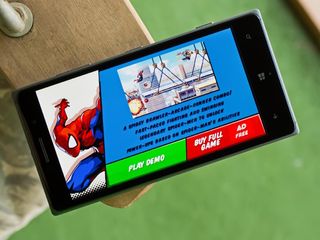 Last week Gameloft released the latest Spider-man Windows Phone game, Spider-man: Ultimate Power. The game was actually a demo with the full version running $4.99.
Based on the early reviews and comments not only were gamers unhappy that the free game was a demo and not the full game, but there were several performance issues with the game.
The platform styled Windows Phone game had you playing the role of the friendly neighborhood Spider-man as he battled the likes of the Green Goblin, Sandman and Venom. There were several renditions of the lead character available through the gaming store that could be unlocked with the coins you earned during game play.
Again, the "free version" of the game was simply a demo that allowed you to play the first one and a half levels of the game. After which, if you wanted to continue playing it would cost you a $4.99 in-app purchase.
After playing the game in preparation for a review, Spider-man: Ultimate Power came across as having potential. I just don't think it had $5 worth of potential.
We've reached out to Gameloft to see why the game was pulled and if they plan on re-releasing it. It may be the case the release should have been a free, ad-supported version of the full game and someone goofed by releasing it as a demo. If we hear anything definitive, we will pass it on.
Windows Central Newsletter
Get the best of Windows Central in in your inbox, every day!
George is the Reviews Editor at Windows Central, concentrating on Windows 10 PC and Mobile apps. He's been a supporter of the platform since the days of Windows CE and uses his current Windows 10 Mobile phone daily to keep up with life and enjoy a game during down time.
I downloaded the game 15 mins ago and performance issues is an under statement. It wont even start. Just displays the marvel logo and crashes.

No wonder it got pulled. They will likely fix those problems and re-release it or they might have done this to show more hatred towards Windows. :'(

It give Store app in WP8.1 error too, I uninstall it when it got pulled (or only limit of 512MB phones) yesterday. The store still see this app is installed in recent download but when I tap it, it show my phone is not supported, It stay like this even it was already uninstalled. Until I do a backup then it disapear from store app.

I'm afraid, maybe the only one here who played the game without a single crash. The game I felt, wasn't worth $5 though.

I'm with you. I've never experienced a single crash and the game runs smoothly on my 930 (latest W10 build). Although I didn't feel like it's worth $5. Spider man Unlimited is more like it (despite the lack of updates).

It is sad, but the demo is only a way to let people complain about the game not being free.

It won't even give you the code after making purchases

I hope they refund everyone. I tried to buy the game, and I couldn't even do that! So disappointed in Gameloft on that one.

Đồ họa của Game cùi quá . Test trên Lumia 640 thấy hình ảnh mờ kinh . Giá lại còn đắt cắt cổ :|

This is an English website! what's the point when you can read English on an English website and comment with Vietnamese?

That's a valid point. Google Translation: Game batons graphics too . Test on Lumia 640 shows fuzzy economic picture . Prices even overpriced : | If he can read and understand in English, why to type in some other language? :/

lol prices for everything seem to be overpriced in any market other then US since MS reevaluated the exchange rate

Everything is overpriced in a poor country! Even a 2$ hamburger is overpriced.

Someone set up us the bomb.

This guy is super-crazy like commenting in jibberish on an english only website is useful. He just wants attention

Crashes every time I open it

Sounds like Ducktales Remastered on Windows 10 (PC Version)

I think it was simply a release mistake, but now give us order and chaos 2 :)

I don't see the problem with this. At the beginning of WP games used to be like this before the stupid freemium model came out.

Good riddance, it crashed on my 630 on the loading screen every single time.

Constantly crashes on me, glad I didn't put money towards it.

Worked fine on my 640. I wasn't bothered by the fact you had to pay to unlock the game. Most Android games are the same. Now if people had issues unlocking the game then I understand the complaints. Myself I just didn't want to buy it as it wasn't my type of game.

Maybe it was the Android version ported over then. I prefer to pay for a game rather than get it free and then have in-app purchases. Mostly just annoying when they combine the two (Halo Spartan Assault for example)

yeah the way it's structured in wp is kinda bad cause they could pull the content then republish it & charge you again if they wanted

I just wish they update Spider-Man Unlimited for WP

It kind of felt like maybe this was GL's first stab at something with the Microsoft OS-porting tools. It worked adequately when I tried it but like others I was disappointed when it turned out to be a demo with the rest of the game unlocking though an in-app purchase. The curious part was that it wanted to charge me $3 even though my carrier, which is never how I pay for purchases. Maybe that's a violation of the developer-MS Store agreement cause MS wouldn't get their cut.

This game just needed a bug fix update, that's it, there is no need to pull the app from store!!
Windows Store Sucks!

its GLs fault like ea they do this alot when things dont work im surprised sega doesnt do this since that was their corporate policy on games that score low

I absolutely HATE when a dev pretends a game is free but is a demo with a in app purchase to unlock it.

I'd buy the game for at most 2€, and even so it would be too much considering the problems..

I have a bone to pick with Gameloft. What happened to their Guardians of the Galaxy game? I need to reintall it on my phone and removed it from the Windows Phone store. Why don't they bring it back.

Bugloft , xbox live support please.

I have installed this game (free demo version) on my Lumia 920 running WM10 DP. I do not see any performance issues at all. The game feels good to play but gets monotonous when you get to play the similar tasks to complete the level. The game is defenitely not work $5. I hope Gameloft will make if free if they put it back on the store.

This is a bunch of b****, I played the game a while ago and it crashed... Uninstall, never see it again, end of story.
Windows Central Newsletter
Thank you for signing up to Windows Central. You will receive a verification email shortly.
There was a problem. Please refresh the page and try again.