Sports Jeopardy for Windows Phone - Doubling down on the Daily Double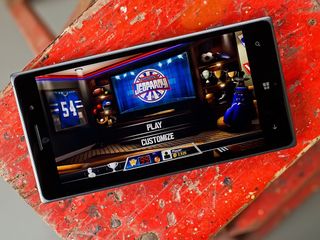 Sports Jeopardy is a relatively new Windows Phone game that takes you on the set of the popular television game show Jeopardy to test your knowledge of the sports world.
The game follows the same format as the TV game show, has customizable characters, online gaming modes and some rather challenging trivia questions. While Sports Jeopardy is available for low-memory devices, the game has the potential of being a fantastic Windows Phone trivia game to test your sports knowledge. Unfortunately several performance issues are present that holds this game back considerably. At least on the Windows Phone side of the aisle.
Sports Jeopardy's main menu has several options that includes launching game play, view your player profile, view your achievements, access the game's settings and customize your player's appearance. Your game ticket and coin count is also displayed on the main menu.
Settings for Sports Jeopardy include options to adjust the sound and music levels along with turning on/off the tutorial information. If you are familiar with the game of Jeopardy, you should be able to turn off the tutorial information, which will speed up game play a little.
Creating a player profile will allow you to save games and pick up game play from a Windows 8 device (and vice versa). There are two options in creating a profile that include logging into the game with your Facebook account or with an email account. You do not need to create a profile in order to play the game though.
Player customizations allow you to tweak your game avatar to match your own appearance or style. Here is where you will likely first encounter performance issues with Sports Jeopardy. You can customize your players name, skin tone, facial structure, hair color, facial hair, height, weight, gender and clothing (some costumes are at a cost). Load times to preview or accept these customizations are slow and time consuming. This feature sets the tone where patience is key to playing Sports Jeopardy.
Once you have your customizations set and are ready to play the game, Sports Jeopardy has four gaming modes. They include:
Single Player: You vs. 1-2 computer opponents
Party Mode: You vs. 1-2 friends in pass-n-play fashion
Play Friend: You vs. a friend online
Play Random: You vs. a random opponent online
The online game is a shortened version of Jeopardy where you compete to answer five clues with a Final Jeopardy round. Single and Party modes feature the full game of Jeopardy that includes an Opening, Double Jeopardy and Final Jeopardy rounds.
Each game will cost you a game ticket to play. Sports Jeopardy starts you out with 99 tickets and as slow as the game is, that should last you several days' worth of game play. The tickets will replenish over time (no clue or indication how long it takes though).
Game play begins with the introduction of your clue categories. You will then choose a clue and value, the clue will be revealed and you will have the option to buzz in to answer, pass or let the timer expire. If you do not answer the clue, the other players will have a chance to answer.
Answers can be multiple choice or typed in. You choose this option as you are setting up the game and I'd go with the multiple choice option for expedience (and to give you a chance at guessing right). The correct answer will add the dollar amount of the clue to your game score and a wrong answer deducting the cash value from your game score.
The questions match up nicely with the dollar values with the questions getting more difficult as the values increase.
There are several power-ups that can be used during game play that include a triple play boost that triples the cash value of clues, a double down boost that adds a Daily Double to the board, a time out boost that adds more time on the current clue and more.
Bugs, bugs and more bugs
I like trivia games and they can be a fantastic way to pass the time. Sports Jeopardy has the potential of being a quality addition to the Windows Phone trivia genre but the game is plagued with performance issues that will drive you nuts.
For starters, load times are tragically slow. It takes a considerable amount of time to customize your player and load times to begin a game are so long you can pop a bag of popcorn in the microwave, pour you a cold beverage and settle in before the first gaming graphic appears (or at least that how long the load times feel).
Next up, the game will freeze up more times than not when you let the clue timer expire and the third computerized player responds with the wrong answer. This was almost a guaranteed result and so bad it forces you to guess at the clue to avoid things going south. Fortunately, when this does happen you can save/quit the game and resume game play where you left off. It's a pain in the butt to have to do this but at least you don't lose all your gaming progress.
As is, with all the bugs and glitches, it took me about thirty minutes to play a full game of Sports Jeopardy. I dare say that time could be cut in half with reasonable load times and if the third player wouldn't break the game. Again, you can save a game in progress and pick things up later but I would think a 15 minute game is far more reasonable than a thirty minute game.
If there is a glimmer of hope with Sports Jeopardy with regards to performance, the Windows 8 version ran smoothly with no noticeable delays or game lock-ups.
Overall Impression
Sports Jeopardy is a Windows Phone game with tremendous potential. It delivers some rather challenging sports trivia questions to your Windows Phone in a game format that is familiar to many and has proven success (at least on television). I liked the level of difficulty of the questions and the nice variety of gaming modes.
While there is a lot to like about Sports Jeopardy, it is difficult to get past the slow load times and bugs that significantly detract from this game. If the developer can cut the load times in half and fix the bugs that freeze game play, I can see Sports Jeopardy being a "go to" Windows Phone game for many.
Sports Jeopardy also lacks a trial version, which will taint the game's appeal further. I think it would be easy to have a one game trial version available to test the waters before buying. On the plus side, it is a universal game so if you buy the Windows Phone version you are buying the Windows 8 version as well.
All in all, you are going to need a bit of patience and remember to count to 10 before giving into the urge to hurl your Windows Phone across the room. At last check, the Windows Phone Store rating is at 3.5 stars. In its current state a 2.5 star rating might be more appropriate for Sports Jeopardy, but the game has the potential of being a 4.5 or 5 star game.
Windows Central Newsletter
Get the best of Windows Central in in your inbox, every day!
George is the Reviews Editor at Windows Central, concentrating on Windows 10 PC and Mobile apps. He's been a supporter of the platform since the days of Windows CE and uses his current Windows 10 Mobile phone daily to keep up with life and enjoy a game during down time.
Windows Central Newsletter
Thank you for signing up to Windows Central. You will receive a verification email shortly.
There was a problem. Please refresh the page and try again.