Spotify confirms it has ended support for its Windows Phone app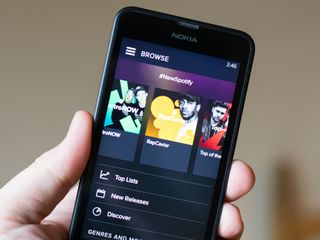 The popular streaming music service Spotify has ended support for its Windows Phone version. The company has confirmed to one of its customers that the current app will no longer be updated.
Spotify launched a Windows Phone 7 version of its app in 2011 and a Windows Phone 8.x version was launched in 2013. Twitter user Alessandro S posted a support email he received from Spotify on the future of the Windows Phone version.
The app is still available in the Windows Store and it will also work on Windows 10 Mobile. Spotify would not comment on if will release a native app for Windows 10 for PC Mobile, saying only, "as there is something new, you will receive a notification on your device that an update is available and prompted to download it."
Thanks again to Alessandro S for the tip!
Download Spotify from the Windows Store (opens in new tab)
Windows Central Newsletter
Get the best of Windows Central in in your inbox, every day!
Another one bites the dust... another one bites the dust....

And another one gone And another one gone...

I just downloaded it, so what's gone?

What OS does your phone have, WP8.1 or W10M? Because, in the W10M store its page says that Spotify is not currently available.

I can see it in the W10M store... It says installed, because I have it installed :P If you've ever installed it you can always re-download it from your "My Library" section

It's available to me, W10M, they won't remove it, just won't update it.

Yeah which is why I got that doubt. It's still not available. Maybe it has something to do with region, just maybe.

I just looked it still in both store

Jesus Christ... Go to YouTube, type in "Another one bites the dust" and then you'll get what should be a pretty obvious reference ;) Posted via the Windows Central App for Android

Dude settle down. 1 it's not like not knowing a Queen reference is the end to the world, and 2 if he/she sees it, he/she sees it, it means it's not totally gone. Grow up.

Me thinks he's asking what is gone from the Spotify App, not what the song reference is.

Jesus Christ... We get the reference you idiot... We just think it's a stupid one given nothing's actually gone ;)

They'll be back with a W10 app.. Everyone will. They'd be stupid not to. ~~~~~~~~~~~~~~~~~~~~~~~~~~~~~
ROJO > ARLINGTON, TX > LUMIA 1520 ≥ 950... WAITING FOR 6.2" SURFACE PHONE

They'd be stupid to waste time on that. Tablet/ PC owners can just install the desktop version, for which you don't even need the Premium Subscription. And those three Mobile users, well apparently Microsoft has a simular service if you really insist. Their app can't be uninstalled anyway so might as well use it.

And those two Xbox users aren't worth catering for either... Oh wait!

Would they, now? Really?... Ok. Windows 10 is the platform going forward.. It has instant market share, so developers can't ignore it. It's just a matter of time... Spotify ain't going nowhere. ~~~~~~~~~~~~~~~~~~~~~~~~~~~~~
ROJO > ARLINGTON, TX > LUMIA 1520 ≥ 950... WAITING FOR 6.2" SURFACE PHONE

Another one bites the dust

Classic song by Queen. Posted from my Moto X Pure Edition via the Windows Central App for Android

No.more updates Posted via the Windows Central App for Android

And another one down
Another one down...

C-c-combo breaker Posted via the Windows Central App for Android

Another one rides the bus Just wondering, ISA or VESA?

Anotherone rides the Duster

This would be a much bigger deal if Brad Sams didn't confirm that a Windows 10 app is in development. This seems like a nonissue.

https://twitter.com/bdsams/status/709072473661317120

you got a source? it would be great news

https://twitter.com/bdsams/status/709072473661317120

There no source there, just a guess. Stop spreading FUD.

Brad Sams is a very respected Windows journalist, and he says that another app is coming in no uncertain terms.

FUD = Fear, Uncertainty, Doubt Jas00555 was trying to spread Hope, Optimism, Positivity = HOP They are antithetical.

another app? for windows = 32 bit.exe lol

"Soon ™"?... oh good, we have plenty of time then.

Well, we still have the Spotify app, and it's not like we were expecting it to be updated tomorrow, it doesn't seem to be missing anything. So I think we'll survive using it until the new one comes out. I don't get why people freak about changes like this, we're all still able to use Spotify...

Because this is windows central ;)

There are features in the iOS and Android versions that aren't in the WP app. I would like to have the running features at least. The WP8 Spotify app is very buggy too. A final minor update to address crashes, slow performance, and playback glitches would've been nice to have. My most recent bug is the song will keep playing but the audio stops. Closing the app and reopening it doesn't immediately fix it. So far only closing the app and waiting fixes it. I wouldn't care as much if I wasn't paying for their Premium service or using it on long distance runs. I'll give Spotify some time to see if we hear more about a W10 app.

Oh ok This comment was posted on Windows Central for Windows 10 UWP.

Rudy says "no source, only a supposition" - https://twitter.com/RudyHuyn/status/709136904839499776 The point is that when they mentioned Windows 10, they never directly said "We are building an app for Windows 10", so speculate all you'd like.

Except 95% of people use wp8.1?

Not even close to that figure if you include desktops. Windows 10 universal apps are the future. -- Lumia 640 (Windows 10)

This is why MS, and it's partners, need to push small W10 tablets. Full W10, but with the mobile experience... Developers can't ignore the market share. ~~~~~~~~~~~~~~~~~~~~~~~~~~~~~
ROJO > ARLINGTON, TX > LUMIA 1520 ≥ 950... WAITING FOR 6.2" SURFACE PHONE

but how do you know if that is true though? I assume they will eventually release an appp for winfdows 10 PC/ XBOX, just hope it will run on mobile too.

I do as well. I read a forum on the Spotify website asking for an Xbox One application and they said they would build one if Microsoft had invited them to make an app for it. My guess is that at //build/ they will announce a universal app for Windows 10 and it also be on Xbox One, Windows 10 Mobile etc... since we know at //build/ they will be talking about Xbox running UWP apps and supporting 3rd party apps. Otherwise, I will work on an unofficial one. Zachary Bowling - ZAD Apps

Precisely, "App Support removed for OSs no longer supported". *Shock*

They've been "working" on a Windows app since Windows 8 was in beta. I really can't take Spotify serious... https://twitter.com/SpotifyCares/status/324540677100818432 https://twitter.com/SpotifyCares/status/612264359193092096

Tom Warren said it to https://twitter.com/tomwarren/status/709338552866377728

an update was just released today, also there's this: https://community.spotify.com/t5/Help-Other-Partners-Windows/Spotify-for...

I would like to let others know that upon reading this prior to the WC article, I have decided that I'd like to put forth effort in development of a universal Spotify application. The only thing I can promise is that I will try my best and work on it when I can. I am also open to potentially collaborating with other developers.
Email: zad_apps@outlook.com
Website: http://zadapps.wix.com/index Zachary Bowling - ZAD Apps

I didn't know it was an open API that allows 3rd party apps?

Yeah, Spotify has an free web API. You can find it here: https://developer.spotify.com/web-api/

ll they threatened to sue the W8.1 Spotlight app so good luck with that.

Is that what happened to that app? I didn't know. It must've been for some reason like a copyright or trademark violation. As long as you accredit the company and refer to using there data, etc... then there shouldn't be a problem. However, when I build unofficial or 3rd party software, I go directly to the company weather it be email or Twitter and get permissions before anything. I don't have anything to worry about. Thanks for the heads up though man

Thanks, about to hop on that train and see what stations I'll pull up to. (a terrible pun, so sorry lol) -Mach 8 Solutions, LLC a software company.
Http://mach8solutions.com

Thank you for all your hard work. I can't wait for the app! Posted via the Windows Phone Central App for Android

You the best! This will one of your biggest projects to date if I'm not mistaken.

Yeah, absolutely would be. It's a real learning curve for me as I've never done anything like this, so it'll take time.

Good luck man, keep up the hard work and study and you'll get there in the end. I always want to collaborate but unfortunately my time is limited to around 1 hour a week so I can never participate in team projects. Maybe next year when my son is a bit older! Posted from Windows Central for Windows 10

Ah you're a peach :). Seriously though, if you want help, I'm ok board. @im_on_17 Sent from Narnia

Be sure to add crossfading!

My 9yo found Music+ up to the task of streaming and downloading from Spotify.

Not to discount your proposed effort. Just pointing out there is already a viable option, in case that alters your decision.

No disrespect taken. I appreciate the heads up because it saves me a lot of time wasting if there already an alternative. This looks as if it is for SoundCloud, not Spotify. However, weather it does or not, I don't feel that it's enough. I'd put more into it like editing playlusts, searching, etc... Zachary Bowling - ZAD Apps

I'm just getting in to UWP developing myself, so I'm not sure how much use I could be, but if I can help in any way, let me know!

Its not raining apps for sure you know what scares me more when we finally get the uwp apps like boa and Spotify whats going to stop them from supporting the last windows were not going to have new updates and uwp to save us from app discontinuations on windows? :( Think ahead people with me! Microsoft needs to do way more or quite now!

Something new, you will receive a notification.....

Its confirmed they are working on a windows 10 version, which also reflects in their comment where they say they will stop supporting Windows Phone 8.x version.

How it is confirmed? Source?

https://mobile.twitter.com/bdsams/status/709072473661317120. Taken from above

They said windows phone 8.x, not windows 10 mobile. Posted via Windows Central app for Windows 10!
Proudly rocking my Lumia 1520!

Guess a new W10 app could include Xbox on W10 too......

And another one clicked the bait..another clicked the bait....

LinkedIn app is dead in Store either.

There better be a Windows 10 app in the future or I'll be canceling my Spotify premium.

I would too. I want to let everyone know that upon hearing this news prior to the WC article, I am motivated to build an unofficial UWP Spotify application. The only thing I will promise is that I will look into it and try to. I am also open to collaborating with other developers.
Email: zad_apps@outlook.com
Website: http://zadapps.wix.com/index Zachary Bowling - ZAD Apps

There is. Brad Sams confirmed it.

https://twitter.com/bdsams/status/709072473661317120

Another fool copying and pasting FUD. Just quit.

Brad Sams has broken a lot of stories and is very repsected in the Windows journalism space. Curious as to why you think a soft report of his is "FUD". Please explain.

They'll have to, Deezer is still here.

Spotify rocks, WP sucks.. Buy a Droid or iPhone and keep your subscription.

The more reason Microsoft needs to step up their game with Groove Music

Also another reason for Microsoft to step up their game for W10M and UWP in general.

Universal Windows Platform

Well that's not great news. I don't use it as i prefer groove, but many do.

Isn't that supposed to be two words?

It depends on how you plan to use it :P

Dum basses makes no sense :-/s

well come on John, do you think we'll be seeing a universal app from them soon? Rebel Base, Hoth... using the new beta app!

Also, didn't I read that Spotify was a Microsoft band partner? Rebel Base, Hoth... using the new beta app!

Extremly bad news! I really hope they will support W10m otherwise there will be a huge loss in mobile users for microsoft!

Think about it, why would they continue support. Universal App in the works guaranteed. Posted from Windows Central for Windows 10

Do you mean they actually confirmed a windows 10 universal Spotify app is in the making?

"guaranteed"* * not actually guaranteed.

Guaranteed? Please provide a link to the Spotify quote that guarantees it.

I mean.... Is this bad? I never use Spotify, but I do use groove.

Now spotify needs to show some initiative and dedicate all their time yo developing a UWP application. Since they don't support wp 8.X anymore, they should have enough time on their hands now... Posted from the WC app for w10 using lumia 1520

Why build an app for the sub 1% market share of Windows 10m? Posted via the Windows Central App for Android

I hate bad news. Hopefully a Universal Application is released for Windows 10.
Off topic but Mr. Rubino the Windows Central app has been crashing more since Build 22. It sometimes takes three tries just to get it to open. Was wondering if a fix was in the pipeline. The Windows Central Universal Application for Windows 10 Mobile on a Nokia Lumia 830

Same, a lot of crashing. But you cant expect them to work on weekend. I am sure the fix is coming next week.

I don't expect them to work on the weekend, I was just curious if that was a priority and would appear in the next update, or if we'll just have to sit tight for a little while longer.

well, make sure to use the uservoice channel to give them feedback. that's where they look for this kind of info. i don't know if they really search these comments for feedback. i wouldn't be surprised if they have a rule not to respond to comments like this just so people use the proper channels instead.

Already did that. I think you're misunderstanding my question. But it doesn't matter, it wasn't answered.

Your signature.. Make it shorter! :D

Just after MixRadio was shutdown. Welp.

Was looking for this! What next? Groove?

Unfortunately this one is kind of a big deal.

How is this a big deal when you can continue using it and they havent updated it for years. So its pretty much the same.

But does this mean that they will allow new downloads?

I use Groove Music, but this is still a bad sign for us Windows users. I guess I might get an Android device after I'm done with with my Lumia 950 XL. Microsoft doesn't even seem to care much about us anymore. Posted from Windows Central for Windows 10

What re u saying, Spotify is ending support for windows 8x doesn't mean they re ending support for the entire ecosystem, uwp is in works. So stop yelling like it's the only most important app in the store, u can as well pay ur subscription to groove and u get best services too. Posted from windows central for windows 10 mobile

Maybe they will make a universal app, but they probably would have said that if they will. Posted from Windows Central for Windows 10

Brad Sams seems to think they are https://twitter.com/bdsams/status/709072473661317120 Sent from Microsoft Band

this is simply speculation, but if maybe MS will announce it at Build in the same way there are rumours Bank of America will announce a UWA at Build. If that's the case, they probably can't say that they're working on one. Might explain the whole lack of denial about an app and just a "you'll get notified if there's an update."

I predict a riot Rebel Base, Hoth... using the new beta app!

let's all be Rebels against the Spotify Empire! ...sorry, had to.. xD

#MakeWindowsPhoneGreatAgain Posted via the Windows Central Beta App for my Lumia 950 XL

Really hope a Windows 10 app is incoming don't want to keep paying them for a premium service if it wont be updated anymore

When was the last time the app was updated? From what I understand this is no different as they haven't updated their WP8.1 app in a long time Sent from Microsoft Band

Looking forward on app updates!? Im not. As long I could play my playlist songs until my premium account expires then i have no problem with the app even they stop their service on windows.

And there, we have the new SnapChat! Let's suck dick for iOS master race. *Mong Mong*

Since Deezer anounce a new app i cancel my spotify premium and move back to deezer

Are you using Deezer on windows 10? Or 10 Mobile? I am finding both the 8.x and the 10 versions to be completely unusable right now. Hoping for rapid development of the 10 app.

I use the new app in preview on 10 mobile. No critical bug for now.

I personally feel, that if they indeed work on a W10 App that they have to step up their game quite a bit. Lets really hope that they do work on W10 and did not abandoned the platform all together; the vague remarks from them do spark some hopes.

"Windows Phone isn't dead Part IV: why major apps dropping the platform means nothing at all"...coming soon.

You're normally a pretty thorough reader, but I guess you missed the past that said we're discontinuing support for window phone 8.X. There was no mention of WM10. Posted via Windows Central app for Windows 10!
Proudly rocking my Lumia 1520!

WM10 currently has the same app as WP8.X so they need to release new app

Why do you say that? The app still works and there's nothing missing that I can see. So if no new updates come, that won't affect me. It may affect others, but I'd like to know how. If they do release a new W10 app sometime, great. However, until there are new, needed features, I won't miss app updates.

Um, because aside from new updates, it will no longer be available for download to those who don't currently have it.

I am, which is why I went to read the entire response from Spotify and not just the convenient snippet that WCentral published. Here's what came next in Spotify's response: "Regarding Windows 10, we can't say at the moment if or when any specific release will be out, but as soon as there is something new, you will receive a notification on your device that an update is available and prompted to download it." (source: http://wishapplist.com/en/applications/view/272-spotify) Posted via the Windows Central App for Android

And still you got it wrong....

Shows their dedication. Windows 10 has been available for well over a year now and an app hasn't been released. I wouldn't hold my breath for an app and if they do eventually make one, it will be forgotten immediately. Updates will be rare of at all. Posted via the Windows Central App for Android

why would they not just wait until a UWA is available to drop support. This makes zero sense.

Well, they didn't announce it broadly. MS does this all the time, although I don't think it sends the best message, but it's not like they're keeping WP8 users from using Spotify. They're just not planning future updates.

Meaning? Posted from windows central for windows 10 mobile

The tweet is about Windows Phone 8.x (clown face)

Go look at the complete answer. Posted via the Windows Central App for Android

The Tsvetan guy is not allowed to confirm WIP. But the email from Spotify did say that "Windows Phone 8.x" support was being ended. Specifically 8.x. If that doesn't say anything to you, then you're beind deliberately obtuse. You are trying too hard to be a Debbie Downer, just stop.

When?
Soon. Posted via the Windows Central App for Android

by the sellout Daniel Rubino

My Xbox music pass expires tomorrow. I was thinking about signing up with Spotify. Renewing my pass I guess. I hope Microsoft does that Pi Day sale they did last year. Lol

"Tidal Unofficial" works great at W10,it's a UWP app so only W10 and W10 mobile.

Bad news for some people. But personally, I don't care :D I never used Spotify, 'cause I always prefered Deezer more. They're just more dedicated. I mean, they already have a universal app, even if it's beta yet. Posted from Windows Central for Windows 10, on HP 250 G1 notebook

Okay so it will still work. Good enough for playlist. But if they dont fix universal app the can go and **** them selves and i will deliver a bag of **** to their office here in Sweden (hate this ps4/iphone country)

They better get their butts moving on w10 universal app, or I'll stop paying.

Not surprising has not been updated in over a year Posted from Windows Central for Windows 10

"Windows phone is not dead" lol Posted via the Windows Central App for Android

Windows Phone, as a stand alone platform, will soon be dead. The future is the Windows 10 common core, and the part of that that includes phone handsets is Windows 10 Mobile.

Dam. Was thinking about switching to Vodafone this summer with Spotify premium. Sent from Lumia 950

With a W10 Universal App on the way maybe you will be okay.

If so they should really just say like. Don't you think

No company would say that until they have something concrete. Also, if they say that, people will start talking about estimated time of arrival and will get angry if it doesn't arrive on time. Finally, they might be waiting for a windows event to announce it. Generally, it is better to be quite until you are a hundred percent sure that you have something that you feel comfortable of putting your name on.

They probably want to make a big formal announcement, not just email some random guy.

First #mixradio now #spotify. What offline options is there left? Might have to switch to android if these apps getting canned. Add the apps don't take them away. Fans will be disappointed with another popular app not being supported...

They aren't taking the app away!! They have simply ceased WP8.1 development - and if the commenters on this thread are right, they are developing a W10 UWP

They, however, said that they had nothing to share at the moment. They didn't say "we're done with Windows" however they didn't say they were developing a UWP either. That's wishful thinking from commenters around here.

Crying before any statement has been fully made.....mmmm They will release a W10 app for sure.....no choice really and time will see I'm right, right!

If they are going to release a Windows 10 app then they would say so. It might still be up in the air, but it isn't a great sign they won't confirm anything. Posted via the Windows Central App for Android

No, they would not send a random customer an email to announce their new app on the UWP platform. They would do this formally, to the press, and probably have a planned date for doing so after they have all the details ironed out with the executives and stakeholders.

Yeah, they didn't do that either. As it is, there is no reason to create a UWA right now. The only thing it opens you up for is Windows 10m, which the install base is miniscule, and maybr XBox. Windows 8 and older can't run UWA so the reasons to create one are limited. An x86 app makes much more sense and they already have one of those. Posted via the Windows Central App for Android

It's just leaving the door open for a WM10 app. I don't think anyone here said a WM10 app was in the works or even announced by Spotify. Posted via Windows Central app for Windows 10!
Proudly rocking my Lumia 1520!

Nah, that's more like wishfull thinking from 1 commenter around here ;)

Would Spotify deliberately miss out on a UWA for PC, Mobile, Desktop, Xbox and IoT's?

I've had no problems using the Grove Music pass to download and play offline. Combined with my own music collection, I never run out of music

MixRadio shut down completely. It wasn't a WP issue.

Well, Spotify is still an option, Mixradio went out of business but Spotify is still in service and there is an app. There is also Groove, Deezer, Tunein Radio, Pandora, and an unofficial app for Tidal.

I wouldnt worry about this much considering most of the apps will make thier way to Windows 10 which will be the same apps which will run on Windows Phone 10. The developers will focus on universal Windows 10 apps which will save time and money for them instead of making separate apps for the phone and the PC.

There goes Windows Phone. To the toilet

Upper case P. Obviously. Lower case p is here.

I'd give you a million upvotes and unlimited internet for life if I could. Finally, someone else that sees that the capitalization of the "P" or lack of capitalization is significant. Windows Phone IS dead (WP OS has been replaced) but Windows 10 Mobile isn't dead and just as you said, lower case "p" is here.

It is dead. Life support at best. What is the market share of windows 10 mobile going to be this quarter? It will be very surprising if it even breaks 1%! Posted via the Windows Central App for Android

if they make uwp that could also include xbox

It's unfortunate, but i can't say i didn't see it coming. Seeing as though it hasn't been updated in a long time. I left Spotify premium and transferred all my songs to deezer seeing as they support the windows platform. I'm just hoping Spotify are planning a universal app too.

Lol idk why you suckers stick around

Just to read your silly comments.

You stick with a dead platform so people can troll you? Posted via the Windows Central App for Android

LOL W10 as a platform is dead........made my day!

This article is about mobile. Windows itself has tons of inertia. It will take some time before it really starts to die off. Eventually something will come and make it obsolete. It may be a decade or more though.

Despite the lack of apps, the OS is awesome but having said that I have all the apps I need so...

This is hitting closer to home. I can do without most of the high-profile apps missing on WP. But Spotify is an application that I use on a daily basis, being a subscriber to their Premium service. Starting to think for the first time about leaving WP.

The Spotify 8.1 app will continue to be available and will work. & it sounds like they are going to release a W10 UWP app too.
I just can't see why everyone is making such a drama out of all this.

Then the problem arises if Spotify releases a new feature or something, this app wont get it. Windows phones users are paying the same price as another user on another platform and getting sub par experience. So then what? They have to wait for something that will take how long if it even comes?

Yep, like Discover Weekly is nowhere to be found.

Discover Weekly only plays me a bunch of songs from playlists I already follow... but ymmv, I guess.

It hasn't gotten anything in a long time, anyway.

It is not even sure that the app will continue to work. Should Spotify make changes to the backend, that was that. If they had a W10 Universal app planned, one would think that they announce it. The sad thing is that I cannot really blame Spotify. Why should they develop for a mobile OS that is heading down the road of becoming obsolete in the consumer market (and I mean W10 mobile, not just 8.1)?!

It doesn't say that they are done with Windows Mobile, just with the older versions. I would expect a universal app to be annouced in the coming months. I don't use Spotify, but I already predicted that a lot of big names will be doing the same in 2016.

Spotify already has a presence on Windows 10, www.spotify.com and the desktop app still work fine. Why would they create a UWA? Windows phone is dead and that is the only motivation for them to make an app. Posted via the Windows Central App for Android

Desktop app works barely. I have small SSD filling with stupid cache files and nothing i can do about it in the options menu. There is a place where i want cache to go, but it doesn't do Jack. Be my guest, change it to other drive and monitor how much still goes to /spotify/data. I've sent multiple emails regarding this and i think there is some sort language barrier where i just cant get through and all i get is "clear IEs temp files and boot your computer" answers.

Get a bigger SSD, that is your problem. The desktop app works fine.

I guess that's good news for Pandora and groove

I expect to see a lot more of this, to be honest--companies dropping their 8.x app and focusing their efforts on Windows 10. Won't stop the Chicken Littles of the world saying that Windows phone is dead, though. Posted via the Windows Central App for Android

UWP App incoming. At least i hope :)

it didnt end support for windows phone !!!!!! they ended the support for windows 8.1 and said that the UWP coming soon why cant nobody get anything right these days? like instagram app Beta , it's only on mobile and everybody calling it universal

They probably mean it's a UWP app....Which is all Windows 10 store apps (The other apps in the store are WP7/WP8/WINRT apps). Anything using the Windows 10 platform is a UWP app, but a UWP app doesn't have to be on all device families Sent from Microsoft Band

If they give us a W10 app, fine. If however this is the end (unlikely), gives everyone even more reason to abandon ship.

As seen on WinBeta:

Another Spotify rep confirmed that they received links to Microsoft's Project Islandwood project (a toolkit to port an iOS app to Windows 10) and this information was forwarded to Spotify's technical team for evaluation.

If this is true Microsoft needs to push the OTA W10M upgrade BIG TIME, make sure all eligible 8.1 devices get upgraded to 10 properly as soon as possible. Where is a will there is a way. I hope MS is truly willing to do so.

they gotta have to include the 512mb ram devices lumia 520 has high sales

HAD high sales, years ago when it was on the market. Now there are high numbers of people who own it, but they should really be moving to phones with more modern specs, smartwatches have more than 512MB RAM.

Soooo the app is still available and just isn't receiving any updates. What has changed exactly? We weren't getting any updates anyway. I think a universal app will appear at or after Build. Either way there are too many customers to ignore. Posted via the Windows Central App for Android

Nothing has changed. It is all about perception. If they kept quite and released the W10 app after six months, everybody would be happy. They just themselves on the foot by making the statement. It is not like they removed the current app or the app stopped working, e.g. Bank apps.

They didn't really make a statement, this was some customer service email to a customer. I'm not sure how much customer support reps were supposed to say, but this is far from an announcement or statment from Spotify.

There are not many customers at all. There is a desktop app and website available already. They are not missing many customers at all. That is the issue for UWA, why make an app when you already have a website and desktop app? For Windows phone users? Windows phone is dead! Posted via the Windows Central App for Android

Yes Windows Phone us, Windows 10 isn't however. Sorry but there are still plenty of users on mobile plus with a UWP they can target Xbox. I'd much prefer an app to the desktop/web client. Posted via the Windows Central App for Android

It's probably just the prelude to the UWP version of the app. It's generally been par for the course.

They specifically said that the Windows Phone 8.x app won't be updated. That doesn't mean that there won't be a Windows 10 app. I'm doubtful but it's possible. I would stop developing for WP8 too. The W10 upgrade is around the corner, so why waste the resources on a dead OS.

According to a tweet by Rudy Huyn, the Spotify app for WP was paid for by MS. Now the agreement has ended, as MS is no longer willing to pay. In that case, I wouldn't hold my breath for a WM10 app.

That's pathetic, Spotify for Windows desktop is great, its a shame the company couldn't do an app for mobile Windows without Microsoft's money. The more time passes, the more I distrust the Windows Mobile platform.

Source: https://mobile.twitter.com/RudyHuyn/status/709127295038988288

And we will no longer use Spotify. We apologize for the inconvenience.

Hurray! Guvera is the new spoofify. Try it.

Clickbait. There will be a universal Win 10 app. How could there not be? But, why not upgrade your system and use the new Tidal Unofficial app instead. It sounds much better...

Why would they make an app when they already have a desktop program and a website. The only thing they would gain is access to Windows 10 Mobile handsets. That isn't very appealing. Posted via the Windows Central App for Android

My 3 month 99¢ Premium service promo ends a week from tomorrow. The app is OK. I was thinking of renewing the premium but now I won't. Cheers!

Total idiots. You just lost a customer.

Deezer or Groove should be good enough...amiright?

Justo hoy estaba pensando en adquirir una subscripcion a Spotify Premium, pero ahora ya no. Nunca he entendido por qué una empresa con tantos recursos no puede desarollar una aplicación decente para la plataforma. Espero que sea verdad que están desarrollando una versión UWP de la aplicación.

Unfortunate I really love Spotify. Windows 10 mobile isn't dead, but it is on life support.

They never had an app for W10M.

LOL, good joke :-) BenJAMIN

Funny how they like to announce they will not support windows phone but make it a play on word. Right bank of America?

Eh? How many times do people have to give links to a story?? The piece says nothing about Win 10. It only states no more updates for WINDOWS PHONE 8.x. Do you really think they will alienate users by just supplying a win 10 desktop app, when a uwp doesn't take much more effort. Stop glancing over the news items, and read the whole damned thing! I don't get it. I've been an active member of XDA, I've been an active member on iPhone boards, BUT, some of you guys on here have me wondering how you get through life in one piece! Do you walk in to a bakery and kick off because the guy in front got more jam in his doughnut?? It's like the whole of the WC boards have been taken over by premenstrual teenagers. Jeez, get a life, or better still get a Samsung or iPhone.

Lol GG Posted via the Windows Central App for Android!

I'll go with nexus :-) thanks. It really won't make a difference even if they release a UWA. The OS (phone) itself is terrible. Then what can developers do in that? Your point is right but only for now. Not for later.

Just love seeing the usual suspects run into a story like this, gleefully celebrating the news by making jokes, etc. It's amazing what people online will waste their time doing. Now for regular users, at least Spotify is not removing the app. So as long as a Win 10 app is announced around the time that the Win 10 update is pushed to existing phones, then Spotify is just moving resources while not cutting users off in the mean time. If we get no such announcement, then that is terrible for Spotify users, unless the web experience is as good.

First Mix Radio....now that im using Spotify they will drop WP also. I dont like Pandora or Deezer. And rhapsody is not free, i cant use ihartradio in spain. What its left to do? Posted from Windows Central for Windows 10

Its not like Mix Radio :/

Buy an iPhone. Posted via the Windows Central App for Android

NADELLA KILLED WINDOWS PHONE AND IS KILLING MICROSOFT! HE IS A DISASTER!

I wonder if bill gates would of had all this sorted by now, I was playing with my samsung and i have to say its nice to have all these apps again. Alot has changed in Android now... My WP is in the draw till such a day

:)))) good move.why wasting devs when MS blew it up with win10mobile

Eh I only used Spotify once on Windows Phone. Posted via the Windows Central App for Android!

I do believe this to be another company that has ended support for Windows Phone because it's supporting Windows 10 Mobile instead. I doubt there is anything to worry about.

Yes there is. Even tough they make The W10 UWP, they won't support mobile that much and yeah, it's Windows mobile, you'll never have good experience with it. UWP is just poor right now.

And this kills Windows Phone for me. I always use Shazam. I have other devices like my Nexus 6P and iDevices but smh Posted via the Windows Central Beta App for my Lumia 950 XL

This has something to do with Spotify choosing Google technologies lately, it has gotten very necessary having an Android backup phone

Just installed Deezer and uninstalled Spotify. Probably I will uninstall it from my ps4 too just to show that the customer is always right :). If and when they put out a uwp app I might use their services again.

Spotify supposedly moving into additional markets, so we'll see. App still available, notifications work. There is a difference between removing the app and removing access, eventually even shutting down existing installations. Not available to me yet, so not yet concerned. But this is where universal apps could make a difference.

Most of the apps in app store of wp lacks main features or lags a lot so the wp user do not use that app.as a result the developer end the support for the app."ITS NOT WINDOW PHONE FAULTS IT THE DEVELOPERS OF THAT APPS FAULT "

I can't believe ppl put ****** apps on the store like that Posted from Windows Central for Windows 10

Don't you think Who is providing the OS to make the apps? When the OS itself is such terrible then how can developers make Good apps?

Os is not terrible .the developers of app. Are terrible. have you see any app. Fully featured but lagging??you cant get app like this.so the developer are not trying to make featured apps because of lack of wp user.

Because developers are not some Google paid dumbasses vomiting stupid comments onto each and every Windows phone site?

This will be a big blow to ecosystem unless new W10 universal app is in development for sure. Because spotify is not Mix Radio.

Another reason not to stay

Good I never left Microsoft ecosystem for it. Posted from Windows Central for Windows 10

I only occasionally use Spotify in Sonos anyway. Not really a big loss for me Posted from Windows Central for Windows 10

Another one... This is how the begining of an ending Looks like... Switch before It's too late guys

Oops, lucky that i don't choose to return to Windows. Was hesitating lately to buy a lumia 950xl. Now, confirmed to wait for IPhone 7 Posted via the Windows Central App for Android

Except that the app is still there and works just fine. They didn't say they were pulling it.

Great dude!!! You really did the right thing!! :-) buy iPhone and have life, not this CP and convince yourself for the rest of your life, me too switching to Android :-) Cheers!!

Your ass will be not happy...

The crappy thing is that Mix Radio just announced that they will be discontinuing that service altogether here shortly. :-( Mix Radio was a Nokia service like Pandora but better and no commercials plus you could download mixes for offline play. You had to have a Lumia phone to get the app.

spotiwhat? Never used it. Pandora and Groove. Just sayin. : o)

So, once again that is so incredibly stupid. Hopefully they aren't updating because they are planning for a windows 10, universal app. Otherwise, c'mon guys.

No, NO W10 App, as of now.

Switching to Deezer... Check.

Yes, before Deezer discontinued just like Spotify......

I'd be willing to bet a UWP app will appear sooner than later. It makes more sense than Spotify bailing entirely, which would indeed be a brutal slap of reality if that is indeed the case. Regardless, if you're not a premium member, there are better options like Deezer and iHeart. Too early to abandon all hope.

I use groove music on windows phone, windows 10, en Xbox one
and it just works. :D sent from Lumia 950 XL.

Me too. Groove is fine. And Groove "radio" is superior to Spotify IMHO.

Only convince yourself :-) that's the only thing CP users do :-) Enjoy!

This news has no effect on me ...lol

Makes sense. Market share is tanking due mastermind strategy. If MS ever manages to convince enterprises to buy a few phones those will be essentially locked down into feature phones, no need for consumer apps.

I tried. It's over now. SMH

After having troubles at windows desktop version where i cant set up a cache folder, this makes me pretty much cancel my sub. Luckily there are alternatives.

You'll can try for Saavn, if it's available outside India! :3 Posted via the Windows Central App for Windows 10 Mobile

Hopefully this will be moot when the WP10 update comes out for older phones, but their timing is obviously pretty rough on current users. At least the app will still work, though :)

And the end has already started. Yipee!!!!!

Actually it's not, it's good for all..

Don't worry Islandwood is almost done at 100%, the Spotify iOS app will be available for Windows 10 Mobile very soon /S

Soon islandwood disable too..haha

It was a good decision that I moved to android.

Of course it was :-) me too *very very very soon* in just a matter of days!

Waiting to see how Note 6 looks...

Note 5 is also awesome! and Android is fast and STABLE these days, unlike this crap of win10mobile!

Cool! Welcome to droid world

Oh no, massive blow, won't get up from that one, fights over...
I'm glad I bought Z5 Posted via the Windows Central App for Android

Maybe I'm wrong but... This was the answer from an email support. Right? So the answer was too basic! I remember in 2015 when Spotify told that there won't be another update untill w10m release. Soooo.. No changes. My guess is that will be a w10m app by Spotify soon.

Doesn't even work in my country,
I am using dezeer any way

MS brought it onto itself, they screwed up the release of 10 mobile, communication all around sucks and they have barely any phones available that ordinary consumers will want to buy. Sales of new phones continue to plummet because of that and this results in companies abandoning their WP apps. I can't blame them. Hanging on to my 1520 hoping for better times.

I don't really see the big deal when there is still Pandora, Groove, and iHeart. Spotify will most likely be back.

What?! This is by far the app that I use the most... I really need a new phone now... Soon April and then I will buy the s7 Edge;)

Rhapsody still has a nice little app.

The Spotify app will still be available.

Spotify will change their minds, give it time. They'll need every available paying customer. Stupid move by Spotify in my opinion.

Guys, stop crying, buy an iPhone, WP is dead and buried

Left spotify as soon as deezer universal preview was out.. It is a rough preview il admit, but i really support universal apps, and if the development continues their app eill be supperior anyway..
Crossing my fingers that deezer uwp will be quick on development:) Posted from Windows Central for Windows 10

It will be back as a windows 10 version so dont worry. They all say that. Everything and everyone will be bringing apps to win 10

Wow! People here will live a long life because they are really optimistic. Why didn't they say, yes the support for WP 8.1 is gone but we have a new UWP app coming. Why mess with the community? It's not like they would announce Half-life 3 or GTA 6 it's just an app. While I think that we might see an UWP app, I think it will take forever to be released

Not to worry, there's always Deezer which I've always preferred over Spotify anyway.

F the spotify anyway. I always just download music in my phone and listen with groove.

For the fans(tm). Just not music fans...

Line now has a Windows 10 universal app for those interested.. It's a big thing in asia n all.. For some reason

Spotify will be back just like Bank of America. There is no need for panic. LOL.

Easy, move over to Deezer. It's a shame that Spotify just stabs a complete community in the back....

Never used it in android or ios so I doubt I'll miss it. In W10 Mobile either

Big shame. Making my recent move from L930 to Nexus 6P seem like a good idea. I really wanted Windows Phone/Mobile to work too.

Spotify are an european company and there are a decent amount of windows phones out here. I don't believe they would potentially opt OUT of reaching a few million people more, especially since they're now feeling the heat from Apple Music and Pandora. The need for a UWA now isn't really justifiable- w10m isn't even released and the existing w10 desktop users can use the desktop app just fine. I'm sure once Islandwood is done, they'll get one out for the w10 platform.

"The full-color touchscreen displays the song title and lets you pause and play, skip forward and back, and turn the volume up and down. You'll find the perfect tunes to get you in the holiday spirit this month with our new partner Spotify, with our new partner Spotify, with our new partner Spotify, with our new partner Spotify, with our new partner Spotify, but any music app you use on your phone connects to your new Microsoft Band through Bluetooth. Use your new Microsoft Band's music controls any time, whether you're working out or waiting for the bus."

Well that pretty much sums up if I'll be staying on the platform ... Can't believe I'm leaving after 4 years!

**** u Spotify u wasn't that good anyways

who cares i use mixradio .... oh wait

Some hours later a new update is available

I'll still stick with Spotify even though I am also a paid groove subscriber. It works well enough on my 930. I use it on my Roku 3. The old Symbian app on my old Nokia N8 has only just stopped working won't connect online for some reason

On windowsblogitalia they said Spotify as mobile app is going to be dropped in favor of a universal app that is supposed to be released these days

Looks like we have nothing to worry about as it was false nformation by a support rep. They have confirmed they are releasing a new revision today. http://mspoweruser.com/spotify-updating-windows-phone-8-1-app-version-5-...

https://www.thurrott.com/music-videos/65277/relax-spotify-is-sticking-wi...

Hmm a new update was just released one day after this news was posted (March 14th), also check this out: https://community.spotify.com/t5/Help-Other-Partners-Windows/Spotify-for...

Another Callahan scoop - of poop, as it turns out...

I think they need to update this story. Spotify isn't ending support for Windows Phone. In fact, they're releasing Windows 10 app. The rep that released the story made a mistake. Happy streaming everyone!
Windows Central Newsletter
Thank you for signing up to Windows Central. You will receive a verification email shortly.
There was a problem. Please refresh the page and try again.