The 'Spring into TEGRA' Contest: Win a Tegra-powered Windows 8 RT Tablet!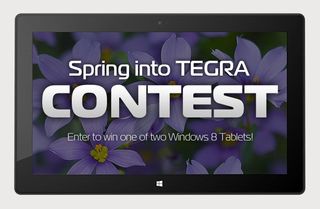 It's contest time again! With the seasons changing -- soon, we hope, as it's been a cold winter -- and spring fast approaching, we're teaming up with NVIDIA to award two Tegra-powered Windows 8 RT Tablets (1 Surface RT with keyboard and 1 ASUS VivoTab RT with keyboard dock) to a couple of lucky Windows Phone Central members.*
To enter, simply follow these three steps:
Take a picture of yourself with your tired and worn out netbook or tablet.
Post the picture, AND tell us why you absolutely NEED a new Surface or ASUS VivoTab.
That's all there really is to it! Head over to the official contest thread and get your entry in. You never know… with a little luck and creativity (hint, hint!) you may end up with a brand new tablet at your front door.
* Contest closes on March 1st, 2013 at 11:59 PM EST. Winners will be selected shortly thereafter via PM and email. ONE entry per person. Contest open to all Windows Phone Central members.
Good luck!
Damn! I have only i5 powered notebook which doesn't count I quess :D But i would love surface 'cause Microsoft doesn't sell them in Czech Republic yet :/

*facepalm*, they must mean Windows RT tablets. There is no such thing as an x86 Tegra

Nowhere in the post does it say anything about x86 Tegra.

But they did say Tegra powered windows 8 tablets. Greg is right, it should have been Tegra powered windows RT tablets.

Both tablets are labeled RT in their individual descriptions. Your arguments are knit-picky and moot.

Well, that is your opinion and I beg to differ. The title says Windows 8, that picture also says Windows 8. One doesn't (at least I don't) expect such mistakes on a MSFT and WP-centric website.

Always so negative, hit the lights.

I was under the impression the article was written by an NVIDIA rep who didn't know any better. The guys who run WP Central know more about W8 and WP than any other site, so it must have slipped past ;)

I'll take a free tablet anyday...RT or W8...I'm not picky =)


It sounds Great.i'm gonna try one shot.who knows...

+1, I've got a broken iPad somewhere around

This is absolutely embarrassing. You would think that people on this site would know by now that Windows RT is not Windows 8, nor is it Windows 8 RT, nor any other such nonsense. Windows RT is a mobile OS for ARM processors that shares a kernel and some code. It may offer a similar look and feel but it is NOT WINDOWS 8. How can a site that is supposdly for users of the products perpetuate the BS tossed around by critics of the OS? You are giving away Windows RT devices. Perhaps you might want to fix this, and maybe keep the author away from a keyboard until they know the difference.

well im excluded since i already have a surface RT with red touchcover and an ASUS laptop with intel i3 running windows 8 pro :( id have liked another one as a gift for someone.

I saw spring into tegra and immediately thought RT. I was thinking before I opened the article about a chance to win a Surface, VivoTab, or Yoga 11. x86/64 never crossed my mind. but on a side note my ASUS t101mt has served its purpose, but even after downscaling the resolution to male windows 8 work on it, the fact that the battery doesn't function and it has to be plugged in in order to work destroys the mobility of a net book's purpose. I'm going to enter! Good luck to all the entrants!

I will be entering this one.... My old hand me down laptop died 6 years ago... I kept it as it had my music collection on. Never got around to looking for a way to get the hard drive out of it and try to find a way to access it.

Do you know what is more embarrassing than getting it wrong the first time? Changing the headline and getting it wrong again. There is no such thing as Windows 8 RT - never has been and never will be. The OS is called, as even the most cursory glance of anything from Microsoft, Windows RT. How can a supposed informed user site still get something so simple so wrong? This is truly embarrassing, In fact, for a site such as this to get it so wrong and then even fail at the correction, it borders on disgraceful.

I, too, found it weird they changed it to Windows 8 RT. If your'e fixing it, do it right.

when MS first announced it they called it Windows 8RT, Just Like Windows Phone 7 Series. Even bill Gates in an interview called his WP8 device a Windows 8 Phone. so I fail to see why you are trolling, or why you care so much. if you don't like WPCentral stop visiting and troll somewhere else.

Crap....wish I have a worn out laptop so I can enter to win Surface RT

I think everyone complaining about Windows 8 vs RT needs to be disqualified from the contest. Good grief, people, if you want to piss and moan, go complain to Microsoft branding for the naming disaster.

QUESTION: Is this contest separate from the "Spring Into TEGRA" contest over at AndroidCentral? Can I enter both?

Windows Central Newsletter
Thank you for signing up to Windows Central. You will receive a verification email shortly.
There was a problem. Please refresh the page and try again.