Square Enix announces game delays due to COVID during earnings report
Newfound delays without names.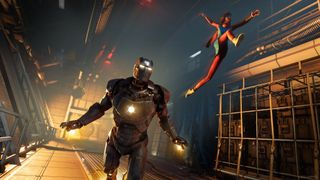 (Image credit: Square Enix)
What you need to know
Square Enix has reported its financial results for the past six months.
The company noted that the pandemic has impacted the development cycle of upcoming games.
As a result, some of these titles are being delayed into fiscal year 2022 or 2023 — or beyond.
Today, Square Enix shared its financial results for the past six months ending September 30, 2020. As part of this report, the company noted that there has been "Impact on the development timelines for our new titles owing to disruptions to the work of outsourcers that we contract for a portion of our development efforts," which has been caused by the ongoing COVID-19 pandemic.
As a result, the company is taking another look at its development roadmap and some games are being delayed into fiscal year 2022, 2023 or beyond. Which titles are being delayed though, is something that remains unknown. Right now, Square Enix has People Can Fly's co-op RPG Outriders set to release on February 2, 2021, with NieR Replicant coming on April 23.
Beyond that, Square Enix has Project Athia and Final Fantasy 16, both of which are timed PS5 console exclusives without release dates. Square Enix is likely referring to at least some of these titles, though these would naturally be internal delays without public dates for now.
The next-generation upgrade for Marvel's Avengers was previously delayed, with the development team citing a need to fix bugs and further polish the experience.
Save the planet
(opens in new tab)
An ever-expanding online game

After a horrific event leaves San Francisco in ruins, the Avengers have been disbanded. However, an even bigger evil threatens the planet five years later, and it's up to you to assemble the crew and save the world once again. Play on Xbox One, then get a free upgrade when you play on Xbox Series X.
Xbox Series X/S
Main
What is the Xbox Series X release date?
How much does Xbox Series X cost?
Why you can't preorder Xbox Series X yet
Windows Central Newsletter
Get the best of Windows Central in in your inbox, every day!
Samuel Tolbert is a freelance writer covering gaming news, previews, reviews, interviews and different aspects of the gaming industry, specifically focusing on Xbox and PC gaming on Windows Central. You can find him on Twitter @SamuelTolbert.
How? How is this STILL affecting development six months later? That shouldn't be the case.

What do you mean by the months later? Nothing has really changed in regards to the pandemic, we still don't have a vaccine or anything.

Game development is an entirely on PC thing, whether people are in an office or at home the work involved is exactly the same, this should no longer be slowing down development times because companies and workers have had half a year to become accustomed to the new workplace environment.

You're assuming every company has a corporate culture, structure, and infrastructure to quickly and smoothly transition to a remote working model.
That is not a given. Square faces a bigger problem than most because, like most of the big game publishers, it is a federation of distinct development studios splattered across the planet, plus non-gaming units. Most of which used to be standalone operations. One problem they all face is that home work brings distractions and precludes crunch. The way the pandemic is running, different countries are facing different rates of infection at different times. And if managers used to stroll the hallways to keep tabs on staff, that isn't an option. Some companies (Microsoft!) were already set up to allow employees to work from home before the crisis. Others were able to pivot relatively easily. And others are still trying to figure it all out. Expect lots of games (and movies) to slip even after vaccines start to be deployed.

Is they can't effectively transition to a remote model over the course of six months then there is a serious issue with management. This isn't like retail where the stores are basically at the mercy of the suppliers, they are creating their own product that isn't dependent on factories or production line. Yes I expect there to have been a transitional period, but that time should be over and staff would be in the full swing is things if management did their jobs properly.

Right.
There can be a serious management issue, too.
But it's not the only reason.
Some companies are early adopters and some are laggards.
Some are so wedded to the "old ways" (and not just in remote working) they kneejerk dismiss as temporary fads are changes in their markets. Examples abound.
Soft survive, many don't.
Survival is not guaranteed for anybody.

That's a lot of wishful thinking.... First not everybody was equipped at home to handle massive amount of data on their home network... Some might even be of the grid... You can't expect all your employees to have high speed internet... Or to have access to it... You have plenty of stuff in game dev that is not happening on a PC alone... Sound recording, 3d modélisation, motion capture etc... Some stuff is outsourced to third parties that might have their own issues and slows down the over all process. Crunch time which is a common thing in game dev is basically impossible in a family setting... Why do you think they almost live 24/7 on site usually... It's not because they love their office so much... People do get sick with covid and it can impact their work greatly, some even die etc.... And you have it... Expect to have a **** ton 9f delays a cross the board for many many many month to come... And even cancelation, and bankruptcies probably...
Windows Central Newsletter
Thank you for signing up to Windows Central. You will receive a verification email shortly.
There was a problem. Please refresh the page and try again.