Square Enix provides an update on the state of Final Fantasy XIV's log-in issues
Final Fantasy XIV will be undergoing maintenance today to allow more players to play!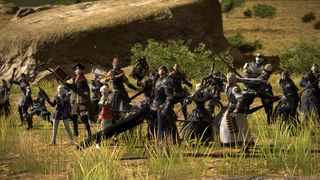 (Image credit: Square Enix)
What you need to know
Final Fantasy XIV is an MMORPG created by Square Enix and is the 14th main entry in the Final Fantasy series.
Final Fantasy XIV will enter a maintenance period today for approximately four hours to increase the log-in cap of their servers.
Final Fantasy XIV is the 14th mainline entry in Square Enix's legendary Final Fantasy series. Unlike most games in the series, which are turn-based JRPGs, Final Fantasy XIV is a PC MMORPG and has been going strong ever since it has rebooted itself as Final Fantasy XIV: A Realm Reborn in 2013. Recently, Final Fantasy XIV has seen an unprecedented amount of new players coming in, thanks to virality and the declining quality of its main competitor, World of Warcraft. As a result of this massive migration of new players, the servers in North America and Europe have become so full, Square had to pull Final Fantasy XIV from online stores temporarily to stabilize them.
Square Enix has been hard at work trying to figure out how to make room for their new players, and today they have announced their plans via Twitter. According to Final Fantasy XIV's director, Naoki Yoshida, the developers are planning to increase the simultaneous log-in cap by 500 characters per world server by reconfiguring the hi-spec machines that comprise the European servers. To accomplish this, Final Fantasy XIV's servers will be undergoing maintenance starting today, and it will last for approximately four hours. They will announce the specific time of the maintenance period very soon.
Update 07/22/2021: The maintenance period on EU servers will begin at 7:00pm (PDT) and will last until 11:00pm (PDT). Do note that the duration of the maintenance is subject to change.
Naoki Yoshida has also addressed that the devs are working on solving issues players have been having with being automatically logged out when they're not actively playing the game for a period of time. Particularly when players are doing fishing side activities that require the player to be idle.
It is nice to hear that the developers are providing quick feedback and solutions to welcome their new players. Once these improved servers are up and running, I have no doubt that Final Fantasy XIV will see the beginning of its golden age and become of the best games on PC.
Final Fantasy XIV's latest expansion, Endwalker, will launch on November 23, 2021. It will feature new bosses, two new player classes, more mini-games, and an epic storyline to immerse yourself in. It's going to be a big expansion, so you may want to grab one of the best gaming laptops to experience this adventure in the highest quality possible.
The power of light!
Embrace the light of the crystal.

Despite ongoing server issues, players can still log into Final Fantasy XIV if they are willing to wait for the queues to run their course. Their patience will be thoroughly rewarded.
Get the Windows Central Newsletter
All the latest news, reviews, and guides for Windows and Xbox diehards.
Alexander Cope is a gaming veteran of 30-plus years, primarily covering PC and Xbox games here on Windows Central. Gaming since the 8-bit era, Alexander's expertise revolves around gaming guides and news, with a particular focus on Japanese titles from the likes of Elden Ring to Final Fantasy. Alexander is always on deck to help our readers conquer the industry's most difficult games — when he can pry himself away from Monster Hunter that is!