SSX sneaks in as the latest Xbox game available for free on EA Access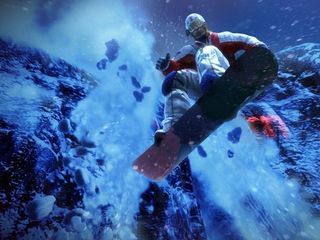 SSX, the Xbox 360 snowboarding game from Electronic Arts, has become the latest game to be added to The Vault of free titles with an EA Access subscription for Xbox One owners.
While EA has not officially announced SSX as the latest EA Access title, it's arrival was first noted by Reddit readers, along with commentors on the UK Hot Deals forums. Since, we've been able to verify the game's arrival in The Vault and download it for the Xbox One.
SSX was first released in 2012 for the Xbox 360 and in May, EA added support for Xbox One via the console's backwards compatibility feature. Here's a quick description of the game:
SSX has become the 24th game added to The Vault for EA Access. Subscribers to the service can play all the games for free for $4.99 a month or $29.99 for 12 months (opens in new tab). They also get 10% off the price of all digital Xbox One EA games and get a chance to play free trials for upcoming titles several days before they are released.
See at Microsoft Store (opens in new tab)
Windows Central Newsletter
Get the best of Windows Central in in your inbox, every day!
Still skeptical about EA access but the more titles they continue to add, the more appealing it's becoming

I think it is great already actually. I don't mind subscribing for free games. ☺

Think of it like this: For 5$/month, you get early access to games, free games, and discounts on all EA products (10%). My gaming budget works out to about 40$/month, and I don't typically buy EA titles brand new (with a few exceptions). So, if you are buying EA's titles new, and physical (on disc), you likely won't see any benefit aside from the back catalog. In this case, Access is of limited benefit unless you're buying the DLC and can generate a savings of over 30$/year (that's A LOT of Season Passes). Alternatively, if you're buying EA games digitally, or will play them a few months after release (when the price would drop on a physical disc), or are buying a lot of DLC, then the cost of the program starts to get more appealing. I'm in the second group (minus the DLC) and it's been a cost saving action. When they added DA:I, that paid for my year with one title. If you're in the other group, the benefits really don't add up.

All EA games in the vault have all the DLC included

Glad they've changed it, as it was not the case when they added Dragon Age.

For someone like myself who is stubborn about buying games digitally, I consider this a fantastic deal. After all, that's where the industry wants us to go. But I'm not there yet, and EA gives me access to many games without paying 60 or so bucks a pop for them. I'm happy they have brought such a service. No one else gives you that many games for 5 bucks a month. Though, I think the service is a little better on the PC as they give you access to 3rd party titles, not many, but it's a nice bonus. However, if you've got an Xbox, you're already getting 3rd party titles with your Live account anyways.

I have it and EA Access is very good vfm plus you have access to all DLC Packs with the games.
Windows Central Newsletter
Thank you for signing up to Windows Central. You will receive a verification email shortly.
There was a problem. Please refresh the page and try again.